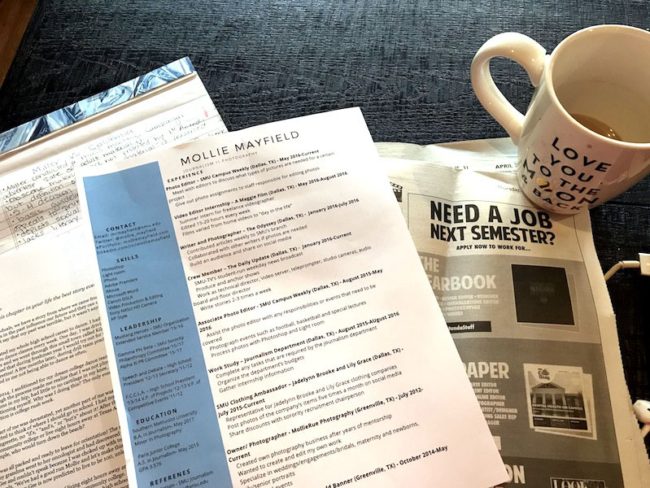 SMU departments are filled with administrators that help students find jobs before graduating. Many students say their department helped them land a job, but some disagree.
Lyle
Engineering Spring 2016 graduate Rachel Teel said she met her current manager for L3T-Mission Integrated, an organization specializing in aircrafts located in Greenville, TX, at a Lyle career fair. Teel believes the most important thing to land a job before graduation is by taking advantage of SMU's network. During her time at SMU a majority of the recruiters at Lyle career fairs were SMU alum.
"Alums give SMU students a hand up from the beginning. L3T even lets me go back every semester and recruit more SMU students which is a great honor for me and looks good for the school's engineering program," said Teel.
Lyle students are also invited to the Lyle Networker program where students can ask alum about the company they work for and receive tips about the job.
Cox
John Roeder is the Assistant Dean for SMU Cox Graduate Admission and helps students advance their career through connections. Cox host job networking opportunities that are informal, such as tailgating before SMU football games.
"You may not know that the alum wearing the Cox polo and ball cap who is sitting at your table is the CEO of a major company that recruits at Cox," Roeder said.
Roeder and other Cox staff suggest students take business cards to these networking events because they never know whom they will run into.
Students at Cox also believe they are being set up well by the school bringing in the Big Four, the leading suppliers of accounting and auditing services, and middle market firms to campus. By bringing in these major companies; students are able to have on-campus interviews and recruiting. Chance Russel received his accouningt degree in December.
"I took my internship at the same time as regular accounting students so I got my job offer technically after I graduated, but really it's the same as if I hadn't graduated," Russel said.
Hannah Hess is an accounting and dance major enrolled in Cox and Meadows classes. She agrees that Cox assists their students in many ways. Hess is currently an account intern at Crestline Investors in Fort Worth. After she is finished with her masters, she will be an Audit Associate at PwC, one of the Big Four.
"I had job security my junior year right after I declared my accounting major, which doesn't happen with many other majors," Hess said.
Meadows
Hess also said Meadows somewhat lacked in helping her dance career. She said that she received great skills and education through the arts departments, but wish her professors were more helpful landing her a job before graduating.
"I think that if I wanted to pursue dance as my career in the future, the professors in Meadows would have been receptive to helping me search for a job, but the ease of the search is definitely not built into the program as it is in Cox," she said.
Steve Edwards is the Division of Advertising director at the Temerlin Advertising Institute. He said that one way the department helps their students is by offering a business communication class where students learn to write and to self brand.
"We bring in advertising companies that are like the American Advertising Federation and we also sponsor meetings for students to meet future employers," said Edwards.
Edwards also says the department has lots of internship opportunities and offers advertising industry classes in Dallas and New York. The division does not formally where graduates land.
Jim Hart is the Director of Arts Entrepreneurship Program at Meadows. The department offers an innovative program called Meadows Artist Bridge. The program serves as a digital bridge to allow the students and artist to work professionally.
"Daily, people call our various departments, seeking to hire our student creatives and artists. Until now, there has not been an effective and efficient way to connect job-givers and student job-seekers," said Hart.
Hart also adds that through the Meadows Artist Bridge program, students are able to make money, build their professional networks and resumes.
Dedman
Jacqui Jacoby is majoring in Marketing at Cox and Economics at Dedman, but did not land her job from either department. Jacoby said she received a majority of her career help through the Hegi Career Center and applied for jobs through MustangTrak. After graduation, Jacoby will be a business systems analyst for Epsilon in Irving.
"Just having the Cox School of Business name on my resume opened a lot of doors for me, even if I never actually looked for an internship or full-time job through the Cox Career Center," she said. " SMU's name is obviously an advantage in general, but I think that my business degree helped me out more than my humanities degree."
The Hegi Career Center helps SMU students and alumni develop skills needed for careers. The center also has an active on-campus job post through MustangTrak. Students such as Jacoby can find a job and take advantage of the center's services and consultations through the program.
Katheryn Kendrick will graduate Spring 2017 with a degree in World Languages and has already started her post-grad job as manger at Union Coffee in Dallas. She agrees that her academic department did not help her get a job with her major, but instead gave her a unique opportunity.
"While my department didn't directly help me with landing a job, I've learned many helpful things about communication from studying language," Kendrick said.
One opportunity Kendrick has received from her department is being able to audit classes after she graduates to further her Russian skills. She also plans to continue on her fluency in both French and Russian.
Teel gives advice for Lyle students who may be struggling to find a career or networking with future employers and alumni.
"Employers also want to see engineers that can communicate effectively, engineers that can lead, and engineers that are motivated. So get involved in other things on campus, be a leader in an organization, and do something outside of Lyle," Teel said.
Jacoby believes all SMU students can benefit from career-specific classes such as the ones offered at Cox School of Business. She took a BLI course where she perfected her LinkedIN page, learned appropriate professional behavior and applied for jobs.
"I've talked to so many non-Cox majors who don't know how to write a cover letter or look for jobs on MustangTrak or know how to act in a networking setting, and I think that even having a 1-hour pass/fail course in every college could really help to make everyone's degrees more marketable," Jacoby said.