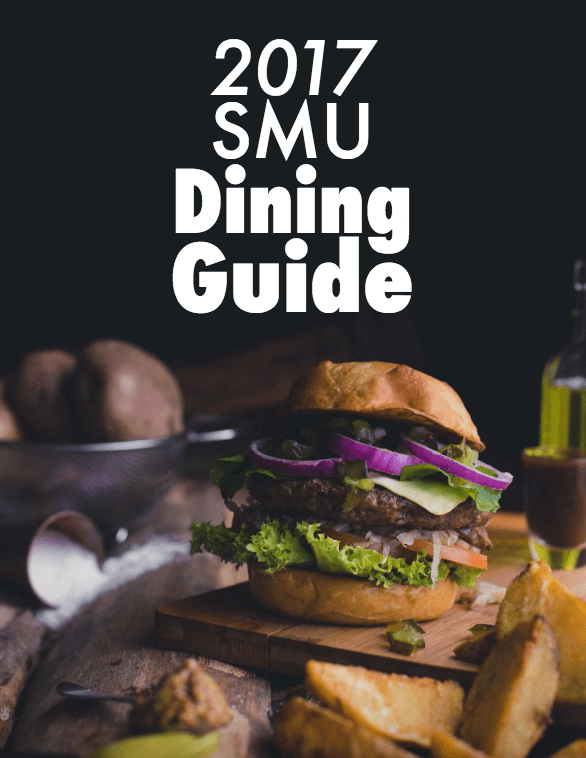 New Around Town:
Ask any freshman what they're excited about in Dallas and food will make the list. Upperclassmen are sure to agree that Dallas's dining scene is unparalleled. Over the summer, a few hot spots opened close to campus, so add them to your list of eats this semester. Katie Williams
https://www.instagram.com/p/BZWRV09nKOU/
Sumo Shack
5629 SMU Blvd. #120, Dallas, TX 75206
Opening just as SMU students headed home for summer, Sumo Shack is the newest addition to SMU Boulevard. The restaurant serves bao, steamed buns packed with tons of fillings, as well as Asian-inspired hot dogs and ramen. They stay open until 4 a.m. Thursday through Saturday and are close to SMU hot spots like Barley House and The Green Elephant. Katie Williams
https://www.instagram.com/p/BZRW9lTl9rM/
José
4931 W Lovers Lane, Dallas, TX 75209
This new Lover's Lane hot spot was the talk of the town this summer. Jose is shaking up Tex-Mex with unique menu items like soft-shell crab tacos. Complete with a fun patio, brightly colored décor and beautiful artwork, the restaurant claims it is for "Mexican lovers. Art lovers. Culture lovers. Tequila lovers." Its grand opening proved to be mysterious to most Dallas foodies, including Dallas Observer, who says it's the perfect spot for Park Cities socialites. Sounds like SMU students to me. Katie Williams
https://www.instagram.com/p/BWDiz3igeF8/
Slater's 50/50
2817 Greenville Ave., Dallas, TX 75206
A bacon-obsessed concept that has made its way from California, Slater's 50/50 is serving up burgers with a twist. It is known for patties that are 50 percent beef and 50 percent bacon. You can build your own burger with just about every topping imaginable. They also serve chicken and turkey patties. Oh, and did I mention the adult milkshakes and extensive beer list for the crowd over 21? On Greenville next to Terelli's, Slater's 50/50 is a must-try. Katie Williams
https://www.instagram.com/p/BYgpygNHsNA/
Bar Stellar
2810 N. Henderson Ave., Dallas, TX 75206
As the newest addition to Knox-Henderson, Stellar has transformed over the summer to become Bar Stellar. According to PaperCity, 21-year-old SMU student Francois Reihani purchased the failing Stellar and transformed it into an L.A.-inspired, Instagram-worthy bar just minutes from campus. He plans to feature exciting, craft cocktails and small bites while bringing a bit of Hollywood glamour to our backyard. Katie Williams
https://www.instagram.com/p/BYgjTiZhzzy/
Hudson House
4448 Lovers Lane, Dallas, TX 75225
Another addition to Lover's Lane, Hudson House features American classics with a New England-inspired raw bar. According to D Magazine, Hudson House shares owners with an SMU student favorite: East Hampton Sandwich Company. The light and airy space is perfect for breakfast, lunch or dinner. Grab some friends and get adventurous with their oysters and tartare. Katie Williams
https://www.instagram.com/p/BZtpekiDVHO/
Flower Child
5450 W. Lovers Lane Suite 133, Dallas, TX 75209
Flower Child on Lovers Lane has become the ultimate boho, healthy and Instagram-favorite restaurant. This nutritious and delicious staple offers vegan, vegetarian and gluten-free cuisine that are sure to please foodies! This exquisite spot is sure to offer something for everyone looking for a good, affordable meal. Marisol Leiva
https://www.instagram.com/p/BZXY2lzDd8B/
Sweet Daze Dessert Bar
581 W. Campbell Road #127, Richardson, TX 75080
This dessert favorite offers unique unicorn donuts and black ice cream among many other creative menu options. This trendy dessert shop has become an Instagram sensation with the coolest donuts which are just as tasty as they are visually appealing. The matcha ice cream seems to be a crowd favorite by leaving consumer's teeth black for those Snapchat selfies. Marisol Leiva
Dessert Destinations:
https://www.instagram.com/p/BWAthh7gWGu/
Lake Highlands Creamery
9960 Audelia Road Suite #121
Summertime temperatures in Dallas require a cold snack, which is Lake Highlands Creamery's specialty. This old-fashioned ice cream shop opened in July 2016 and has already attracted masses thanks to owner Sean Brockette's commitment to quality. The menu boasts 12 homemade flavors of ice cream, five types of soda floats and a myriad of toppings. However, the true star of the show at LHC is what they call "The Motherlode," an ice-cream bar made from bourbon vanilla bean ice cream, dipped in chocolate, then coated in pretzels, potato chips, pecans, sprinkles, peanuts and toffee. This frozen treat has everything but the kitchen sink and is worthy of our top spot for dessert all on its own. Andrew Appleby
https://www.instagram.com/p/BZWyu8dheqO/

Emporium Pies
2708 Main St. or 314 N. Bishop Ave.
A trip to Bishop Arts or Deep Ellum isn't complete without a piece of an Emporium pie. Nothing will get you ready for fall more than a slice of "Lord of the Pies" or the Emporium version of an apple pie. This small shop is quaint and perfect for a pie date for two. While a line isn't uncommon for this popular dessert spot, don't miss out on the chance to grab a fork and a slice and sit on the charming patio outside the store while savoring every last bite. Jacquie Elias
https://www.instagram.com/p/BZm4qdwhh3j/

Steel City Pops
2012 Greenville Ave., Dallas, TX 75206
Nothing beats the terrible Texas heat like a refreshing Steel City Pop. Steel City Pops is located just a few minutes from campus in Lower Greenville. These popsicles are a guilt-free indulgence with their all-natural and organic ingredients. From creamy flavors like coffee to fruity mixes like strawberry lemonade, Steel City Pops offers a varied menu to keep visitors coming back for more. The restaurant features a fun summer theme with wooden benches and hand-decorated chalkboards. Already craving one of these sweet treats? Consider paying for a ride there as parking is very limited in the area. Jacquie Elias
https://www.instagram.com/p/BZUr0WqlAOS/

SusieCakes
6100 Luther Lane, Dallas, TX 75225
Looking for a sweet treat or something to celebrate with? Look no further than SusieCakes, just off Preston Road. For those on a budget, be sure to download the Susiecakes app — start with two free cupcakes, then enjoy other seasonal perks! Don't miss the treats for four-legged friends just outside the door. Kylie Madry
https://www.instagram.com/p/BYfwK4ig5n6/

Hypnotic Donuts
9007 Garland Road Dallas, TX 75218
Hypnotic Donuts is not your typical donut shop by any means with names such as the "Evil Elvis," "Blueberry Cake," "Peace' statio," and "Canadian healthcare," to name a few. Hypnotic Donuts is every donut lover's dream come true, offering mixed flavors such as a toasted glazed donut and chicken, a donut stuffed with bananas and bacon ("Evil Elvis") and a cake donut with a made in-house brown butter glaze and pistachio ("Peace' statio"). So, the next time you're in the mood for something sweet and salty, stop by Hypnotic Donuts. Lisa Salinas
Coffee Shops:
https://www.instagram.com/p/BXaolhUFqzs/
DRIP
4343 Lovers Lane, Dallas, TX 75225
Drip Coffee Company is the place to go for a quality cup of joe. The coffee is roasted daily Monday through Saturday, resulting in a guaranteed fresh batch for everyone to enjoy. The coffee house also offers a monthly featured contemporary roast for take-home consumption or in a cup at the establishment. The environment is a bright, friendly zone of coffee action. Riley Coven
https://www.instagram.com/p/BY8jd5fBdyk/

Royal Blue Grocery
1 Highland Park Village, Dallas, TX 75205
The chicest place to grab a coffee, meet a friend for a glass of wine, or even study, Royal Blue Grocery is one of the newer hot spots in the glamorous Highland Park Village. Opened in Oct. 2015, Royal Blue is a popular place among the Highland Park community and SMU students.
Many students frequent Royal Blue for the casual yet trendy study spot. The two-story building fits plenty of tables and space to sprawl out with soothing background music, calming, blue tiles and delicious snacks. Whether you want to grab a quick latte to go, relax and read a book, or sit outside on the patio and enjoy a charcuterie board, Royal Blue is the perfect location for any scenario. Emmy Berg
https://www.instagram.com/p/_Hf1guokQV/

Starbucks
5331 E Mockingbird Lane, Dallas TX 75206
With cool weather just around the corner, nothing can compare to the original Pumpkin Spice Latte or the Salted Caramel and Mocha Frappuccino. Starbucks is conveniently located on almost every corner in Dallas. Recently, Starbucks added paninis and protein boxes to the menu in addition to their array of pastries and breakfast sandwiches. Get your favorite drink and lunch the next time you pass a Starbucks. My go-to drink (and secret) is a grande iced coffee in a venti cup with extra ice, soy milk and cinnamon — gets me through class and rush hour every time. Lisa Salinas
https://www.instagram.com/p/BY_NwVHjVN8/

Ascension
1621 Oak Lawn Ave A, Dallas, TX 75207
Ascension Coffee and Wine Bar is a high-quality coffee experience. Their cafe is designed to make customers feel at home, and their food is just as warm as they are. Ascension is more than just a place to grab a quick coffee; it's also home to a stage that welcomes performing musicians from far and wide. Riley Coven
https://www.instagram.com/p/BZyuTb9F0O3/

Mudsmith
2114 Greenville Ave. Dallas, TX 75206
Need somewhere to grab a coffee, settle in and get to work? Mudsmith is the perfect place to go while still feeling like you're at home. The cozy, dimly lit atmosphere is also the perfect place to catch up with a friend or go on a first date. Need a bite? Grab one of Mudsmith's delicious cheese melts. Kylie Madry
For the Health-Conscious:
https://www.instagram.com/p/BW-yRSOBD6X/
START
4814 Greenville Ave., Dallas, TX 75206
If you're in a rush (like most people) on your way to work or class but still want to get a good, wholesome and healthy meal in, then START is the place to go. According to its website, none of START's food contains "anything fake or tasteless." Instead, they use local ingredients, cage-free chicken and turkey and organic milk and soy milk, among other healthy options. START offers breakfast and lunch options. My top pick for breakfast is the Ham Egg & White Cheddar Sandwich and my go-to for lunch is the Turkey and Raspberry Chipotle wrap. Give START a try the next time in you're in need of something quick, scrumptious and healthy. Lisa Salinas
https://www.instagram.com/p/BZqm0n-n6ZF/
True Food Kitchen
8383 Preston Center Plaza #100, Dallas, TX 75225
True Food Kitchen is a healthy dining location that knows the importance of seasonal ingredients. The menu changes depending on what fresh foods are currently in season. True Food Kitchen is still in its Summer 2017 menu and offering dishes with avocado, broccoli, tomatoes and watermelon, to name a few. Although it strives for health, this is a great place to wind down. The bar offers a selection of wine, cocktails and beer. Alexis Kopp
https://www.instagram.com/p/BY8kprSFbnR/

Snap Kitchen
4115 Skillman St., Dallas, TX 75206
Snap Kitchen takes eating healthy and makes it not only delicious, but also convenient. Snap Kitchen prepares a variety of grab-and-go meals that can be microwaved for a gourmet meal in minutes. You can order online or visit one of their locations to find how Snap Kitchen can make eating healthy easy. To those with allergies and food preferences, Snap Kitchen has a variety of vegetarian, gluten-free, dairy free and paleo options. Take just one look at the easy-to-recognize ingredients and colorful meals and any healthy foodie will know Snap Kitchen is definitely one to remember. Jacquie Elias
https://www.instagram.com/p/BZEk8mzlGKg/
Salata
8307 Westchester Drive, Dallas, TX 75225
Do you enjoy making your own salads but hate preparing it? Do you think washing and chopping up all the vegetables takes too much effort? Salata is the best place for you. Think Subway or Chipotle meets healthy. You go down the line and pick out exactly what you want placed in your big silver bowl. Choose from more than 50 different toppings and 10 house-made salad dressings. You can also order your salad as a wrap or get a combo meal with a side of white bean, broccoli or tomato basil soup. Thirsty? Choose from a variety or organic teas and lemonades. Salata makes getting your salad your way easy and fun. Alexis Kopp
Burgers and Shakes:
https://www.instagram.com/p/BBqJxyQkOuJ/
Keller's Burgers
6537 Northwest Highway Dallas, TX 75231
It's hard to say whether or not the Daily Campus had a dining guide in 1968, but if they did, it would be safe to assume Keller's took the title as "Best Burger" back then. That's because Keller's has hardly changed in the 50 years since Jack Keller opened it to feed SMU students beer and burgers. This cash-only, classic drive-in off Abrams still has the original menu, and the prices are reflective of its perfect simplicity: $2.45 for a burger with gooey American cheese, lettuce, tomato, pickles and onions on a poppy seed bun, $4 for the meal. Root-beer floats, mountains of fries and hamburgers are brought out on trays to older men in classic cars who still gather in the parking lot for a beer on weekdays. Keller's commitment to tradition makes this one of the best places in town to get a burger even after 50 years. Andrew Appleby
https://www.instagram.com/p/BZxc0nagMVd/
Shake Shack
2500 N Pearl St., Dallas, TX 75201
With plenty of seating inside and outside, Shake Shack is the perfect place to grab a burger and fries with friends. The unique "ShackSauce" upgrades a traditional burger to a crave-worthy delight. On the side, try crispy, salty classic fries or mix it up with bacon cheese fries. For dessert, Shake Shack offers a new shake every week. The frozen custard is spun fresh daily and features locally-infused favorites depending on your location. The Shack also offers treats for your furry pals, such as the Pooch-ini, Shackburger dog treats, peanut butter sauce and vanilla custard. Hang outside for hours with your dog and your friends over some delicious burgers and fries. Olivia Pitten
https://www.instagram.com/p/3NHCjhkuZ8/

Maple & Motor Burgers and Beer
4810 Maple Ave., Dallas, TX 75219
Maple and Motor Burgers and Beer is a joint that doesn't mess around with their food. They feature a menu full of burger choices to couple with a variety of brews. The restaurant is self-described as "a place that celebrates low class cool," so if you're in the mood for some good grub and a cold one or two, you came to the right place. The menu goes from burgers to bologna sandwiches so it'll be tough not to find something for everyone. Riley Coven
https://www.instagram.com/p/BX0E1w4jMay/
Burger House
6319 Hillcrest Ave. Dallas, TX 75206
Burger House is the go-to burger place in Snider Plaza. If you're on campus and need a quick bite between classes on your lunch break, Burger House is an easy walk down Hillcrest Avenue. You won't want to skip out on fries or tots when you visit Burger House; it's famous for the seasoning salt, which adds a garlic taste to anything it is shaken upon. The menu has a wide variety of American classics from burgers, chili dogs, chicken sandwiches, corny dogs and grilled cheeses. Burger House has a relaxed atmosphere with picnic tables indoors and a small patio outside. Alexis Kopp
https://www.instagram.com/p/BYYzRPwBMNw/

Hopdoddy Burger Bar
6030 Luther Lane #100, Dallas, TX 75225
Hopdoddy Burger Bar is often cited as the best burger in Dallas, and for good reason. The burger combinations that exist within the walls of Hopdoddy are nothing short of amazing. The combinations of flavors and unexpected toppings are not only unique, but also delicious. The menu has plenty of choices so it's easy to pick a favorite, but it's also easy to find a new choice every time. Hopdoddy offers more than just burgers. The shakes are so thick that they have their own straw, and it's nearly impossible not to order the truffle fries. If you're looking for a choice burger, Hopdoddy is the place to go. Riley Coven
Special Occasions:
https://www.instagram.com/p/BXaqzuvgjTk/
Flora Street Cafe
2330 Flora St. #150 Dallas, TX 75201
As the most recent restaurant in Dallas to receive a 5-star review from Leslie Brenner, food critic at The Dallas Morning News, this establishment is doing many things right. Known as a founding father of Southwestern cuisine, chef and author Stephan Pyles hit a homerun with this Texas approach to fine dining. The food coming from the kitchen at Flora Street Cafe is in a league entirely on its own; dishes like kumquat-crusted scallops sit on a plate next to aged Serrano ham and eggplant purée. With a seven-course tasting menu, romantic dining room and extensive wine list, it is perfect for special occasions, but a toned-down bar menu also offers diners more affordable options. Andrew Appleby
https://www.instagram.com/p/BZcI8agBJL-/
Uchi
2817 Maple Ave. Dallas, TX
Uchi quickly became one of the hottest restaurants in Dallas when it opened in the summer of 2015 in on Maple Ave. A menu that merges experimental ingredients and innovative Japanese cooking with classic-style sushi and sashimi offerings fills the restaurant with diners each night, reservations are required well in advance.Even the pickiest of eater leaves Uchi happy and full, take your pick from ordering brisket that is aged 72 hours and and rests on balls of rice, like a Texas take on nigiri, or settle down at the gorgeous marbled sushi bar and order the chef's choice omakase. Andrew Appleby
https://www.instagram.com/p/BYgponXHaMJ/

Honor Bar
26A Highland Park Village Dallas, TX 75205
The newest addition to Highland Park Village was the much-anticipated Honor Bar restaurant. Sister restaurant to R+D Kitchen and Hillstone, Honor Bar offers a similar menu and atmosphere. For the best snacks and appetizers like deviled eggs and a variety of dips and spreads, this restaurant takes the cake. Another popular menu item is the Ahi Tuna Tartare salad for all the tuna fanatics out there.
Dimly lit and beautifully decorated, Honor Bar provides the coziest of environments perfect for small dinner outings. Their outdoor patio is also strung with lights making for the perfect after-dusk spot. Emmy Berg
https://www.instagram.com/p/BXPJ-2jA-0l/

Sprezza
4010 Maple Ave., Dallas, TX 75219
Sprezza is a fine dining experience. It houses a simple menu in which each item is prepared carefully to meets its expectations. The ambience sets the tone and while the restaurant is a sit down establishment, it's still easy to have a good time. The staff is friendly and accommodating while the food is delectable and impossible to dislike. Sprezza is a beautiful restaurant for any special occasion. Riley Coven
https://www.instagram.com/p/BZMmDYTlAIC/
The Rustic
3656 Howell St., Dallas, TX 75204
The Rustic is located in the heart of Dallas, a popular spot for all ages. With both indoor and outdoor family-style seating, The Rustic is the perfect spot to grab some drinks and appetizers with friends. The Rustic boasts a star-spotted performance lineup of outdoor music, with appearances by country stars Brothers Osbourne. Home of the Summer Beer, The Rustic's bar takes a twist on classics. The bar has a variety of 40 Texas beers on tap, including 35 local craft beers. Whether you're visiting Dallas for the first time or a local, be sure to stop by The Rustic for a drink. Olivia Pitten
Mexican:
https://www.instagram.com/p/-hZHEUCY1j/
El Come Taco
2513 N Fitzhugh Ave.
The only spot on this list that doesn't serve queso, which will surely upset many of our readers, we promise their tacos make up for it. El Come Taco is as traditional as Mexican food gets in North Texas with street inspired menu items like elotes-style Mexican corn, bite-sized tacos served in warm house-made corn tortillas, and horchata, a refreshing beverage made with rice milk and cinnamon. This little taco shop on N. Fitzhugh packs a punch of flavor with their spicy salsas but is kind to the wallets of college student, three tacos and a horchata will set you back less than $6. For prices like that, we'll skip queso more often. Andrew Appleby
Banditos
6615 Snider Plaza, Dallas, TX 75205
Known for its margaritas, Banditos knows how to pack a punch. Grab some enchiladas or even an Ice House cheeseburger (the owners of Banditos also own Katy Trail Ice House) while downing some drinks. Be sure to grab some chips and queso on the side to start things off. Kylie Madry
https://www.instagram.com/p/BZrNM9iHADj/

Mi Cocina
3699 McKinney Ave. #200, Dallas, TX 75204
In the mood for great Tex-Mex food paired with a cold margarita? Mi Cocina is the spot! Mi Cocina offers an array of Tex-Mex options including enchiladas, mole, tamales and tacos. They even have a build-your-own option where you can create personalized enchiladas. For the margarita, pick the Mambo Taxi—it's definitely a winner and one of Mi Cocina's coveted drinks. If you're not into tequila, mojitos are also on the menu. Pick Mi Cocina for a late-night weekend dinner or even lunch in between your work day. Lisa Salinas
https://www.instagram.com/p/BZy-HATnYe6/

Velvet Taco
3012 N Henderson Ave., Dallas, TX 75206
Velvet Taco takes a spin on the classic taco. With over 20 different varieties, there's a taco for every taste. The menu offers chicken, pork, fish, beef and vegetarian taco options. Velvet Taco is known for its side of tater tots with an over-easy egg and their legendary red velvet cake for dessert. This street-style taco vendor is far from typical. Open late until 2 a.m. Sunday through Thursday and until 5 a.m. on weekends, this spot is perfect for late-night cravings. Olivia Pitten
https://www.instagram.com/p/1wY_FDsME6/

Torchy's Tacos
5600 SMU Blvd. Dallas, TX 75206
This Austin staple has established itself as a favorite among Dallasites. You can't go wrong by starting off with Torchy's famous chips and queso. If you're feeling adventurous, drown your tacos in it too—that's even an option with the Trailer Park taco (order it "trashy"). Also not to miss: the Brushfire, the Democrat and the Republican. Kylie Madry