Alright Mustangs, it's time to open your wallets and dish out for the ones you love. Not sure what to get them? We've made it a little easier on you — here's our top picks.
For the 21+ crowd
by Melissa Wong, Managing Editor
Wondering what to get your friend who always throws a party? Or the amaetur bartender in your life? They probably already have enough wine and shot glasses, so check out these unique gifts. These pieces are a conversation starter and will add fun to any bar cart or tabletop.
https://www.instagram.com/p/BbfeFpkDTfa/?hl=en
Geode Coasters:
These coasters come in eight different colors and will add a pop of color to any room. Preserving furniture can also be an added bonus. A set of these would also make a great housewarming gift. $14

"Liquid Assets" Decanter:
This "Liquid Assets" decanter would be perfect for your Cox friends. Also perfect for anyone who's trying to show some respect to their spirits. You can pair this gift with any bottle above Two Buck Chuck or Fireball. $56
Prosecco Pong:
For your friend that always says they're too good to play beer pong! We all have one in our lives. This kit is set for all their classy party needs, or if they have an upcoming bachelorette party. Complete with neon pink ping pong balls. $24.95
https://www.instagram.com/p/BbkDRyjATaq/
Packed Party Disco Drink Cup:
For the friend who's always posting Instagram boomerangs of her drinks. This product was the first item Packed Party ever created, and continues to be their best-selling item. These fun cups come in silver, gold and rose gold. $18


Frenchie and Bubbly Canvas Wall Art:
Not exactly a drinking tool, but this painting would be the perfect background to a bar cart. If they're not into frenchies, Oliver Gal offers other boozy themed paintings such as Chanel- and Hermes-themed champagne bottles. $116-$182
For the Foodie
by Andrew Appleby, Food Editor

https://www.instagram.com/p/BYHSEvgjg-l/
Garrett Popcorn:
Large tins of mixed popcorn and the holiday season go hand-in-hand. This caramel and cheddar combination from Garret of Chicago is a perfect match that is both sweet and savory. The neon-orange layer of cheese dust that coats your fingertips is only an added bonus. $33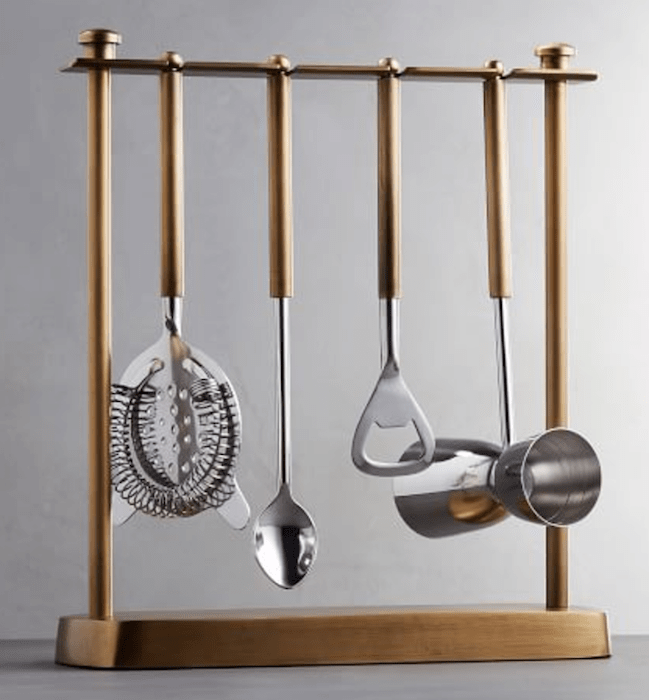 Bleecker Bar Tools Set:
The perfect gift for the mixologist in any group. With one- and two-ounce jigger cups, a strainer, stirring spoon and bottle opener, all with an antique brass finish, you'll never have to watch your friend stir their drink with a used kitchen knife again. Include a bottle of spirits for added holiday cheer. Available at Pottery Barn. $59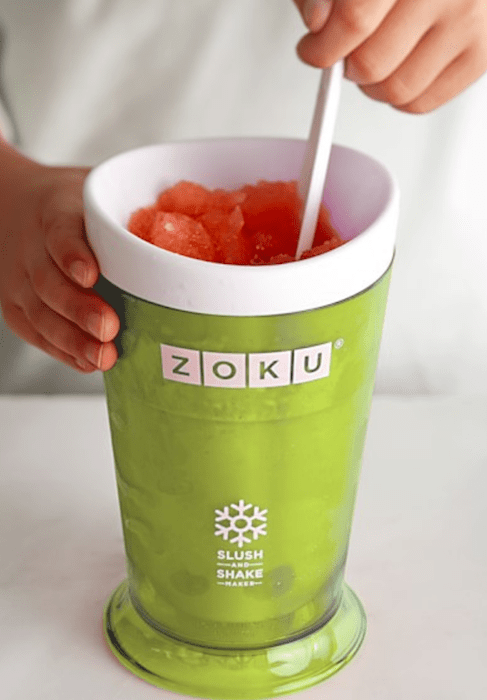 Zoku Slush and Shake Maker:
If you've ever dreamed about homemade slushies, then look no further. Give a gift that makes milkshakes or slushies in minutes right on your countertop. Place this cup in the freezer for eight hours, then pour in any liquid and stir–the beverage freezes to the ideal consistency every time. There's even a Zoku recipe book filled with cool ideas for milkshakes, slushies and smoothies. Available at Williams Sonoma. $19.95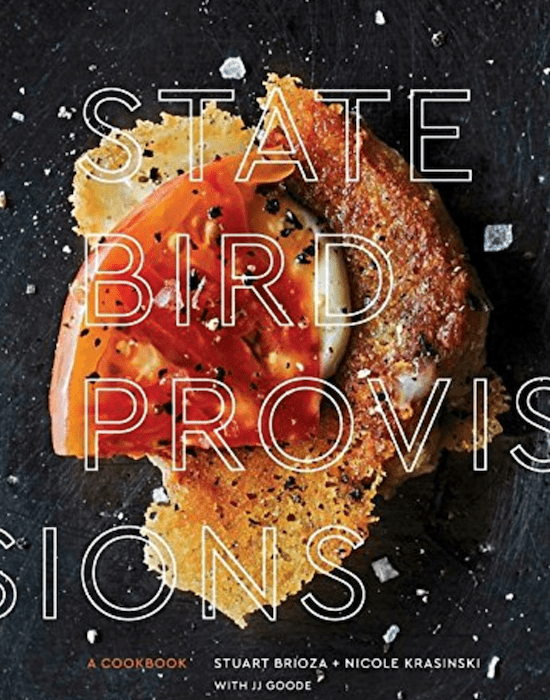 "State Bird Provisions: A Cookbook":
The debut cookbook from one of the nation's most revolutionary and celebrated restaurants. This is a must-have cookbook for any chef who likes to get experimental in the kitchen. Brought to us by chefs Stuart Brioza and Nicole Krasinski of State Bird Provisions in San Francisco, this book has recipes guaranteed to interest any picky dinner-guests. Take my advice and make the potato chips with crème fraîche and cured trout roe before you gift the book. $25.50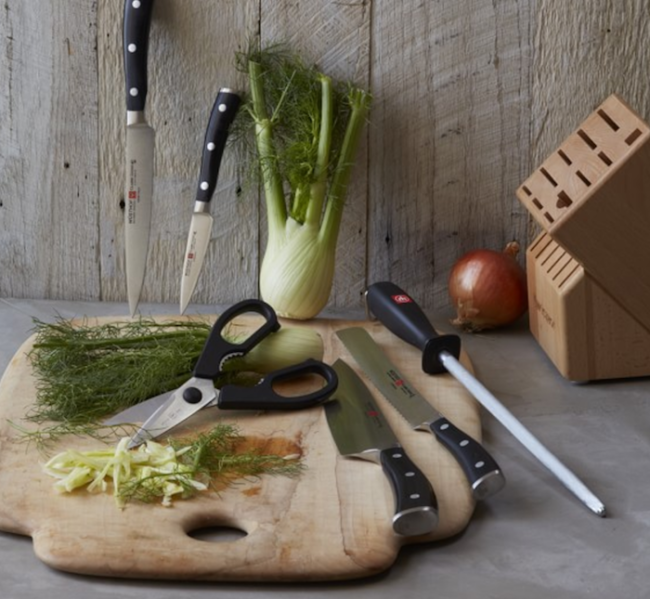 Wusthof Classic 7-Piece Knife Block Set:
Few things are more essential to a kitchen than a quality set of cutlery. Not everybody can spend upwards of $1,000 on kitchen knives, though. This German-made seven-piece set by Wusthof is a great set to start yourself out and not break the bank. Heck, you might even be able to help your Dad carve the holiday ham. Available at Williams Sonoma. $299.95
For Your Parents
by Melissa Wong, Managing Editor
Ring Doorbell:
The Ring doorbell is a motion activated video doorbell that will send footage straight to the user's cellphone. This doorbell is perfect for the parents constantly worrying about their package being stolen. If you're running a little short on cash this holiday season, QVC offers the option to make five separate payments. $155
https://www.instagram.com/p/BXycPZyFaz_/
Yeti tumblers:
These tumblers will keep their drinks warm on their commutes to work. They come in a 20 ounce and 30 ounce size. Both sizes come in seven different colors. The quality and capabilities of these tumblers will be sure to impress your parents. $35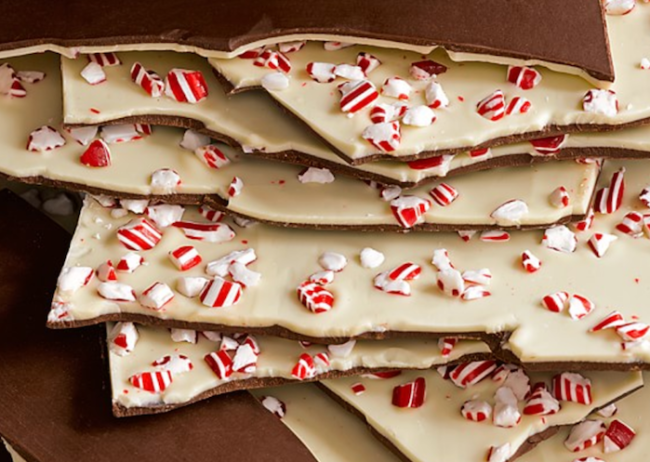 Williams Sonoma Peppermint Bark:
Williams Sonoma makes some of the most iconic peppermint bark. This gift would be sweet paired with some mugs and coffee. $29
https://www.instagram.com/p/BY_JvUgj28D/
MacKenzie-Childs Courtly Check Two-Quart tea kettle:
This gift doubles as a tea kettle and an art piece. If your mom is a fan of Keeping Up With The Kardashians, she'll be sure to appreciate this gift as it is frequently seen in Kris Jenner's kitchen. $105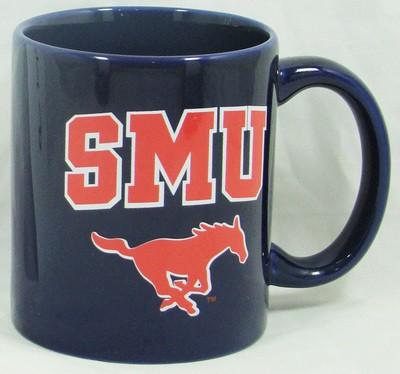 SMU Coffee Mugs:
Every time your parents drink out of these mugs they'll remember what a thoughtful child they have! The SMU bookstore offers a variety of different mugs and you'll be sure to find one that suits your parents' taste.
Don't sweat the small stuff: A guide to stocking stuffers
by Alexis Julien Kopp, Interactive Editor
Sitting on the floor in your Christmas pajamas and digging through the tiny goodies that appeared in your stocking overnight is a memory almost all of us can look back fondly on. Now that you're in college and attempting to become adults, it might be time for you to play Santa Clause. Here are a few ideas that will make you the best stocking stuffer this year.
Phone Case:
Nothing says "I care about you" more than a protective case for your loved one's phone. Go cutesy with a phone case from Forever21, sturdy with an Otterbox or get creative and customize your own phone case with Casetify.
https://www.instagram.com/p/Bb7eXU4FevI/
Tile Mate – Key finder. Phone finder. Anything finder:
Tile Mate is the perfect stocking stuffer for your forgetful friend. It's a tiny Bluetooth tracker you can hook onto a key ring, place in a purse or backpack, and even find your phone when it's on silent. $25
10-Foot Long Charging Cable:
This extra-long cable folds into a nice surprise at the bottom of a stocking. Amazon typically offers three charging cables for $14. That's all of your stocking stuffer shopping done in one place without breaking the bank.
https://www.instagram.com/p/BaOyMkinqNi/
A funny gift for your wino friends and family members. Attach the Guzzle Buddy onto a wine glass and look classy while you drink straight from the bottle. There's even a Guzzle Buddy for your favorite beer drinkers, now. Cheap, funny and guaranteed to be a hit after Christmas dinner. $25
For the beauty junkie
by Melissa Wong, Managing Editor
Foreo:
I ditched my Clarisonic immediately after getting this cleanser. This cleanser gently exfoliates the skin while targeting wrinkle prone areas. Not only do you no longer need to worry/avoid buying pricey brush replacements, a single charge for this has lasted me up to four months. The Foreo comes in three different sizes, but I've found that the mini size works best and is at the perfect price point. $99
Sephora Favorites Skin Wonderland:
This favorites set is an especially good deal from Sephora. It includes a mini Foreo (valued at $40) and a full size First Aid Beauty primer. The entire set is valued at $214 and includes familiar brands such as Fresh, Tarte and Kate Somerville. This set is great for giving whole or splitting up. $64
Belif Bestsellers On-The-Go Travel Kit:
This set is great for your friend who always travels and worries about what flights might do to her skin. Belif is a Korean skincare brand that just launched in the US. This set comes with five items, a cleanser, eye cream, toner, moisturizer and serum. $20
Birchbox subscription:
Give her a gift she'll still be thanking you for months from now! You can choose a three, six or 12 month subscription. These boxes come with an assortment of higher end products from brands that she may know of, and some new brands to discover. $30-$110
GloPRO:
This tool is the best way to get a microneedling treatment in the comfort of your own home. Dallas natives Jamie O'Banion and her father Dr. Terry James invented this product to help with fine lines and exfoliate your skin. O'Banion once sold 22,000 units in the span of 22 hours on the Home Shopping Network. This gift is great for your friend who loves new beauty technology. $199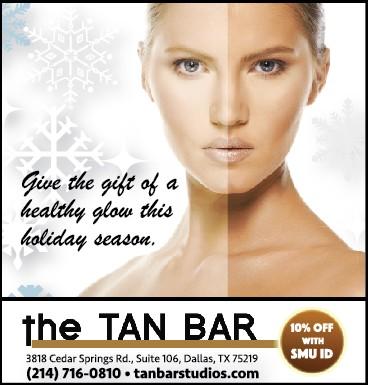 Winter may be mild in North Texas, but it still keeps us from tanning outside. Give your friends a healthy glow this year with a gift pack from The Tan Bar. These spray tan specialists use natural, eco-certified ingredients to give the perfect tint to winter skin. They even adjust the mix to best work with eye and hair color. Each tan takes 15-20 minutes and lasts about seven to 10 days. At $120 for three full body shots, this gift will keep on giving throughout the winter break. Located on Cedar Springs, The Tan Bar is only a short ride away. Booking an appointment is easy through http://www.tanbarstudios.com/.

Gifts For Your Fashionable Friend
by Melissa Wong, Managing Editor
Shopping for your most stylish friend can always be a hit-or-miss. You don't know if they already have the item (and have been hiding it to wait for the perfect outfit opportunity) or if they'll completely hate it. These gifts are both one of a kind and she'll be sure to reuse them.
Gray Malin iPhone Case:
Gray Malin recently turned some of his most famous photographs into iPhone cases. For the girl who has always wanted a Gray Malin print in her home, repping him on her iPhone is the next best thing. These iPhone cases are offered for the 6, 7, 8 and X. $49-$54
J. Crew Medium Pouch in Calf Hair and Leather:
This clutch is similar to the iconic Clare V. clutch, but without the price tag. The tasseled zipper adds a fun touch and it'll suit her New Year's Eve outfit needs. J. Crew also offers the option to monogram it with your initials. $59.50
Burberry Half Mega Fashion Wool Fringe Scarf:
This new Burberry scarf offers a cheaper alternative to their classic cashmere scarf. The fringe adds an updated touch while maintaining the classic Burberry look. $295
Free People Mini Skirts:
Free People offers a ton of mini skirts in velvet, denim, and corduroy. These skirts pair perfectly with over-the-knee boots and can be worn for a night out. Most Free People skirts are at a great price point ranging from $50-$70.
Vita Fede Original Titan Bracelet:
Vita Fede Titan bracelets are casual enough to wear as an everyday bracelet but add an edgy touch. You can go with the classic Titan, or check out the other options such as a mini Titan. These bracelets are great for stacking or wearing alone. $275
Santa Rolling in the Dough
by Alexis Julien Kopp, Interactive Editor
Wireless Ear Phones:
Wireless ear phones range in price, but the best quality options are more expensive. This stocking stuffer is perfect for the music-lover or the fitness guru in your life.
Smart Home Technology:
Invite Alexa into your home via stocking. She can do just about everything: play music, control smart home devices, make phone calls, send messages, answer questions and read the news. Gifting this multi-talented robot would make you win the stocking stuffer challenge. $50-$100
Jewelry:
"Santa baby, forgot to mention one little thing, a ring. I don't mean on the phone." If you are really embracing the "Santa Baby" vibes, you can always stuff the stocking of the very important ladies in your life with some jewelry. This item also can range from budget-friendly to more expensive. Alex and Ani are selling holiday bracelets for less than $100. And there's always Kay Jeweler's if you're feeling committed.
A Wine of the Month Subscription:
There's a monthly subscription box for just about everything now, including wine. There are plenty options for wine subscriptions. They range in pricing and in how much and what kind of wine the subscription holder will receive. Sign up for one in your loved one's name and place the certificate or receipt in their stocking. This is one of those gifts that keeps on giving. All. Year. Long.
For the Men
by Riley Coven, Arts & Life Editor
Google Home:
Google's latest technological achievement is their personal in-home helper. It's capable of doing just about everything you need, including keeping a calendar, playing music and controlling the other devices in your home. It's a great gift for any guy on the go. $129
UGG Slippers:
One of the most underrated companies when it comes to menswear is UGG. Their men's slippers are especially comfortable as well as durable so it's a gift that will last. $80-$250
Acqua Di Gio by Giorgio Armani:
Cologne is always a great gift for a guy, and there's nothing better than Acqua Di Gio. It looks nice and smells great, a winning combo for a cologne. $48-$118
Lululemon's Surge Warm Long Sleeve:
Lululuemon isn't exactly known for their masculine items, but don't let that fool you. They offer some very high quality products for men and this shirt in particular is a great winter surprise. $98
Glencairn Whisky Glasses:
Every man needs a quality set of whisky glasses to sit with by a roaring fire in the winter months. Glencairns are especially great and work for just about any occasion. $23
A Girl's Best Friend
Olivia Pitten
With every holiday season comes the influx of sugary treats, gatherings of friends and family, and, of course, the stress of picking out the perfect gifts for your loved ones. The pressure of selecting a gift that expresses how much you love your best friend is always a challenge for girls. Here's a few gift ideas for a girl's best friend:
Leather Phone Card Carrier:
This cute Kate Spade phone accessory is not only stylish, but practical. A girl on the go always needs the essentials, ID, credit card and smartphone, on her at all times. This affordable gift combines them all in one leather little package. This case pocket comes in three colors: black, deep plum and midnight blue. $28
Polaroid Camera:
A colorful Polaroid camera is the perfect way for your best friend to capture your favorite memories together. The instant printing feature allows your photos to be in your fingertips in seconds. Include some cute Polaroid film to make the gift even more unique! $70
Comfortable Robe:
Every girl needs her time to unwind and a plush robe, like this one from Nap, is the perfect outfit oasis. This lightweight robe is versatile year-round and comes in a variety of colors to suit every style. Add a pair of plush Nap slippers or a spa gift card to extend your generosity! $70
Fitbit bangle:
This stylish accessory will track your best friend's daily steps and exercise while adding sparkle to every outfit. The Fitbit bangle comes in stainless steel gold or silver to match their personal style. The Fitbit bangle comes in two sizes to ensure perfect fit. $100
Monogrammed passport/luggage tag set:
This personalized gift is both cute and useful for your jet-setting best friend. The bright pink color will stand out in every airport. And the best part? Every time she travels she'll think of you and keep you close to heart. $73