Female engineering students proved that they have both beauty and brains during a fashion show hosted by the Society of Women Engineers' SMU chapter. In a conference room lined with balloons and streamers, SWE board members took the initiative in teaching other engineering students how to appropriately dress for everything from job interviews to casual business days.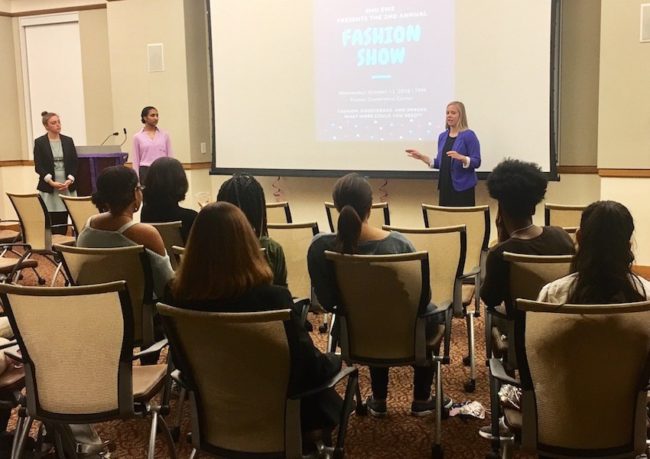 The event was held on Wednesday October 11th at the Palmer Conference Center and hosted about 20 students. There was no entry fee and attendees were free to enjoy all of the event's perks: from SusieCakes mini cupcakes, to refreshments, to goodie bags containing hair and makeup accessories, jewelry and candy.
With two keynote speakers and 10 student-models, attendees learned how to be professional with style.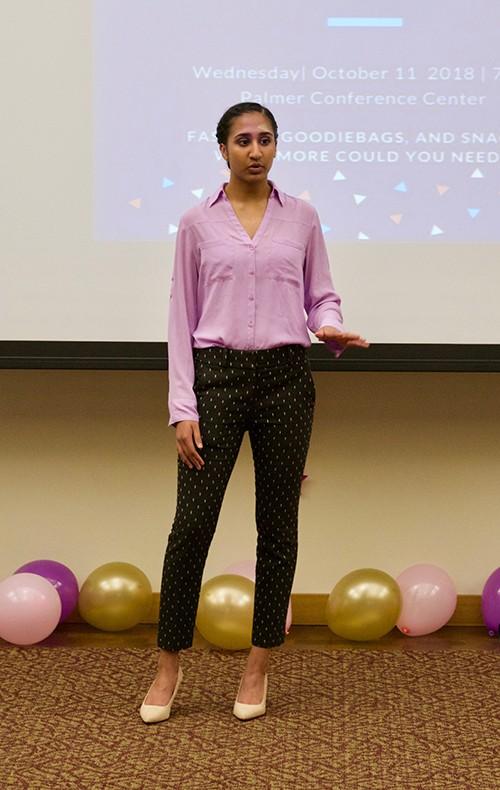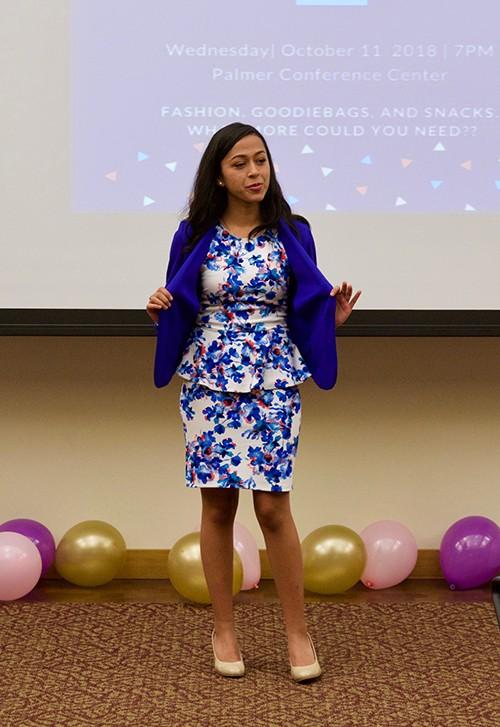 Hebah Jaffery, a sophomore and co-event coordinator, organized and hosted the fashion show to teach students about professional wear. From removing lint off of a jacket to checking the appropriate length of a skirt, she covered many topics.
"There are a lot of little things people don't think about," she said. "I'm happy we have an event like this to cover all of the small details."
The fashion show also taught students how to shop professionally on or off of a budget, how to wear their hair, do their makeup, and most importantly: how to do it all while maintaining true to oneself.
Marissa Dusek, a junior and vice president of SWE external affairs, noted that it's important to know how to dress depending on the situation. She told the audience that there are clothing variations within different fields of work and women should understand each of them. She believes this is important in order to break down the stereotypes that female engineers are too masculine, or don't know how to dress.
"As female engineers, we tend to be targeted," she said. "But we host this event so employers can see the power of our brains rather than the distraction of our outfits."
This is the second year for SWE to host a fashion show. Treasurer Natalie Jacks said she attended the event last year and came back to participate this year as a model because she learned so much her first time around.
" This event was extremely helpful in moving me along in interviews after my freshman year," Jacks said. "I wanted to help pay forward everything I learned."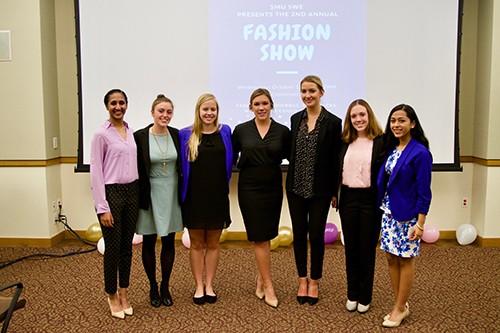 Two lucky audience members were awarded $25 Nordstrom gift certificates at the end of the show to help give them a kick start in building their professional wardrobe.
To learn more about SMU's SWE chapter, visit their home webpage.