Highland Park Village's Escada honored Dallas designer, blogger and socialite Kathy Fielder for her accomplishments and dedication to women empowerment Oct. 26. Ten percent of the store's sales at the event benefited the Orphan Outreach, a nonprofit organization with a mission to reach and help at-risk children worldwide.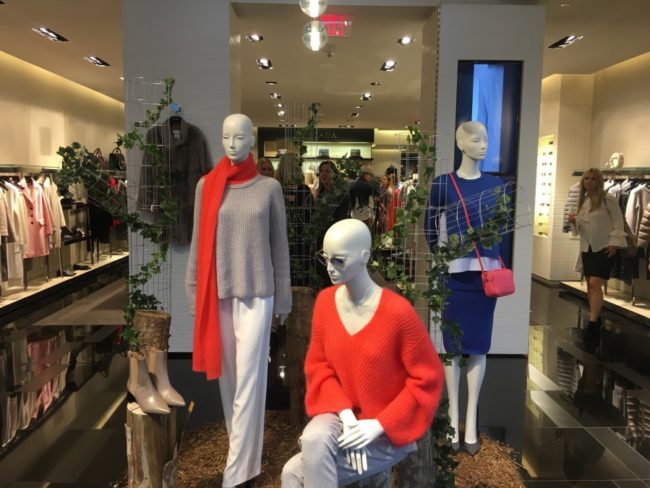 "Escada has graciously offered to give back a portion of the proceeds from the shopping tonight to Orphan Outreach, which is an organization that's close to Kathy. She does a lot of work with them outside of this," Fielder's publicist Gretchen Darby said. "We decided that it would be great to partner all three organizations and give everyone the opportunity to shop in conjunction with Partners Card and give back to Orphan Outreach at the same time," Darby said.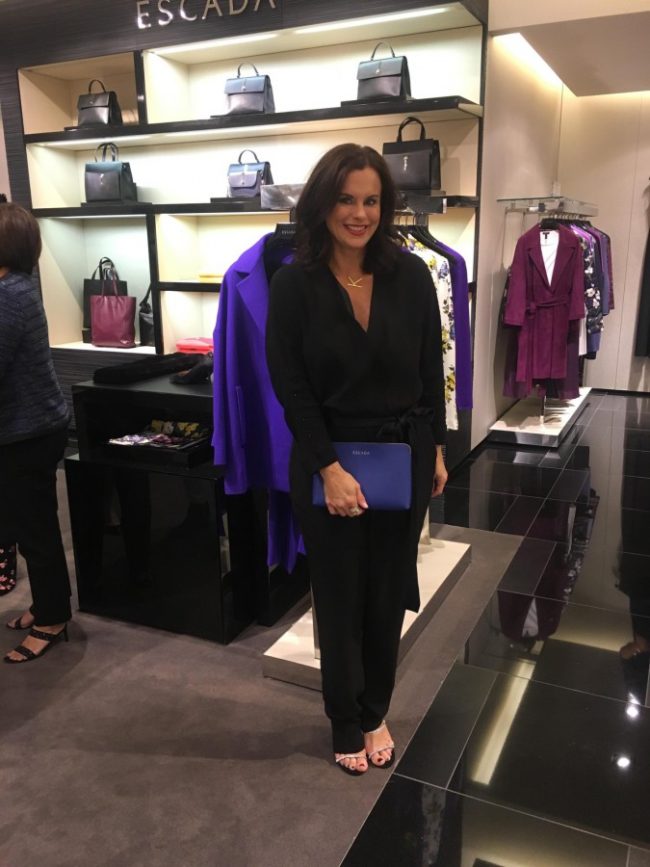 Escada also showcased their Fall 2017 pieces at the event, including solid colored pantsuits, straight silhouettes and a black-feathered dress. Fielder wore a black Escada jumpsuit, one of her favorite fall 2017 pieces.
"I am smitten with this. Anyone can wear this; there's not a body type or height that can't wear this jumpsuit. It goes from day to night," Fielder said. Designer, manufacturer, mother, blogger, entrepreneur — Fielder wears many hats and proves women can really do it all.
Fielder started her career as a manufacturer, which has evolved into her own soft goods line and a lifestyle blog.
"I own a manufacturing company, Isabella collection by Kathy Fielder, which is named after my daughter Bella. I have the longest running bedding collection at Neimans (Neiman Marcus). A lot of people don't actually know that about me," Fielder said.
Fielder didn't stop there — she will soon partner with one of the top retailers in the nations. "I own a textiles company and I'm launching a branded line with QVC in March," Fielder said. Fielder's brands are unique in that she incorporates her family, making it more special for her and customers and buyers who relate to the brand.
"Over the past few years, I had a couple of companies say, "Hey, where are you in this mix?" and they said I have a really good story — my daughter's name being involved in the company and my mother is the head pattern maker," Fielder said.
In addition to her brands, Fielder is a TV host and lifestyle blogger. "I do a segment on Designing Texas; it's called 'The Fielder Report.' It's a lifestyle segment — what's trending in lifestyle, design and what makes life a little more fabulous every day," Fielder said.
Fielder's segment is an extension of her lifestyle blog, which offers advice on topics such as entertaining, cuisine and fashion.
"My blog started two and a half years ago. It's actually my favorite thing that I do," Fielder said. "I absolutely enjoy doing those posts and just sharing a way to make life a little more pleasant and beautiful and enjoy it."
Empowering women and having a positive impact on others' lives motivate Fielder. She hopes to bring joy to people through her brands, advice and blogs. "You empower others by being empowered yourself, having a platform and bringing light to organizations and communities that are important and need attention," Fielder said. "That's really my mission: to just make life a little bit better every day and be kind, have a good time, enjoy each other because really, at the end of the day, that's all you have."