The SMU women's basketball team, under the leadership of returning head coach Travis Mays, is preparing to open their season Friday in Moody Coliseum.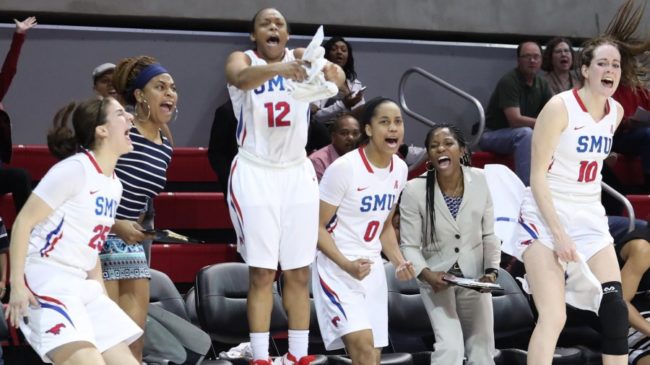 During Mays' start with the Mustangs last season, the team finished 19-15. The Mustangs went 13-3 in Moody Coliseum, boasting an unscathed 8-0 non-conference home record. Mays led SMU to the third round of the Women's National Invitation Tournament, where they fell to Indiana, 64-44.
This season, the Mustangs return senior guards McKenzie Adams and Mikayla Reese, and senior forwards Alicia Froling and Stephanie Collins. Froling currently holds the SMU the league record 10 rebounds per game; she ended last season with 339 rebounds, breaking the single-season record yet again. Froling averaged 14.3 points per game last season, the team-high. The Queensland, Austrailia native was recently named to the AAC Preseason All-Conference second team.
In addition to the returning veterans, SMU is adding some new faces to the roster. Makenzie and Savannah Ellis, sisters from Tulsa, Oklahoma, will be joining the Mustangs. Makenzie, a junior transfer from Colorado, averaged 6.4 points per game last season. In high school Ellis was the only starting sophomore on the Booker T. Washington state championship team.
"Makenzie adds so much to our program. What she has accomplished already on the court speaks for itself," Mays said to SMU Athletics. "Makenzie has proven herself in the Pac-12. We expect her offensive and defensive skill set to continue to shine in the AAC. Makenzie will serve a vital role with our team next year. As she sits out her transfer year, she will be a valuable part of the continual growth of our team in practice next season. Makenzie will be a key piece of the championship foundation we are building at SMU next year and in the future."
Savannah Ellis, a freshman from Booker T. Washington High School, averaged 11.8 points per game. Captain of her high school team, Ellis led the team to the state quarterfinals.
"Savannah is a leader who continuously strives to pursue excellence on the court and in the classroom," Mays said to SMU Athletics. "She had an outstanding high school career, and we expect her to be a three-point shooting specialist at the collegiate level."
Joining the Ellis sisters in the 2017 signing class is forward Johnasia Cash from McKeesport, Pa., guard Ariana Whitfield from Houston, and guard Morgan Smith from Dallas.
The Mustangs will play a total of 16 conference games: three at home, three on the road and five both at home and away. SMU will take on UCF, East Carolina, Houston, Temple and Wichita State in Moody Coliseum as well as on the road. SMU will additionally host Cincinnati, Connecticut and Tulsa, while traveling to play Memphis, USF and Tulane.
SMU will tip-off non-conference play this Friday against Nicholls in Moody Coliseum at 11:30 a.m.