On Sunday, Oct. 29, fans aged 17-60 crowded the floor of The Bomb Factory, excitedly prepping for a sold-out show. Alt-rockers Brand New were back in Dallas for the first time since 2014 and no fan wanted to miss seeing them. As a band that always seems to be on the verge of calling it quits, fans have learned to not take their chances. After all, front man Jesse Lacey closed the show by simply stating, "We'll be back for a couple more shows before we go away forever."
Before the show began, a few people in the crowd started cheering as they noticed some familiar figures in the balcony. Other heads turned, and standing in a row were four people dressed up as the iconic figures from the band's album covers: the devil and God, the astronaut, and the fox.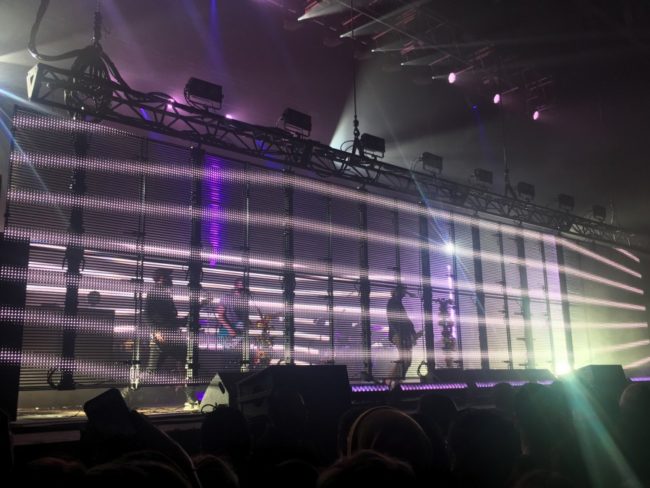 After a performance from openers Nada Surf that lacked energy needed to pump up a crowd, a "cage" of LED lights lowered in front of the stage. Lacey took his place at his signature flower-adorned microphone stand, barely visible behind the glow of the screen in front of him. The band had effectively created a "fourth wall" between themselves and the audience, worrying some that the entire show would be played like this. As a band known for its emotionally-charged anthems of anger and depression, the "fourth wall" acted as a barrier from the real world. The band was shielded from the audience's gaze, and the audience was shielded from the band. This forced both to focus only on the music for two songs until the barrier raised to reveal Brand New.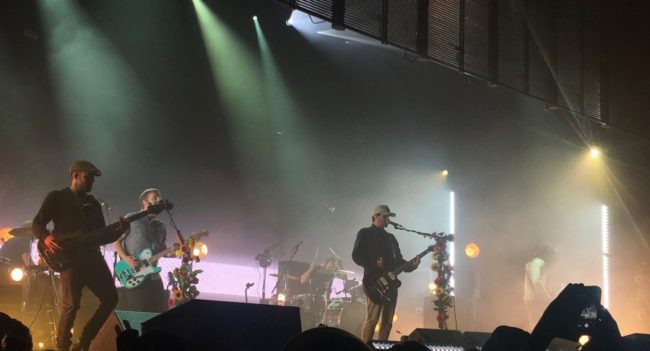 The already intense crowd collided with each other agin and again, collectively releasing any and all emotions, whether they be overwhelming joy or immense sadness. This continued throughout the show as the band's energy fed on the crowd's and vice versa. While fans were pleased to hear favorites from their most recent album "Science Fiction," it was obvious that the real emotions lay in favorites including "Deja Entendu" and "The Devil and God are Raging Inside Me." The band even seemed to become more hyped up, as if they were welcoming long-lost friends.
The first stint of older songs began with the famously venomous "Okay I Believe You, But My Tommy Gun Don't," in which Lacey spat out every line with as much rage as the original track. Other highlights of the night included "You Won't Know," a song full of screams and heavy guitar. Lacey became transfixed in the final verse, swaying and grasping at slivers of light cast down from the ceiling.
After their rendition of "Sowing Season" that included an extended ending, Lacey came back alone on stage for one final encore, a solo rendition of "Soco Amaretto Lime" from their first album, "Your Favorite Weapon." While tuning his guitar, Lacey joked with the crowd about the song's juvenile subject matter.
"At the time that I wrote it, I think I meant it really sincerely, but going on 40 with a 14-year-old, it's become real satire to me, which is kinda funny," Lacey said. "It's still just as meaningful, so thank you guys so much."
There's something to be said in that playful jab at one's own music. When a band as old as Brand New still plays songs written at a time when they were much younger, the original meaning can seem a little lost. Yet the songs do not become, as Lacey said, less meaningful.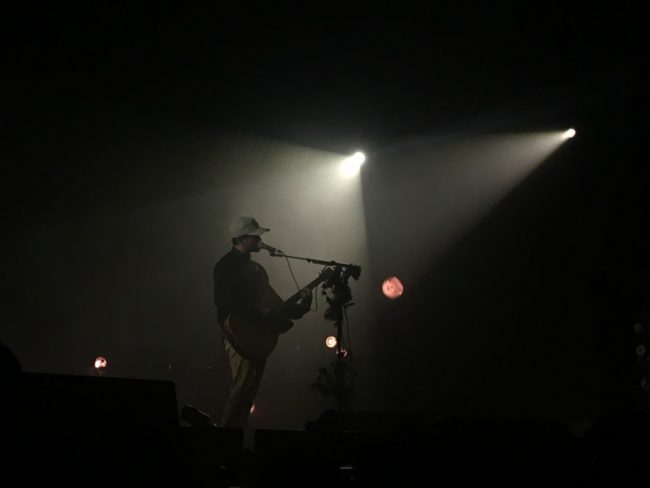 Brand New is the kind of band that you blasted when you were 13, so mad at the world that you shut yourself away in your room. You played them when you were 17 and not sure how your life would turn out. And again at 20, when their music was a reminder that sometimes you just need to let it all go. So, when Lacey belted out "I'm gonna stay 18 forever" to a teary crowd, they all felt the collective nostalgia, sadness and happiness. In that moment, everyone was back in their room, remembering what it was like to discover a band that would become their everything.