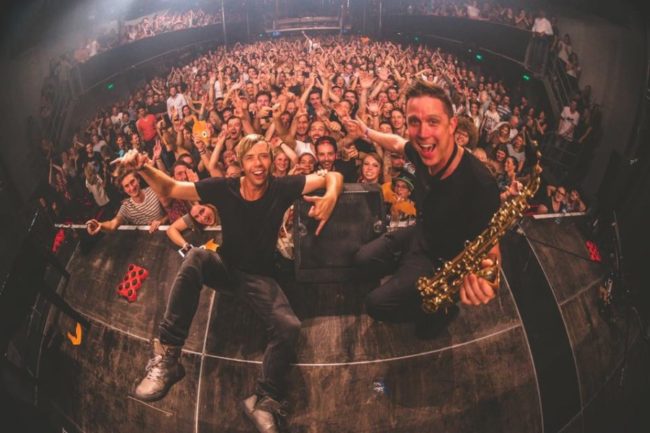 Austin City Limits hosts a myriad of artists and performers every year. The festival welcomes musicians from all sorts of genres including rock, country, pop, hip-hip and more. One of the performers during both weekends was the electronic duo Goldfish. The pair of DJs loves combining live musical sounds with EDM-flavored beats to create a unique tone that gets the crowd jumping. The two took some time to answer a few questions about their time at ACL and their music as a whole.
Daily Campus: I saw your latest album "Late Night People" was released pretty recently and I was wondering what the process was like getting that together?
Goldfish: This is our fifth studio album and as always it's a serious process, because we take our albums very seriously. Albums are forever and we have an amazingly loyal following that hold us to our standard we have set for ourselves. I think they can feel the careful thought and effort that we put into our albums when they listen to our stuff. Our whole goal is to make tracks that are going to last longer than the six-week release cycle so many artists in our industry work on. "Late Night People" was something that was created over two years, and in that time we relocated from Cape Town to San Diego. A lot changed for us and moving to the states was like hanging onto the outside of one of Elon's Space X rockets. This album reflects that and we're really stoked to see the response from so many of our fans saying it's our best work yet.
DC: What's your favorite track off the record?
G: We really pride ourselves on not having 'filler' tracks on our albums. All 12 tracks have to pass our own test of being able to listen to them in 10 years' time and still be stoked. But if you're looking for ones we have a soft spot for, "No One Has to Know" and "Absolute Power" were really fun to make.
DC: Do you prefer live performances or studio work?
G: I guess that's like comparing sushi with tacos. We love them both. We get a lot of ideas for studio work from playing live as things come through you in the moment that you wouldn't necessarily come up with whilst in the studio. Sometimes this stuff is the most honest and raw stuff as well, because you're in the now and not thinking, you're just feeling. Always have the voice recorder on your phone ready to grab an idea because by the time you've finished the gig it will gone as quickly as it arrived.
DC: I would bet playing at ACL is a pretty cool experience. What would you say is the difference between festivals and solo shows?
G: Festivals are always rad as you will always have a lot of new listeners in the crowd who come across you by accident. That is the best thing about playing festivals as you're getting the best of your fans that have turned up to rave and also get to watch people get turned onto the fish. Solo shows are also super gratifying as we get to focus more on our own special production and play extended sets and go on more of a journey.
DC: What can we look forward to at a Goldfish show?
G: Get ready to experience the best elements of a live band mixed with the best elements of DJ culture and a vibe level through the roof! Live sax, flute, keys, electric double bass and piano all smashed together with big hypnotic beats and improvisation. We don't even know what's going to happen next.
DC: If you could collaborate with anyone working out there today, who would it be?
G: Anyone with an amazing unique voice or production style. So far we're getting to scratch that itch all over this new album with collaborations with Ashe, Sorana, Soweto Kinch and more. Next up would be guys like Louis The Child, Lane 8, Luciano, Sampha, Ookay. As you can see, we are into pretty diverse stuff.
DC: Are there any other artists you're looking forward to seeing at ACL?
G: Caught the Killers after our set and they were straight up incredible. Brandon Flowers voice is a force of nature and the band were one of the best sounding live acts we have heard to this day. They really deserve all the success they have had. Really want to catch The Revivalists, Vulfpek and Zhu's sets this weekend too.
DC: Out of curiosity, where did the band name originate?
G: Dave always used to rip me off about my legendary short-term memory when we were studying music at university. I could remember any piece of music verbatim but didn't know where my keys were. When we started GoldFish, the name just stuck.
DC: If you had any tips for aspiring artists out there, what would they be?
G: Honestly, it sounds like a cliché, but be yourself. Be yourself! It will be harder in the beginning, and it's so easy to slipstream a sound but that will only get you so far, and when it all comes together with your own thing, no one can touch that.