By Jade Taylor
In celebration of Chinese New Year, Nordstrom is launching Pop-in@Nordstrom at NorthPark Center through March 25. This pop-up shop, starring the famous cartoon dog Snoopy, features exclusive apparel, artist collaborations and more.
Every six weeks Olivia Kim, Nordstrom's VP of creative projects and curator of Nordstrom pop-up shops, designs a completely new experience for shoppers. The shops present new and exclusive products each month with different themes and designer partnerships.
"It's everything you would want for the modern pet in your life that is not considered just a pet, but more of an actual family member," Kim told D Magazine.
The shop welcomes customers with large cutouts of Snoopy, racks of people clothes, dog clothes, organized shelves with accessories, toys, treats and dog beds with bowls and tents laid out. Red Chinese lanterns also hang throughout the shop.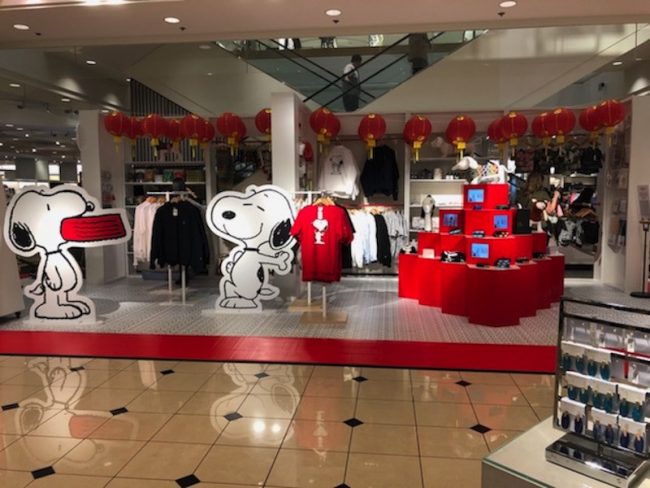 "[Nordstrom] partnered with quite a bit of designers, and they did a collab with Champion to do Snoopy logos on all the 'human clothing,'" Nordstrom sales associate Christian Short said.
"There is also dog clothing that play off Gucci; they do 'pucci.' For the most part, there's dog treats, and the Snoopy theme is very throughout the pop-in. The most popular stuff is the dog clothing, and everyone loves the Pupreme black hoodie," Short said.
Luxury brands use China's biggest holiday to include their brand name on items like a "Pawlenciaga" dog sweater and to increase profits, specifically through Asian consumers. This is an opportunity to update your pups' wardrobe with what mirrors Balenciaga, Gucci, Supreme and some Snoopy apparel from Peanuts.
"I just recently adopted a dog from 'Dallas Pets Alive,' and he loves wearing clothes. I saw that Nordstrom posted this on Instagram, so I came to check it out and got him a Hawaiian shirt in pink because he is a lab color blonde, and now he is ready for summer," said Pop-in customer Lauren Shelley. "Everything was super cute and I would definitely like to buy it all."
Additional items available for purchase range from plush designer bags and odor eliminators to Snoopy notebooks and iPhone cases. Shoppers are able to buy accessories for their pup and exclusive Snoopy apparel for themselves.
Another customer said she visited a Snoopy-themed museum during her trip to Japan but that finding stylish Snoopy clothing is difficult. She was satisfied with her Snoopy shirt purchase.
Other designers like Dolce & Gabbana, Adidas, Nike and Bape join the festivity by designing chic items for individuals to honor the New Year, whether they are dog-related or printed fireworks or items that use colors like red and white.
According to China's lunar calendar, 2018 is the year of the dog. It is said that the animal leading over the year you were born says a lot about your personality and how you relate with others.
"Chinese New Year is one of the biggest holidays over Korea and China. All families gather and cook together, and we hold a memorial to our ancestors," Korean SMU student Blair Kim said. "We bow to people like grandparents or older people to wish them to be healthy and live a long life."
"This is literally the epitome of a Dallas customer. We have women coming in all the time with their dogs in strollers, so it's a really fun way for Nordstrom to, I think, spoil your dogs because they're like children," Nordstrom service experience representative Taylor Gipson said.
Find Pop-in@Nordstrom in selected stores and online at Nordstrom.com/POP.