by Blair Kim and Emmy Berg
With the Olympic Games coming to a close, here's a look at who won gold in fashion.
Fashion isn't typically the first thing that comes to mind when thinking of the Olympic games, but it matters.
Specialty features in jerseys and uniforms can greatly impact athlete's performance during their events. During the 2014 Olympic Games in Sochi, Under Armour faced major controversy when flaws in its designs slowed the U.S. speed skating team, which resulted in the company being dropped. But now, Under Armour is back and better than ever. After spending the last four years working with the U.S. Speed Skating Federation, the new uniforms allow for greater flexibility and a new aerodynamic fabric called H1. Both features are expected to make up for glitches in the former uniforms.
U.S. speedskaters work with Under Armour to redesign suits for 2018 Olympics https://t.co/X0UXxuJfZI

— The Washington Post (@washingtonpost) February 8, 2018
Under Armour wasn't the only fashion company at the Olympics. American brand Ralph Lauren designed the Opening and Closing Ceremony outfits for the U.S. team. Sticking with patriotism, the designs consisted of all things red, white and blue with a Western flare. One of the coolest features is the battery-powered parka, keeping athletes warm for up to 11 hours in the freezing temps in Pyeongchang. Other leisure looks consisted of après-ski inspired sweaters, jeans and puffer coats.
Nike also made an appearance on the podium, following the patriotic theme.
No matter the brand, all fashion labels pulled out all the stops to ensure the U.S. team is looking great and performing better.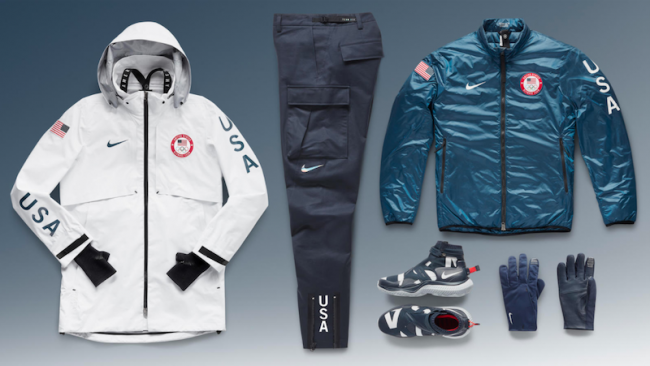 On the other hand, the long, padded coats made as 2018 PyeongChang Winter Olympic goods cost approximately $135 each — a steal compared to some other long, padded coats. However, these coats sold out within minutes, according to Korean media.
Approximately 700 South Koreans lined up at Lotte Department Store in November for a chance to nab a PyeongChang Olympic edition long, padded coat. One shopper, who showed up at 7:30 a.m., said she already had more than 200 people waiting in front of her.
Also in anticipation of the Olympic Games came the PyeongChang sneakers, which sold out an initial batch of 50,000 pairs just a week after pre-orders began in December.