Two legal experts on different ideological sides disagreed on the effects of banning assault rifles, but agreed that the Second Amendment is not absolute during a debate on Monday, April 2.
Josh Blackburn said that laws in various Illinois towns banning assault rifles are not going to do much, just make people "feel" safer. He defined an assault weapon as differing from rifles because of cosmetic features. He argued that because assault rifles and regular rifles have the same capabilities, it would have almost no effect.
"The majority of gun deaths are handgun deaths, not assault weapons," Blackburn said.
Steed disagreed and felt that the banning of assault rifles could potentially discourage school shootings. He said he would be perfectly okay with banning the cosmetic features, because that's what attracts teens to these guns.
"It's been called gun porn," Steed said. "The 17-year-old kid that wants to get a rifle to shoot up his school, there's a reason that that's the rifle he would buy and not just a hunting rifle."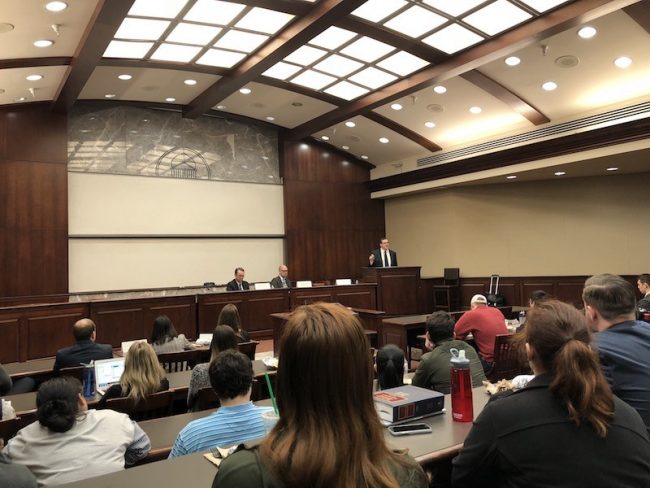 The debate was prompted by the Feb. 14 Marjory Stoneman Douglas High School shooting in Parkland Florida, where 17 people were killed. It was the sixth school shooting of 2018.
"We chose this topic because it is top of mind for many students, attorneys, and Americans alike. With the #MarchForOurLives just over a week ago, it was a current issue that many care about," Kelsey Flores, co-president of the SMU Federalist Society said.
The Federalist Society, an organization for conservatives and libertarians within the legal community, hosted the debate. The American Constitution Society (ACS), which is a progressive legal organization, co-sponsored the event. 100 people attended, including students, faculty, staff, local attorneys, and a judge. The Federalist Society was represented by professor Josh Blackburn of the South Texas College of Law and the ACS had Jason P. Steed, appellate lawyer for Kilpatrick Townsend.
Engaging debate today on gun control featuring @5thCircAppeals and @JoshMBlackman. Thank you to @smufedsoc and SMU's @acslaw chapter for co-sponsoring this great event! pic.twitter.com/dfNpr9qn8q

— SMU Law Review Association (@SMULawReview) April 2, 2018
After the two disagreed over assault rifles, they both concluded that the Second Amendment is not an absolute right. Blackburn said that Congress could not even pass a background check bill; they won't repeal the second amendment. But, he did say that local governments had the ability to limit the right, which Steed agreed with.
"We don't have any right that I'm aware of that's just so absolute that nothing can be done to limit it," Steed said.