A San Antonio queen was named Miss Texas USA 2019 on Sunday evening at the Hilton Post Oak hotel in front of a crowd of over 600 people and countless online viewers.
Alayah Benavidez won the hearts of the judges and walked away with the crown. This Labor Day weekend in Houston, TX, the annual Miss Texas USA competition came down to a final five including: Alayah Benavidez (Miss San Antonio USA), Kirby Lindley (Miss Tomball USA), Katie Scott (Miss Lone Star USA), Lesha Wincher (Miss Houston USA), Isabella Radovan (Miss Central South Texas USA).
From across the state, 84 young women competed in private interview, preliminary competition in swimsuit and evening gown, and then finals competition. During finals onstage, a top 16 contestants competed based on their cumulative scores from the private interview and preliminary night.
"Going into finals, the judges need to look at the girls with a presentation only mentality. In doing so, they will be able to easily tell who came here most prepared," Beaux Wellborn, a local pageant expert and coach said.
Extraordinary behind the scenes work goes into preparing for a competition like Miss Texas USA. The onstage performance serves as a direct reflection of the hours spent training.
A 23-year-old representing San Antonio, Benavidez graduated from The University of Texas at San Antonio and is now working on a Ph.D. She wore an elegant, champagne evening gown designed by Vienna Fashions. She will be required to wear a gown designed by Sherri Hill, the national sponsor, at Miss USA. Benavidez held the title of Miss United States 2016 and also founded Read The Way, a campaign which focuses on childhood literacy.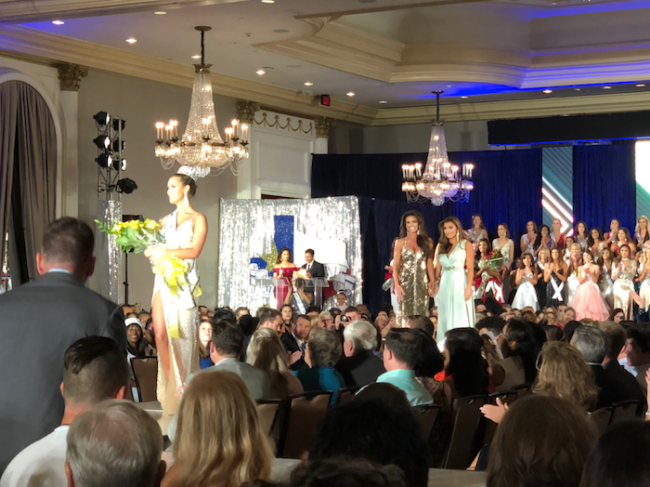 "This class of competitors is incredible. It is one of the most competitive years I've seen," Austin Ryde, a hair and makeup artist said.
Ryde knows pageantry as well as anyone since he grew up in a family with a mother and sister as titleholders. He prides himself on his continued accuracy in spotting the top 5 early in the pageant.
Logan Lester, Miss Texas USA 2018, graced the stage one last time in a gold Sherri Hill gown. In her onstage interview, Lester said she wishes for her successor to take in each of the "next 365 days and relish it." Lester had the shortest reign in Miss Texas history because her pageant was delayed due to the flooding in Houston caused by Hurricane Harvey in 2017.
Will Henderson, the Miss Dallas USA recruiter and director, wants people to know that the stigma of conflict between competitors is not true—everyone is so kind to one another.
"It's great to see girls helping one another backstage and approaching the pageant as an opportunity to grow personally and make friendships," Henderson said. "Even if you don't win, you walk away with invaluable personal growth and experience."
Henderson said it is best to approach the competition with a "growth-oriented" mentality. From his perspective, Miss USA, at its essence, is a beauty pageant, and Benavidez "personifies beauty."
According to Henderson, he has known Benavidez since she began competing as a teen in 2014, so he feels blessed to be a part of her journey and to be standing there as she was crowned Miss Texas USA 2019. "She represents herself well both on and off the stage and I believe that her genuine heart will serve her well at Miss USA," Henderson said.
Benavidez will compete for the title of Miss USA next spring.