The Hughes-Trigg Ballroom was filled with students, buddies and bingo cards as SMU Best Buddies hosted its first event of the year, Bingo.
Best Buddies, an organization that connects SMU students to people with intellectual and developmental disabilities, started off the year with a chance for everyone to get to know each other. Best Buddies Bingo was hosted on Wednesday night and served as a way for students to meet someone who could possibly be their buddy for the year.
"The purpose of this activity in particular is to find your match, the purpose of this is to build one-to-one friendships," SMU Best Buddies President Tyler Gralapp said. "In years past we have done sort of like speed dating or questionnaires, but I thought this was a creative way to get everyone to mingle."
Students were each given a Bingo board and on it there were 25 squares. In each of the squares there were identifiers that could be true about a person. The traits were anything from loving chocolate to having painted nails. Students and buddies would then go around and try and find people who identified with these traits and have them sign their board.
"This board is kind of interactive. You're going to go around and have people sign different spots based on things that they have done in their life," Gralapp said.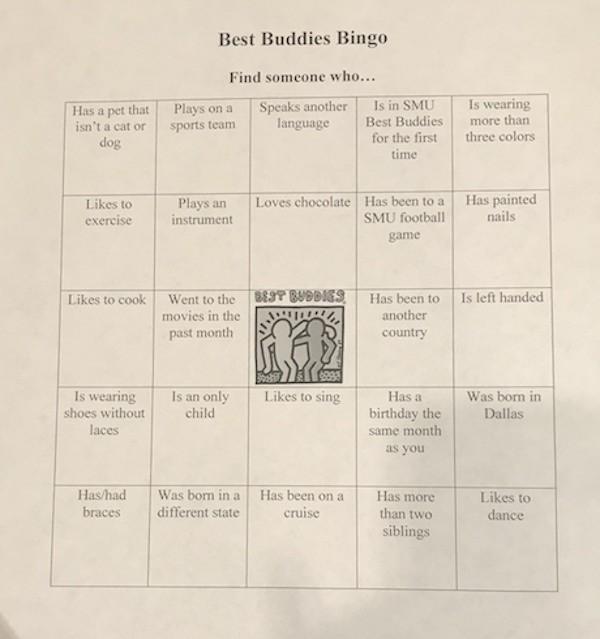 Both students and buddies came to the event in hopes of getting to know new people. Since it was the first event of the year, new first year students were able to see what the organization is all about.
"I wanted to come because I did Best Buddies in high school, but we never had the opportunity to do peer-to-peer mentoring like they do here," first year Isabelle Bates said.
Even parents of buddies were excited for their students to get to know more people at Bingo.
"I heard about SMU being 18 plus so I thought, he's an 18-year-old, I think being around college students will be fabulous for him and just meeting kids and being able to have social time with them," Ingrid Basson said.
Ingrid and Mitch Bassons' son Sam was at the event to find his student mentor for the year.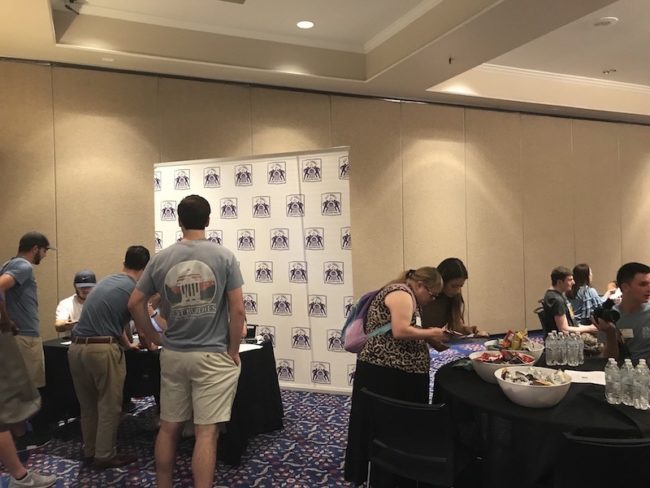 Best Buddies is an international non-profit organization that focuses on making one-on-one connections between students and people with intellectual and developmental disabilities. The SMU chapter has the same goal as the national organization, pairing up students every year. Some pairs have even spent years together.
"I've been with Brandt since freshmen year," senior Grayson Novak said about his buddy Brandt Eurban. "I hang out with him every summer and after a little bit you forget what the requirements are and you're just hanging out with one of the boys."
The two have been paired for four years now and Novak described the pairing as a, "top-tier match." Eurban has been involved with Best Buddies for about five years now and says he has made many friends through the organization.
"It is fun to interact with other people," Eurban said. When asked about his favorite event Best Buddies puts on, Eurban answered with a smile on his face. "I got tons, but the one that always gets me is Dave and Busters," Eurban said.
SMU Best Buddies puts on two events each month, so their students and buddies can have time together. They are always looking for new members and encourage anyone to get involved.
"It's really an organization that is not about you at all, it's completely about a different group of individuals that you don't interact with here on campus and it really opens your eyes on how people take advantage of the simple things," Gralapp said.