(Editor's note: This review contains major plot points in the movie. However, everything mentioned is either shown in the trailer or written about in the article the movie is based on which came out in 2015, so technically no spoilers.)
Nothing makes your parents proud like telling them you just watched a stripper movie and live pole dancing for the sake of journalism.
I was offered review tickets to see "Hustlers" days before its release, and fresh in my position as the new arts editor, I snagged those babies. It's daunting task to write about strippers within the frameworks of academia, but I guess I wanted the challenge.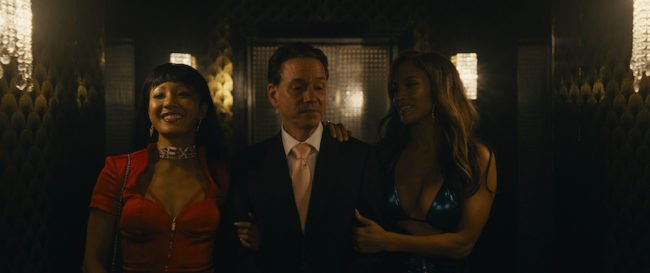 The trailer was intriguing. A story about strippers conning a bunch of Wall Street guys, but spun to promise you a robin hood story. It was going to make thieving strippers into strong female heroes, or at least it seemed. I just wanted to know if they could pull this off.
Can hyper-sexualization and feminism coexist? And how much are we going to glamorize crime in film until we stop and realize that, oh wait, stealing is bad?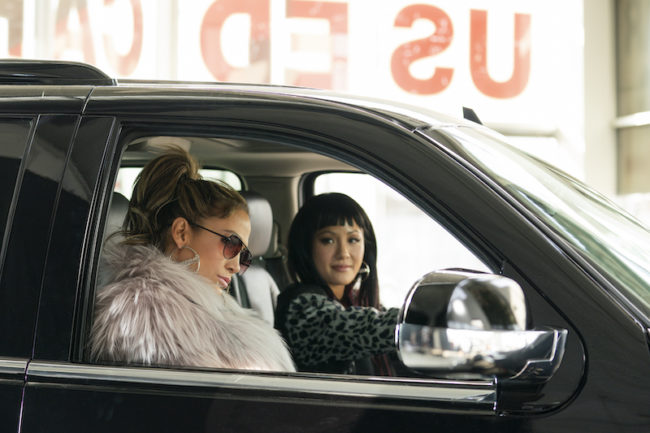 The Angelika Film Center at Mockingbird Station was bursting at the seams for this film preview. I don't know who gets to come to these besides the press, but it looks like everyone wanted to. The theater filled up early due to high demand, but also because a treat was promised before the screening.
Live pole dancing.
Do you ever get those moments when you're sitting in a theater on a school night, alone, notebook in hand, watching live pole dancing and you think, dang my job is weird?
For those of you who don't know, pole dancing is now a fitness trend. All the cool girls are doing it. Shine Fitness Studio set up a couple of poles and casually made every normal human feel bad about themselves in an insane display of fitness, wearing 8-inch heels, no less.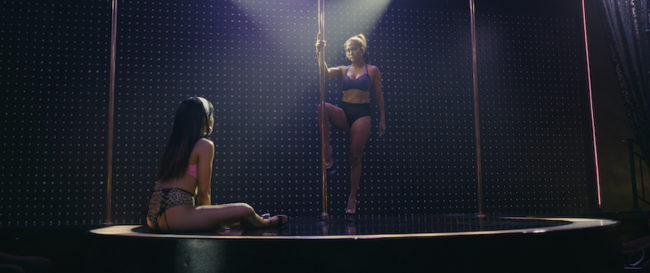 And then the movie began.
The words "INSPIRED BY A TRUE STORY" flashed on screen.
Jennifer Lopez. Constance Wu. Lili Reinhart. Keke Palmer. Julia Styles. Cardi B. Lizzo. Even Usher made an appearance as himself.
This true story was written by Jessica Pressler, a journalist who wrote an article that appeared in the 2015 issue of New York Magazine called "THE HUSTLERS AT SCORES." Pressler herself was portrayed in the movie, played by Julia Styles in flash forward scenes.
They brought almost every part of the article to life, even down to the smallest details and quotes. It was obviously not a carbon copy, but it's like that satisfying feeling I always wanted when my favorite YA novels were getting adapted to the screen. I just wanted the screenwriters to get it right. No drastic changes, no annoying creative liberties. It was the writing, the pure original story, but enhanced and brought to life.
The beginning was all the flash you'd expect. You're thrown into this world, a high-end New York strip club in the early 2000's. And you see everything one would expect to see in a rated R film with such a setting. Especially towards the beginning of the movie, the scenes are unapologetic and as graphic as stripping gets, at least to my knowledge. Which is absolutely nothing.
The point is, please don't underestimate the raciness of the movie, please don't bring your impressionable young cousin, etc. I'm begging you. This is a no-go for family night.
Constance Wu plays the new girl at the club and is dazzled by an older Jennifer Lopez who takes her under her wing. Or should I say, luxury fur coat.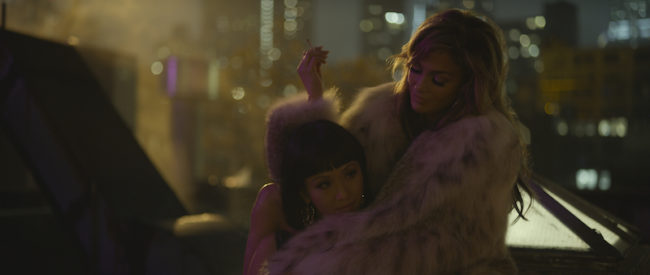 Lopez is getting Oscar buzz for this role, and for good reason. With her jaw-dropping opening pole dance scene and every line she delivered afterwards, she reminded audiences of exactly why she's a legend. She also most definitely has a time machine because allegedly she's 50 years old, but it's got to be a lie. You can watch her training process and clips of her performance on her Youtube channel.
All the glitz and glam come to a halt with the 2008 financial crisis. No one was coming to the club anymore, so the girls had to get creative. Here's where the thievery comes in.
J-Lo devises a plan she calls "marketing," and together with Wu, Reinhart, and Palmer, starts seducing guys off the street, drugging them, and bringing them into the club to max out their credit cards. (Lizzo and Cardi B appeared on screen maybe 3 or 4 times each, mostly for comedy relief and an excuse to put their names on the poster.)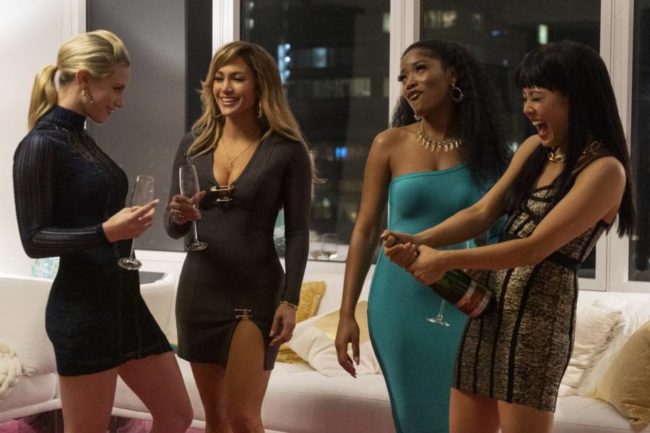 But here's where "Hustlers" has its edge.
I waited for that triumphant, "we got away with it, we're so cool" montage at the end where we cheer for the criminals because they're oh, so clever. I expected an Ocean's 8 repeat. Sandra Bullock leads her team into victory and the thieves are the heroes. No consequences in sight.
But that wasn't the case with this movie.
They didn't get away with it. They went too far. They felt the pain of their actions. They hurt people, and it wasn't good.
We love a good anti-hero story. The morals are complex, the message is layered. These women lied and stole and didn't get away with it. They used their bodies, their beauty, and their sexuality, to commit crime. And yeah, some of their victims probably got what was coming to them, but some got our sympathy.
Sure, being a gorgeous pole dancer, swindling thousands a night from wealthy businessmen, has its glamorous moments, but they were fleeting.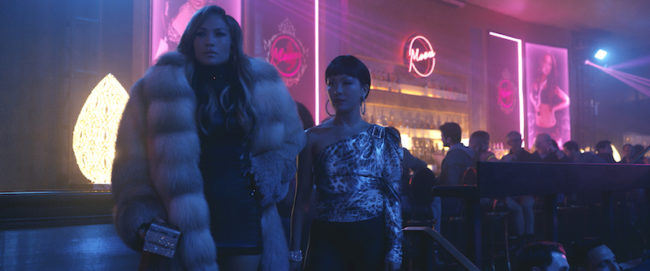 The trailer made you think you were about to see a story about pretty women sticking it to the man. We were all ready to see the battle of Wall Street pervs vs. J-Lo and the gang taking back their power.
But what the story ended up being about is so much more than a glorified female heist film. It makes us ask questions about female empowerment and what it should or shouldn't look like.
The movie was a call to quality check our ideas of feminism. It undeniably shows powerful, 3-dimensional female characters, but adds moral complexity. As a woman, in my fight towards equality, what am I willing to do? Who am I willing to be? What am I willing to give up, and should I?
The big surprise of the movie is that these girls aren't necessarily heroes. Yes, they have their moments, but they're flawed and broken. There are moments of redemption and inspirational strength, especially towards the end. But what do we do with a film that humanizes strippers and makes us care for failed criminals?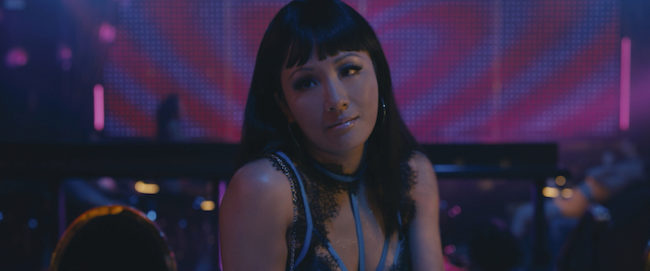 Through the glitz and glam, through the incredible performances specifically by Jennifer Lopez and Constance Wu, through the amazing direction and screenplay of amazing girl boss Lorene Scafaria, this movie is about survival, not to mention a beautiful story of female friendship.
Maybe it asks questions about female power and desire, but, you know. You could also just see it as that Cardi B stripper movie.