Editor's note: The following was written by Sarah Venables and Annabella Chamoun-Ko
Jabari Ford and Sanaa Ghanim placed as runners-up to SMU's Homecoming King and Queen this year. Both candidates represent their respective organizations with pride, but they also represent racial minorities at SMU, where inclusivity has been a long-standing issue.
According to the Office of Institutional Research at SMU, 28 percent of the university's undergraduate population is made up of racial minorities. Ghanim and Ford are two such students who, despite the odds, find themselves heavily involved in campus life.
President of the Pan-Hellenic Council, and third place runner-up for Homecoming King, Jabari Ford, says no representative from the Association of Black Students has won since the early 90s.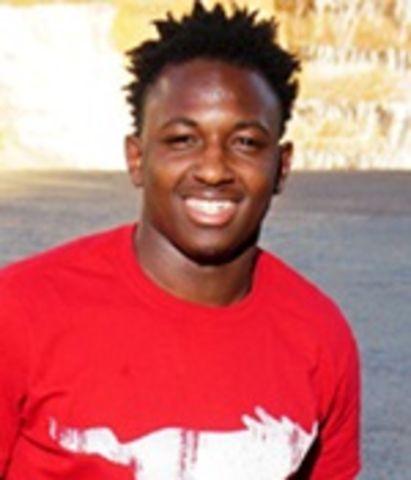 "To see us place again was absolutely surreal," Ford said. "Just to see all the hard work put into it, as the small organization that we are, it was absolutely tremendous. Every aspect. Every moment."
Sanaa Ghanim was the Homecoming Court candidate for the SMU Human Rights program. She expressed her gratitude in being nominated alongside another woman of color, the second-place runner-up for Homecoming Queen, who also represented the Association of Black Students.
"While I was excited that my name was announced for third runner up, no level of excitement compares to hearing that the second runner up was from the Association of Black Students," Ghanim said. "I was so proud of ABS [The Association of Black Students] during Homecoming week. The organization worked so hard and they deserved the recognition that they received on that field."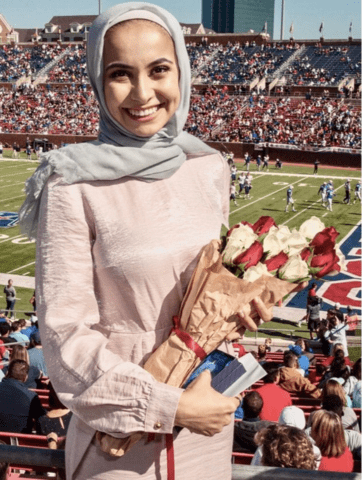 Ghanim's nomination and placement as the third-place runner-up was also a major milestone for diversity and inclusion at SMU.
"When my name was announced for 3rd runner up, my jaw dropped. During homecoming week, I wondered whether our effort would ever pay off and whether a Muslim-Palestinian-American like myself could realistically have a chance at being recognized on Homecoming day," Ghanim said.
"I think it shows that SMU does, in fact, have the potential to be a university where minorities feel welcome."
https://twitter.com/ARMasonSMU/status/1193630851705294848?s=20
The lack of diversity on campus is a self-evident truth that often goes unspoken about by students. When asked about it, Ford responded by giving credit to the faculty at SMU for their attempt to integrate the university's student body.
"I sit on the CIQ, which is SMU's advisory board to diversity," Ford said. "So, I think that, although diversity on this campus is lacking, the administration has shown a committed effort to improve. R. Gerald Turner has hired staff and he's taken considerable steps to include us as many ways possible to get us involved."
CIQ, which stands for the Cultural Intelligence Initiative, aims to "move beyond appreciating diversity to being able to effectively and authentically communicate and collaborate with colleagues from every cultural background."
"[SMU] wasn't technically designed to be the most diverse place, with the high tuition fees and things of that nature. But, us being here and us thriving, despite the odds, is everything."
Despite SMU's attempts to make the campus more comfortable for racial minorities, many find it hard to feel that way. Ford, however, has a slightly different take.
"I don't think this campus is inclusive to majority students either. This campus has a status quo problem, and that is not just a minority issue. I think that in this campus, as a whole, we have an overarching problem where we tend to not reach out to each other, and that's not just a one-way street because minorities do it to majorities as well," Ford said.
Despite the present issues with diversity on campus, Ghanim agrees with Ford in his assessment of how things are moving forward.
"In comparison to past Homecomings at SMU, I saw a dramatic change in the ways in which more diverse bodies of students were included in homecoming this year," Ghanim said. "While there remains significant room for improvement, I truly believe that the homecoming chair and Student Foundation worked to create a more inclusive homecoming court."
The reality is that many of these groups are dramatically outnumbered, but the campus community is working to mitigate the harmful consequences this could have.
"Scoring was more heavily focused on the individual rather than team spirit. Greek organizations have the manpower and numbers to guarantee that each event that they participate in will be well-funded and well-attended—smaller groups on campus simply don't have that kind of leverage," said Ghanim.
Ghanim added, "I think it is not only important but a responsibility of our university to make sure that every event that SMU holds is equally inclusive of all student organizations, regardless of numbers."
Ghanim believes that the results of this year's Homecoming will enhance diversity and inclusion at future Homecomings, and at SMU as a whole.
"While being on homecoming court was definitely out of my comfort zone, I hope that other students with identities similar to mine will feel encouraged to participate next year and in the years to come," Ghanim said.
"Every student on this campus brings a unique and valuable perspective and story that deserves recognition."