On the third floor of Kathy Crow, Southern Methodist University sophomore Mackenzie Zimmerman opens up her closet to reveal an overflowing collection of YouTuber merchandise. This psychology and human rights major spends the majority of her screen time watching YouTube, not Netflix. Zimmerman's habit began in seventh grade with Jenna Marbles's comedy videos, but it has now grown into what she would call an addiction. So much so that it has caused her to spend a few hundred dollars on merchandise from her favorite YouTube content creators.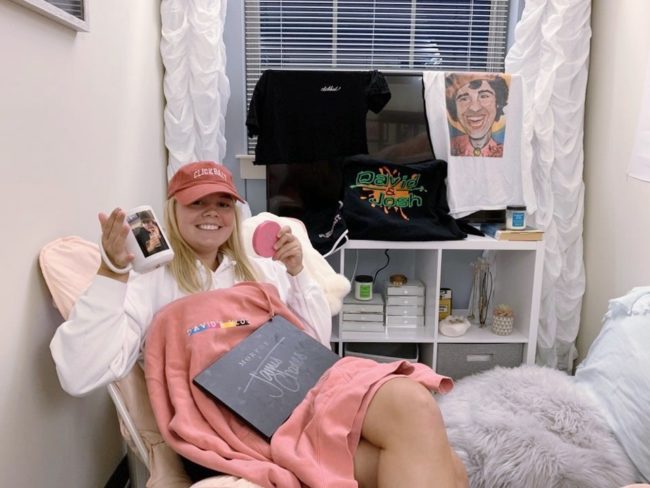 However, Zimmerman's collection is not an anomaly. YouTuber merchandise has planted a firm foot in the fashion scene, with collections selling out within hours of launching. Shopify, an e-commerce platform behind the websites of major brands like Yeezy, shut down Nov. 1 due to an overwhelming number of users trying to purchase the Jeffree Star x Shane Dawson collection.
Star, a YouTube beauty guru, is also the owner of Killer Merch, the merchandise company behind the products of several YouTubers like Cody Ko, Danny Duncan, and Joey Graceffa. Star claimed in a recent docuseries called "The Beautiful World of Jeffree Star," that the company is worth millions.
Professor Elif Kavakci, a SMU fashion media professor, said the appeal of YouTuber merchandise is similar to that of concert merchandise because there is nothing special about the product, rather its appeal is in what it represents.
"In the day and age we live in, YouTubers have become celebrities in their own right. With millions of followers, they have fans who want to look like them, dress like them, talk like them. Thus any merchandise that reflects their favorite YouTuber becomes very significant for them," said Kavakci. "People buy merchandise related to their favorite band, group, singer, actor/actress because they identify with him/her/them. They also want to show and express their love or adornment for the people they are fans of."
Zimmerman says her YouTuber merchandise is "a symbol of my love" and that it connects her with others fans who want to "start a conversation about how they love them [YouTube stars] too." But there are also some situations where she purchases the merchandise to encourage the creator to make future content.
"I bought all the David Dobrik merch because that's how he makes majority of his money. He doesn't make money off YouTube, so by buying his merch I am supporting him to keep creating," said Zimmerman.
Zack Kushubar, a SMU freshman dance major, is also an owner of YouTuber merchandise. Kushubar loves to watch beauty and fashion videos, and believes the YouTube merchandise is trendy because it caters to its audience and follows current athleisure trends.
"I'm big into fashion so you know I'm looking at people like James Charles. Most of his audience is young girls between the ages 12 and16. They are wanting to wear lighter colors, pastels, and stuff that is trendy looking," he said. "You can't get more classic than like a plain hoodie with lettering on it. I really think he is trying to cater to people that way."
The style and font of the lettering on James Charles's Sisters Apparel also bears a striking resemblance to Kanye West's merchandise from Yeezy Season 3and The Life of Pablo. The products were launched in 2016, and dominated "the entire year of style and spur(red) countless ripoffs," according to Complex. Although Charles has not admitted to copying or drawing inspiration from West's designs, the similarities are evident.
While the products usually emulate current trends, YouTubers also seek to create products for their fans that align with their personal brand. Again, in the case of James Charles, he refers to his fan base as "sisters" and uses the word "sister" before any word that begins with "S." Because of this, all of his merchandise is inked with the word "sister." Some YouTubers are more subtle when implementing their personal brand. For example, Sarah Baska, a YouTuber who is known for her quirky sense of humor and spunky personality, has merchandise that has "ranch dressing" in Chinese written on the front.
In addition to the style and branding of the products, people wear YouTuber merchandise as a sign of alliance. Within the past few years, social media platforms have developed what many people call "cancel culture." The term refers to, "a modern internet phenomenon where a person is ejected from influence or fame by questionable action. It is caused by a critical mass of people who are quick to judge a slow to question," according to Urban Dictionary.
YouTube has experienced as number of feuds between content creators that have left fan bases divided. Some of the major fallouts include Jeffree Star v. Manny MUA, Jake Paulv. Alissa Violet, and the notable Tati Westbrook v. James Charles.
Kushubar, who owns a James Charles limited edition rainbow hoodie, says he felt discouraged to wear it during Charles's feud with Tati.
"I used to wear it more, but after the whole scandal happened it's like people would look at me," he said.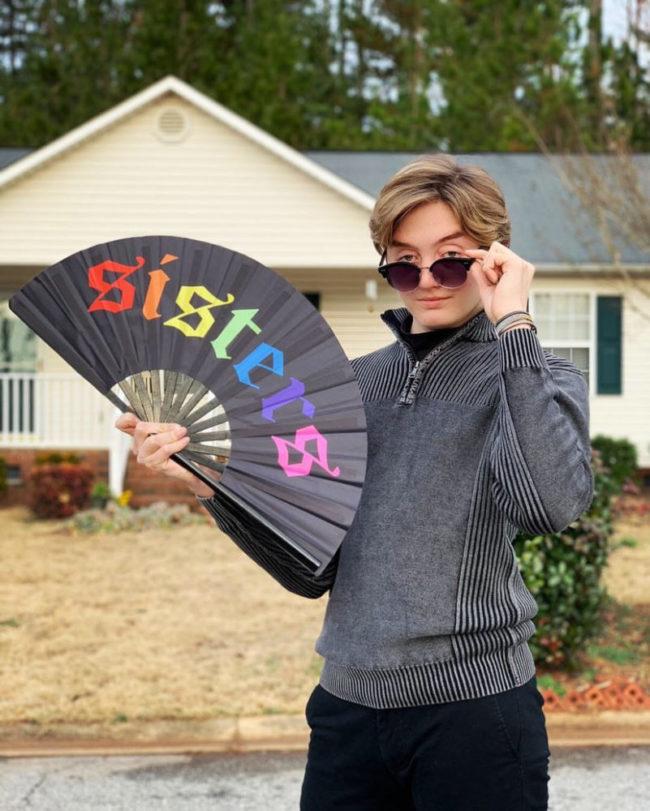 Zimmerman says she is also imbued in the YouTube drama and that she wears her merchandise as a sign of union with her favorite creators.
"Most girls keep up with the Kardashians, but I keep up with YouTube drama. My friends always text me when they have questions about it," she said. "I actually cried when David Dobrik and Liza Koshy made the video about their break up because I'm that invested in the drama."
YouTuber content creators are deeply connected to their audience, and their merchandise is a way to fortify that relationship. Basic clothing articles are given more meaning and even a sense a belonging.
"There is a feeling you get when you wear it, that I don't think you can get from an H&M hoodie," said Kushubar.