SMU Men's Basketball dropped their first game of the season on Saturday at Moody Coliseum, 74-91. The Mustangs never fully got in the game after a quick start by Georgetown, which saw them leading the Mustangs 26-5 just a few minutes into the game.
The Mustangs struggled to score, ending up being 6-for-30 in shooting in the first half. Meanwhile, Georgetown guards Jahvon Blair and Mac McClung each added a pair of three pointers to the Georgetown score.
"That was the worst-case-scenario, to start that way," said SMU head coach Tim Jankovich postgame. "We started out the game and missed a few easy shots, and they were making every last shot."
The Mustangs had been facing questions about the ease of their schedule, thought the be one of the easiest in college basketball, prior to Saturdays game. Georgetown was the first team SMU has played all season ranked inside the Top 150.
"We just have to give our hats off to Georgetown. They made a lot of tough shots," said forward Isiaha Mike.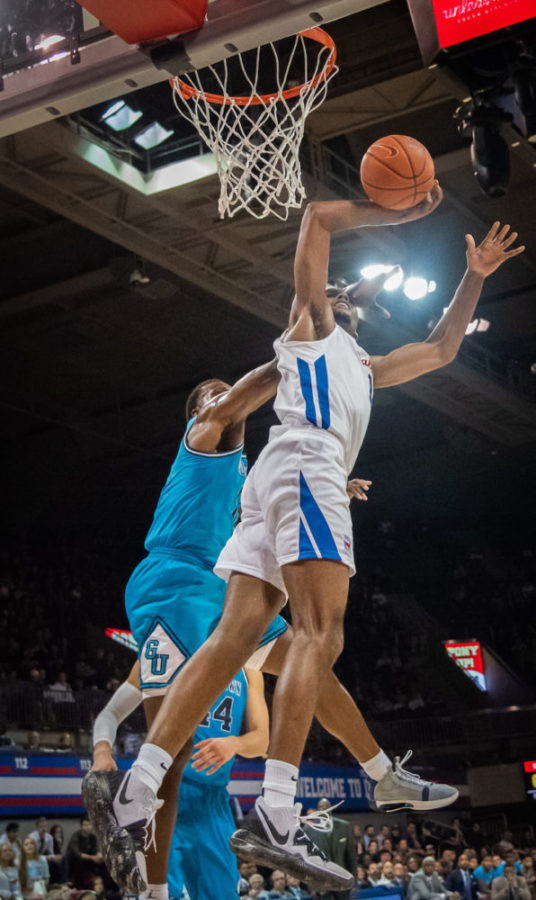 The Mustangs defense had a hard time stopping Jahvon Blair, who scored seven three pointers at Moody Coliseum. Prior to playing the Mustangs, Blair only had four threes on the season.
SMU played better in the second half, shooting 15-for-29, but it wasn't enough to stop Blair and the Hoyas. Sophomores Kendric Davis and Feron Hunt both put up 17 points, while junior Tyson Jolly added 16.
Junior Ethan Chargois started on Saturday after being out for two games with an injury, which gave the Mustangs a bit of a boost. However, he looked a little rusty coming back onto the court, scoring only 2 points.
The loss puts the team at 45-11 in regular-season non-conference games under coach Jankovich. The team has a break in their schedule before they head to Georgia to play the Bulldogs on December 20.
"Not in any way is it a positive night, but we do need to turn a negative into a positive somehow," said Jankovich.