"It's just like a drug cartel, this is a trafficking cartel. But, unlike drugs you can sell that girl over and over and over again." -Sandra Fiorini Hodges
When boarding a flight to a tropical destination, preparing to unwind by the beach at some breezy resort, you may never consider that the disheveled teenage girl in the window seat of row 12 is clenching her hands together praying for a life where she only belongs to herself. She is a victim of modern slavery. Her eyes are screaming for help while her submissive demeanor contrasts that of the overpowering man beside her. He speaks for her, waits in the narrow cabin while she uses the restroom, and guides her quickly off the plane without any luggage.
"Typically, someone from China or Thailand is told that there is a good job for them here and they do everything legally. As soon as they get here they find out it's not the job they expected, it's a massage parlor. They take their documents and lock them in a safe so there is no way for them to escape," Chrystle Abbott, National Victim Assistance Program Manager with U.S. Immigration and Customs Enforcement, said.
A report from the International Labor Organization (ILO) estimates that commercial sexual exploitation earns traffickers nearly $100 billion annually. In this multi-billion-dollar industry, the ILO estimates that there are nearly 5 million people imprisoned in forced sexual exploitation around the world. Polaris reported that the National Human Trafficking Hotline received nearly 35,000 sex trafficking reports within the United States between 2007 and 2017. Millions of women and children forced or coerced into the commercial sex industry.
The International Air Transport Association (IATA) reports that nearly 60 percent of victims are trafficked across international borders. This makes the aviation industry a tool for traffickers to transfer victims quickly on one of the 44,000 flights each day. The FAA estimates that there are nearly 2.7 million passengers daily. Traffickers move victims, quickly and undetected, as they disappear in the crowds of airline passengers maneuvering through airports on any given day.
"[Trafficked victims] are not being smuggled in. They are coming through the check points," Abbott said. "A lot of times it's people that pay someone to get them in and as soon as they are here, they become targets. They are here illegally and will not come forward."
Sandra Fiorini Hodges was an international flight attendant with American Airlines for 42 years. In 1972, her second year as a flight attendant, Mrs. Hodges witnessed what she believed was trafficking on her flight. She reached out for help but was met with dismissive responses from those she notified. "Over the years, there were more and more instances happening, and again and again no one would help me," Mrs. Hodges said. However, that did not stop her from reporting incidents and trying to teach her colleagues how to respond to potential trafficking situations. That all changed in 2009 when she met Deborah Sigmund.
Deborah S. Sigmund is the founder of Innocents at Risk, a 501(c)(3) nonprofit organization against trafficking of women and children. Innocents at Risk began in 2005 with a mission to educate the public on the issue of human trafficking. In 2007, Innocents at Risk, with the help of Mrs. Hodges, began training flight attendants to better spot and react to possible trafficking victims.
"I turned in everyone and hoped I was wrong. We have all these warning signs and if you have one or maybe two you need to see what's wrong," Hodges said.
U.S. Customs and Border Protection, the U.S. Department of Homeland Security and the Department of Transportation together oversee the Blue Lightning Initiative. The Blue Lightning Initiative, according to the U.S. Customs and Border Protection website, is an element of the Blue Campaign, which is a public awareness campaign created to educate individuals on how to recognize and respond to potential human trafficking. Blue Lightning targets the aviation industry, acknowledging that air transport plays a large role in the commercial sex industry.
It was my regular flight between Chicago and Moscow. Nearly every trip out of Moscow on the way back to Chicago there would be a group of young girls, maybe four or five of them, all dressed up. I would bring an interpreter over to talk to them. I would say, You look so cute! Where are you going? The response was always the same, "We're going to America to be models and work on T.V."
I would ask where they were going, and they would say, "We are getting on a bus when we land to go to New York City."
I knew they weren't going to be models. I would call the hotline and have someone stop the girls before getting through customs. Eventually, I.C.E. put an agent on my flight but that was just my flight, just one plane. – Sandra Fiorini Hodges
In 2016, President Obama signed Public Law 114-190, the "Federal Aviation Administration Extension, Safety and Security Act of 2016," which requires annual training for flight attendants to recognize and respond to potential trafficking victims. In October 2018, President Trump signed the "FAA Reauthorization Act of 2018," which includes expanding the required training to additional employees. The new act not only includes flight attendants, but also "ticket counter agents, gate agents, and other air carrier workers whose jobs require regular interaction with passengers on recognizing and responding to potential human trafficking victims."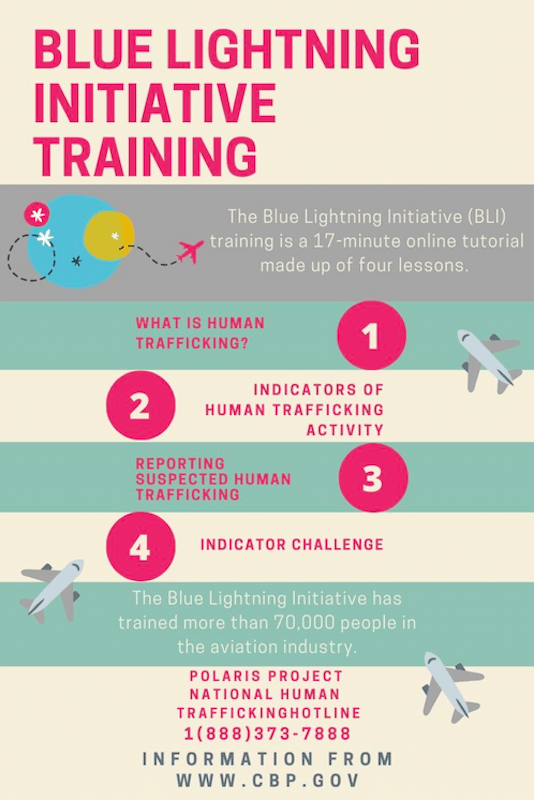 (BLI) training is not required, but many airlines register as BLI partners in order to use the simple training to comply with the federal regulations. BLI training is a 17-minute online program made up of four lessons. Delta Air Lines, JetBlue, Spirt and UPS are among the airline organizations that have partnered with BLI. Southwest Airlines worked with Polaris to create their own online training.
A statement from Southwest Airlines says:
This initial phase of optional curriculum is just the first step on this journey. Beginning in 2020, we will start introducing a second phase of required training for our Customer-facing Employees that will focus on specific processes and procedures related to this issue.
Training for all airline employees will broaden the education of airline personnel on the signs of human trafficking. With training, desk agents and other individuals who interact with passengers may be able to better spot potential trafficking situations as one of the major signs of a trafficking victim is when someone else is in possession of their documents and government issued identification.
"To train a flight attendant is much different because they see it all the time. It takes five minutes to train a flight attendant because they have already been trained to spot other situations," Ms. Sigmund said. "It's giving people the information that this is happening." Until sufficient training for airline employees is universal, individuals like Sandra Fiorini Hodges and Deborah Sigmund say they will continue to push for that change while sex trafficking continues to exist.
This article is part of a series in a special project on sex trafficking in North Texas from an SMU Division of Journalism course titled Human Rights and the Journalist. The class is taught by Michele Houston.