Before travel bans had been implemented and the death toll had skyrocketed, there was still hope and determination to have a fun spring break. One of the SMU students who chose sunshine over quarantine was Anna Roberson, a junior business major.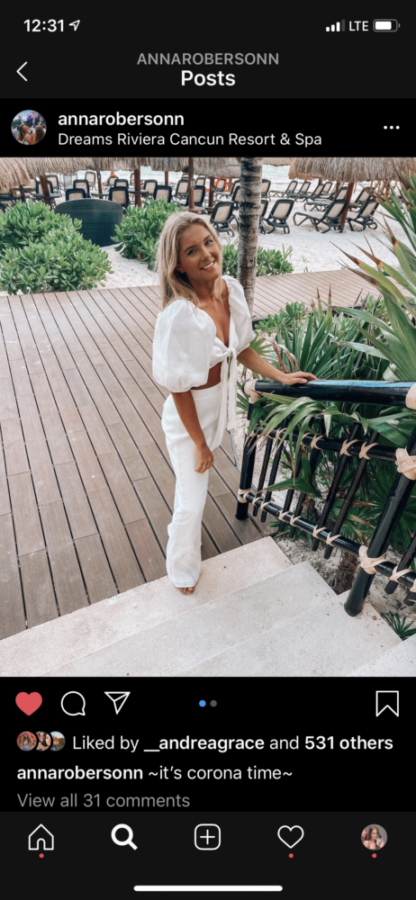 Roberson decided last minute to join her mom on her younger brother's senior spring break trip in Cancún, Mexico. On March 11, two days before she was scheduled to take off, President Trump blocked travelers coming from European countries, besides Britain for the following 30 days.
Roberson called her mom when she found out and asked if their plans were going to change. Despite the travel ban, Roberson, her mother, and her younger brother took off.
"Since I was with my mom we decided to go," Roberson said. "I probably wouldn't have gone if she wasn't going with me."
Roberson also said that airports were still running with "pretty normal" crowds, waits and travel precautions, and there wasn't a face mask in sight.
Though she does not recall any additional airport cleaning, Roberson said she and her mom made sure to "wipe down everything [they] touched and the seats [they] sat on."
As the wheels left the tarmac and the clouds filled her view, she began to feel a little worried about catching the virus during her trip. However, Roberson was much more concerned with the possibility of Trump closing the Mexican border.
Even with these fears, Roberson and her family checked into the hotel with ease. Roberson said the staff members were all wearing gloves but did not mention the virus upon their arrival nor during their stay.
Roberson had a difficult time relaxing due to constant TV news updates and the rumors from other people at the resort. The day she arrived Trump declared a national emergency, and the stress continued two days later as the CDC advised people to avoid gatherings of more than 50 people.
On March 17, her family left Cancún, breezed through an empty customs line and walked through an airport that looked deserted.
"We were one of the few families not wearing masks," Roberson said.
Airport security asked if she had been to China or Europe during her trip, but they performed no other screening tests. The plane landed back in Dallas, and her family began their 14-day quarantine.
Looking back, Roberson says she is glad that she went because she enjoyed her time there and joked that "[she] would have died of boredom if [she] was stuck in Dallas the whole time."