Former SMU quarterback Tate Wallis was arrested on Thursday, after being charged with an improper relationship with a student as an educator.
Wallis, who currently serves as an assistant football coach at the University of North Texas, was a high school teacher in Argyle from 2017 to 2019. According to a police report, the relationship with a student happened during that time. The report concludes that the relationship occured on two separate occasions; once in October of 2019, and again in December.
Wallis has been suspended from his post at UNT as the football program investigates the situation.
He posted bail on Thursday night but continues to be charged with the felony offense in the state of Texas.
UNT and SMU both declined comment for this story. However, North Texas released a prepared statement on Wallis Thursday night.
"We have been made aware of charges brought against a member of our football coaching staff for a matter unrelated to his employment with the university," the statement says. "The employee has been placed on administrative leave and will not be allowed on campus or to participate in any job-related duties while on leave. We have initiated a review of the available information, and we will take appropriate action following completion of the review."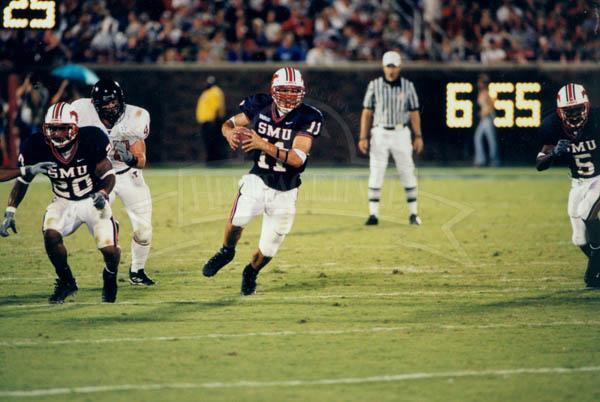 Wallis played at SMU from 2001-2003. He appeared in 14 games over his career and threw for 1,224 yards. He also spent time in the program as tight end. He ultimately transferred and graduated from Tarleton State in 2008.
Wallis is perhaps best known for his time coaching at Baylor under Art Briles. He was hired by then-defensive coordinator Phil Bennett in 2009. Bennett was his head coach at SMU. Wallis spent seven years in Waco in different capacities before he was eventually fired in 2016 amid a recruiting violations scandal.
Wallis landed back in high school football circles in the Dallas area. He currently has two children and a wife.