Aggie Ryan is an SMU Alum from the recent Class of 2020. She received her B.F.A. in Film and Media Arts and a minor in Arts Management.
"I've definitely always been a creative," Ryan said.
Since graduating, Ryan has continued work on her thesis film. She is currently working at an optometrist's office, a field that she wouldn't ever have imagined for herself. Although she says, "It's not the type of lenses that I wanted to work with," Ryan is also starting to work as a film teacher at her old high school where she first started to learn film.
She started taking film classes to fulfill an arts credit at her high school and she fell in love with it. Since then, every summer she would attend some sort of film camp including one that took her to Florence, Italy to work on an Italian short film.
As soon as she found out about SMU's B.F.A. Thesis Film Program, she knew that she wanted to be a part of it. When Ryan applied to SMU, she loved that the program is small enough to provide hands-on experience with the equipment and allows students to make a short film in the first production class.
Film students are always busy either working on their own projects or helping others just so that they can stay on set and gain experience.
Ryan felt that a lot of the films she had worked on prior were good training to prepare her for her thesis project and helped her to come out of the program with work that she felt proud of.
First, she had to decide what her film would be about. Her concept started with the location, an unusual way to go about starting a project.
Ryan had studied abroad in Spain and was able to create a short film there her senior year. Her main takeaway from that experience was that sometimes it is best to shoot in one location, especially if there is a low budget.
She decided to shoot in the Texas Hill Country in Vanderpool, Texas on her aunt's ranch.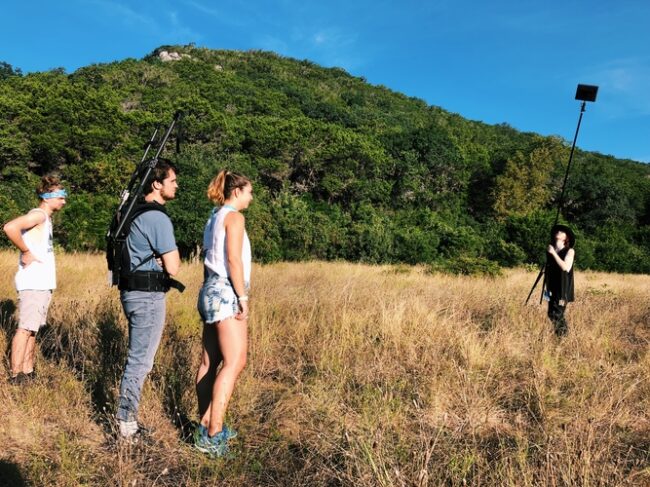 She chose that location because of its beauty. "I grew up going there my entire childhood," Ryan said.
"My mom is from Texas but we live in Connecticut. So every summer we would go to Texas and go to this ranch and I would be like 'this is the coolest place! … It's not necessarily the image of Texas that people always think of."
She went on to explain that most people think of Texas as flat and rugged terrain, but in the Hill Country, some gorgeous valleys and grottos are much nicer than many imagine them to be.
She knew that she wanted to be able to film in this location and wasn't sure when she would have another opportunity to use the advanced equipment that SMU provided.
To Ryan, the location reminded her of writing and retreating to a lush sanctuary, a utopia, and a hidden away world. She admired the idea that people retreat to nature to find inspiration. In a way, she found inspiration in the same way that the character in her film did.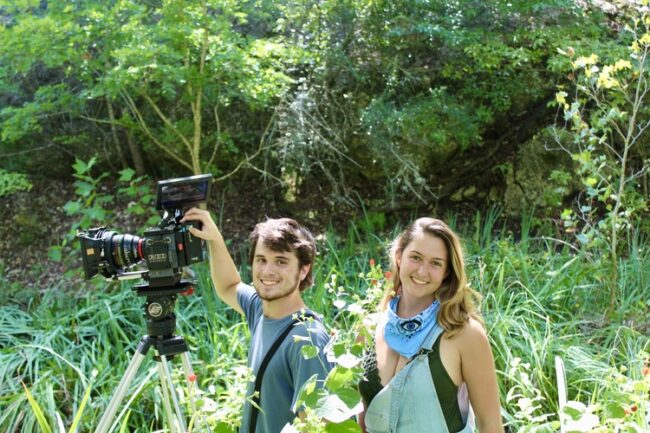 A big part of Ryan's transition from high school to college was trying to figure out what to write about in her essays and what to say about herself. "It's such a weird concept to think that colleges just want you to tell them about yourself. But you want to still seem creative." She found it odd that you are supposed to tell so much to people you don't even know.
"His Eyes Are Blue is a short film about a sharp-witted, writing teacher who hosts a moody, teenage boy for a weekend "Writer's Workshop" at her family ranch. Tom, in the midst of writing his college essay, is the only person to show up to Evangeline Wordsworth's annual workshop. Her outlandish teaching style conflicts with Tom's critical temperament. With the help of her ranch hand, Evangeline strives to instill meaningful life lessons that Tom can carry with him to college." – His Eyes Are Blue Website
The inspiration behind the title "His Eyes Are Blue" comes from life advice that has been passed down to Ryan through her mother and grandmother for generations. They would tell her, "The first thing you need to know about someone when you meet them is their first name and the color of their eyes." It shows that you care about someone and you are making eye contact. It is one of the minor lessons of the film but it is meaningful and impactful.
To get your thesis, students have to go through an intense approval process. Ryan submitted a lot of revisions of her script during this time and then began slowly finding a committee of faculty advisors to help her edit the script. Once this was complete, she was able to move forward and film the project the fall of her senior year.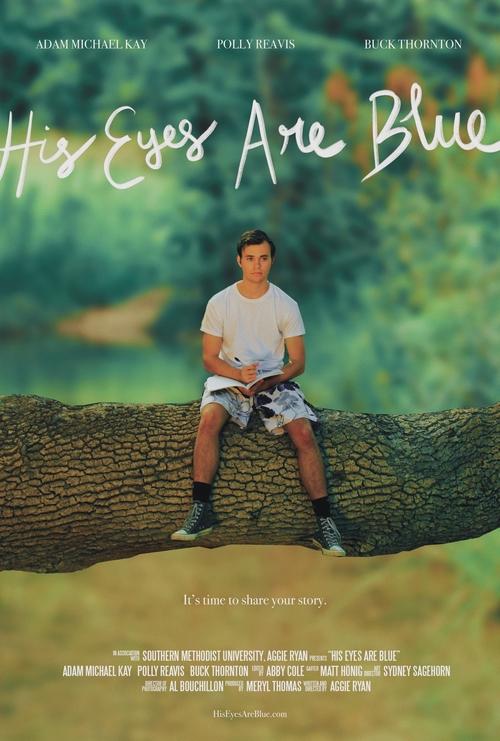 The summer in between getting her thesis approved and the actual production was spent developing the script, finding actors, scouting the location, and flushing out all the little parts that would go into her film.
"This is the first major film that I did myself," Ryan said.
Ryan first started making short films with her family. "It was very easy for me to direct and boss around my sisters and then it turned a little more professional as I started working with actors that I didn't really know."
Directing is her passion but she also loves production design. She likes to create sets and make sure the created world of the film fits whatever narrative is being told.
She also enjoys producing because she considers herself to be organized. Ryan was looking forward to tieing all of these things together in her film.
Using a casting website called "Backstage," she found the actors for her film. She submitted character descriptions and the information with little hope that people would respond but was pleasantly surprised by the number of interested people. None of the actors knew each other and they used google chats to hold rehearsals and do the preparation that they could before the shoot.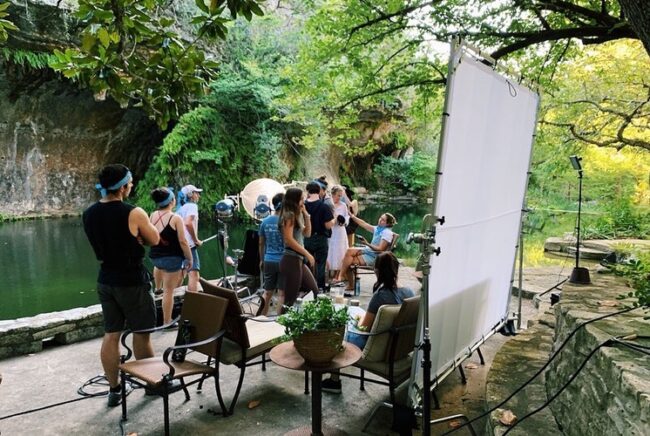 Everyone involved in the project is a volunteer and the crew was comprised of about 14 SMU students. "People are doing this for the love of art which is, I think, one of the most beautiful parts of the project," Ryan said.
"It's a lot to ask someone to drive 7 hours to a certain location, but nobody on set complained about it because we were all super excited about it and said 'You know what? We're creating something really cool.' I think that's what made the set run so smoothly. Everyone was down for the adventure."
They were 45 minutes from the nearest grocery store and at a distant camping site but they were ready to jump into the water, even if it meant a few bug bites and mud on their shoes.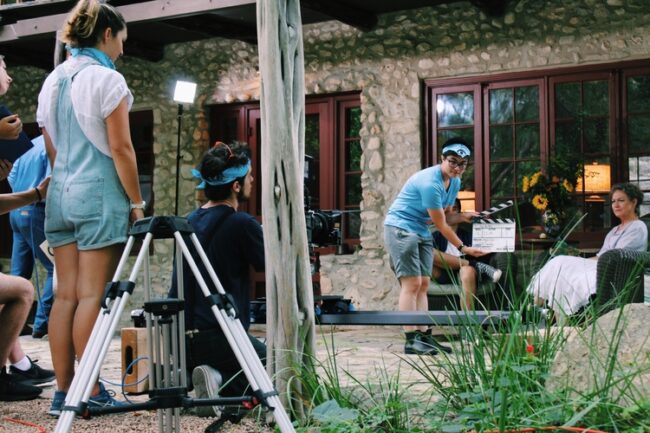 The shoot took 4 days and they ended up with 4 hours worth of footage that they had to sort through. "To get it down to 15 minutes was a really really big challenge for us," Ryan said.
During post-production, they were lucky enough that the editor had been working off of her personal computer. Ryan recounts how their April deadline for the film was impacted by the University shutdown due to Coronavirus. If the editor hadn't been using her own computer, they wouldn't have had access to the SMU computers to continue working on the film. However, it was still difficult for the sound engineer to move forward because they no longer had access to the recording studio on campus.
Luckily, they were able to finish up the film and it has now been a full year since the filming of this production.
Now the film is going to go through a film festival circuit where it will be submitted to numerous places, have many more viewers, and gain recognition. However, a lot of film festivals are getting canceled or being put on hold due to COVID-19. Ryan is trying to create a strategic plan for this upcoming season in order to determine how and where to best submit her short film.
Ryan hopes to finish up this project and tie a bow around it soon. She wants to show people the kind of professional set she was able to create and prove that her B.F.A. was worth the hard work.
Grateful for this opportunity, Ryan believes that "the thesis program isn't necessarily getting enough attention as it should and it gives such great opportunities for filmmakers as they are leaving college so that they can have something to show after they graduate."
She is looking forward to seeing where her career takes her and she hopes to eventually become a director.
The pandemic is slowing this down in a lot of ways because she is not necessarily ready to move anywhere. However, she also sees it as a blessing:
"If we can think of one good thing to come out of this situation, let's hope that it is more art and more stories to tell."
More information about the film can be found here and to view Aggie Ryan's website, click here.