Noah Sacré is a half Belgian, half American music artist who grew up in France. He is currently living in Brighton, England but when there isn't a global pandemic, he bounces back and forth to Los Angeles, California.
He was scheduled to play South by Southwest this year and do a month of songwriting with other artists in America. Yet, everything was put on halt due to COVID-19. Sacré notes that this has happened across the music industry. There are not a lot of shows or collaborative sessions that are able to be done.
However, this time hasn't been all bad for Sacré. Although he wouldn't wish the pandemic upon anyone, he says, "there have been ways in which it has been good…I think just for creativity and the slower pace to get things done has been good for certain things." He has released his debut album, Porsche, been directing his own music videos, and also working on videos for others.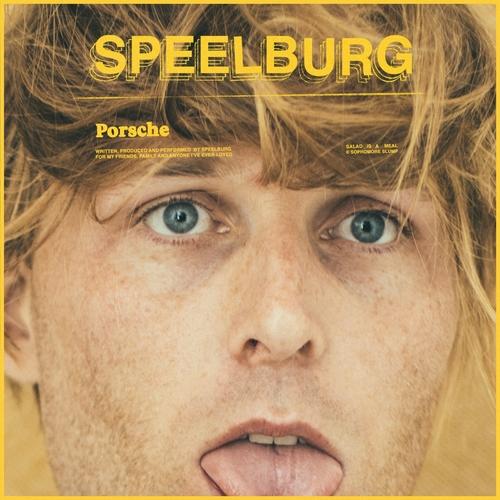 This album has been in the work for 2.5 years and Sacré had already finished writing and producing his next album "Character Actor" by the time Porsche was finishing the Mastering process.
It has been a long journey for him to get here. He has always been in bands since he left high school and went to study music at University. At the end of University, he moved to Brighten and eventually went separate ways from his college band. Soon, Speelburg began to take off, he got a manager, a label, and it has grown and snowballed from there.
"The funnest feeling of having the album out is having the album out. Its just a weight off." – Sacré
When recounting his process of creating this album and creating music, he noted that every few months he feels like he wants to try something new or change styles. Being a producer as well as a songwriter, he feels lucky because he can do that and explore different musical landscapes and create something new and cool.
"What I love about Porsche is that it's got such a wide scope of the types of songs, so from one to the next it kinda changes. You still have a common thread bringing the whole thing together but it is quite wide and colorful like that" – Sacré
When working on Porsche he says that most of his songs ended up each feeling like they could be a stand-alone single. He notes that this isn't necessarily a bad thing because it works with the times we are in now: "the whole Spotify, Apple Music ethos where people just consume one track at a time anyway."
He is excited to have Porsche out so he can continue moving forward with trying new things and creating new music. As he says, "it's a debut album so you're throwing on as much celebration as you can, 'cause you're never gonna have a chance to make another debut album."
He hasn't received his vinyl yet but he says, "It is super exciting to be able to hold something that you have spent two and a half years making and six months promoting, just the physical thing that you can look at and go 'oh yeah.' All that time staring at a laptop and going crazy seems worth it."
He is also getting more experimental with his songwriting and production. He notes that, "I am less attached to the idea of making a straightforward album." He likes his songs for different reasons. Climb is especially personal to him and he really likes Gwyneth because of what it set out to do as a track and what it achieved. However, Entertaining the Notions is one of his favorites because it is one of the weirder tracks on the record.
He had learned a lot through this process and says, "I think I've gotten better at finishing stuff." He used to start a new song every day and never finish but now he is more determined to have an idea, finish it in a day, work on it another day to add to it, and then go back through the full ideas later on and decide to really finish them.
"The finishing gets easier if you lay down the brunt of the work." – Sacré
He advises those wanting to get into creating music that when starting a song, the best thing to do is to write some actual vocals to it, and once you have sat down and written a song just do some crude production. Any kind of recording of it can give you something to listen to yourself and something to share with others you may want to work with.
"Release music as often as you are comfortable with," he says. "It is really easy to make a lot of music and talk about the plans you have for those songs and then never get around to actually finalizing those plans. So, if you release something that may only be 80% done, it's fine. Releasing music is really fun. It's the best way for people to hear your stuff. People that may help you in your career as well."
"Don't compare yourself to anyone else, that sh*t is cancer" – Sacré
He suggests that if you are looking for a manager, release a song every month and get your friends around you and immerse yourself in your local sound and play music. Don't be afraid to self-promote and put yourself out there because you'd be surprised at how many people are actually listening.
"Art is not made in a vacuum. Make it so that you can show friends. Make it so you can play it for people. Just make things, make a lot of stuff." – Sacré
Sacré continues to grow as an artist and looks forward to his projects in the future. Be sure to check out his debut album, Porsche on Apple Music or Spotify.
Follow Speelburg:
Website // Facebook // Instagram // Twitter // YouTube // Spotify // Apple Music