Glass bottles grouped together ring under a striped tent when Southern Methodist University as students line up for a ring toss and balloon popping game late at the Hughes-Trigg Ballroom. Luke Mattox, an SMU Student, enters through the doors decorated with hung up red lanterns. He makes his way from the game corner of the room to the dining area where he finds students sipping on boba tea and conversing.
"I always enjoy going to events like these at SMU because of the diverse experience I get to take part in," Mattox said.
Students of various backgrounds line up behind the doors and are greeted with dumplings, tofu, crab rangoon and lo mein. As a finishing touch to their cuisine, attendees were offered three flavors of boba.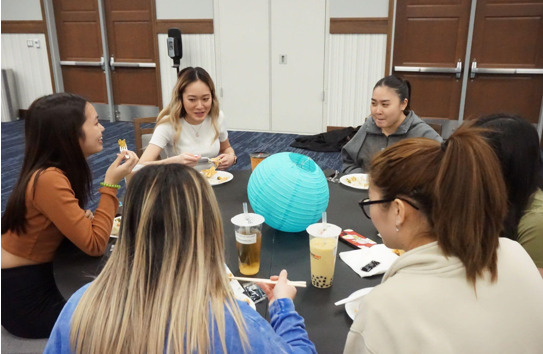 Hong Kong Night Markets is an iconic part of the Chinese culture that the organization wanted to bring to Dallas, said Alexa DerryBerry, marketing chair of Chinese Student Association (CSA). The organization looks to promote and teach SMU's campus about Chinese culture and tradition through fun events and food.
"It's important to our community because it represents a large population of both Dallas and the World," DerryBerry said. "We think that it's important that everyone in the community gets to experience and grow their knowledge about the beauty of China and the rich history and culture."
Alone at the event, Mattox picks out the glistening orange Thai tea at the end of the table and takes a seat near the photo booth. He observes friend groups socializing and taking photos with each other – some even holding stuffed animals after winning one of the carnival events.
"I'm usually a picky eater, so going to events like these makes me get out of my comfort zone to learn and try something new while meeting new people," he said.
Dallas Mak, a frequent Asian council-goer, weaves his fork through a noodle and finds himself nodding after every bite. Mak recognizes the efforts CSA took to expand its representation outside of just mainland China.
"As someone of Hong Kongese descent, it feels nice to see representation of the Chinese culture in comparison to seeing more than just mainland China," he said. "It would be untruthful to say that the event reminded me of being in Hong Kong, but I will say that the efforts are both appreciated and recognized."
The night market held tents that included a balloon popping game, ring toss, a balloon artist and prizes from 6 p.m. to 8 p.m. Students of all backgrounds lined up at the door 30 minutes before entry to secure their spot in receiving the full food, photo and game experience.
The Chinese Student Association is one of five organizations under the umbrella of the Asian Council at SMU. It allows a safe space that ensures Asian American students to have a comfortable and representative place on campus.
Andrew Pan, president of CSA, planned the Hong Kong Night Market for over a month with his team of eight members. CSA put a special twist on what it would feel like to be at a Hong Kong night market, said Pan.
"Though a lot of our decorations didn't arrive on time, we were still able to create a really cool space out of nothing that we think people would enjoy," he said. "When you walk around the school, it's a [predominately white campus] with not many Asians on campus, but when you go to an event like this night market, everybody joins together for the food and vibes."
Over 261 SMU students attended the event that replicated a Hong Kong night Market with Chinese lanterns hung around the room and sakura flowers edged around the end of each table.
"A couple of us have been to Hong Kong and visited those crazy street markets that we wanted to replicate," Pan said.
Despite not replicating an exact Hong Kong night market, CSA creates a space where students are able to roam out of their comfort zone and try something new, says Pan.
"Seeing everyone come together at events like these is the reason I got into being the president of CSA in the first place," Pan said.