At the main entrance of SMU's Dedman Center, the harmonious whirl of a blender quickly overshadows the steel symphony of metal doors slamming shut. The pleasant aroma of strawberries soon fills the air as herds of students patiently wait for their orders.
Shake Smart, a healthy shake shop, is the newest addition to SMU's vast array of on-campus eateries, joining chains like Panera, Chick-fil-A and Starbucks. After the removal of the long-dormant Starbucks that sat in the space at Dedman Center, SMU introduced a new eatery–or in this case, a smoothery–in its place in late January 2023. The smoothie shop promotes health and wellness, hence its location in a recreation facility.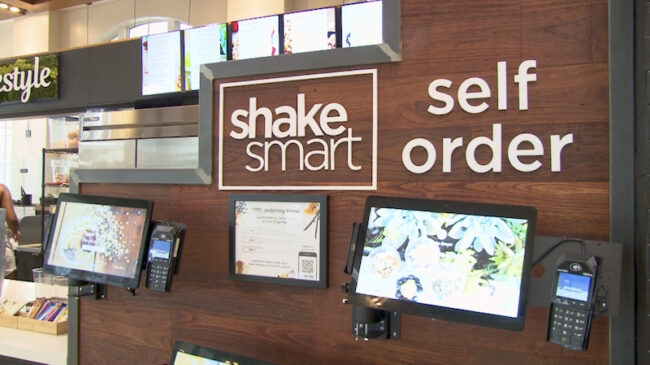 "SMU actually reached out to us first to tell us about the opportunity," said Josie Hunsucker, the general manager of Shake Smart at SMU. "They had said a Starbucks inside a gym wasn't really the most conducive idea."
When the Dedman Starbucks first opened in 2015, it was expected to be a popular attraction. Positioned directly across from five of SMU's residential commons, it was theoretically an excellent addition to the area.
However, the appeal of a sugary, hot beverage after a sweaty workout never quite caught on with the student body. Ultimately, the Dedman Starbucks closed indefinitely in 2019 and sat, dark and untouched, for three more years. The Starbucks in Fondren Library, on the other hand, continued to flourish.
Students were surprised to hear of the addition of another on-campus eatery.
"We have another shake place?" said junior Kristen Dillard. "I didn't even know that! I usually go to Rollin' n Bowlin'."
Rollin' n Bowlin' is another smoothie spot on campus, located in the Market of Hughes-Trigg Student Center. Unlike Shake Smart, Rollin' n Bowlin' has an advantageous location that sits close to classrooms, the library and other on-campus eateries. The Dedman Center, though, is a 15-minute walk from the main classrooms and populated campus areas, besides the newer residential commons.
Because this location is well out of the way of the student majority, businesses that land in Shake Smart's space tend to cycle through every few years. Though the shake shop is strategically placed to target consumers in an environment promoting fitness, health and wellness, it's possible the lack of traffic in the area could lead to another potential shutdown.
"Vendors change over time for many different reasons," said Dianne Anderson, SMU's director of strategic communications. "This is where campus feedback helps determine what new concepts can be considered."
A study about on-campus food franchises at Carnegie Mellon University identified student feedback as a primary influence in the process of adding new dining partners to campus. Carnegie Mellon's dining service team organized meetings, one-on-one interviews and spoke with campus organizations to receive feedback directly from their target audience.
The process, in all, took Carnegie Mellon six months. The study concluded that the university's business strategy allowed the administration to select ideal food franchises that would stimulate the most revenue and customer satisfaction.
"It made sense to house [Shake Smart] in Dedman Center as many commercial gyms offer their members similar food and beverage options," Anderson added.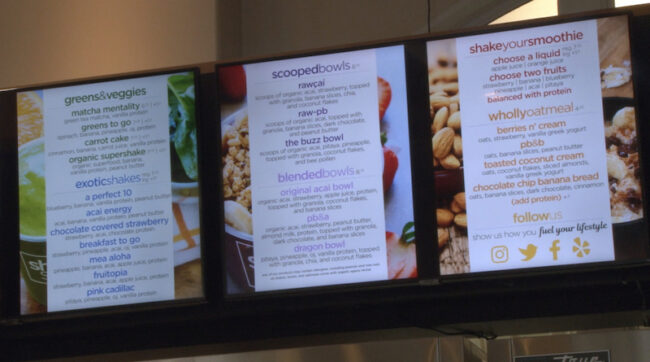 SMU organizes its own food franchises similarly to Carnegie Mellon's approach. SMU works with its hospitality group to select concepts based on campus feedback, Anderson said. Student-volunteer focus groups help the university select which partners will work best for specific campus locations.
A mass email titled "We Want to Hear From You!" was sent to the SMU student body on April 13 asking students to share feedback regarding the Dedman Center and Shake Smart. Participants were offered compensation in the form of a free smoothie and the opportunity to win a Theragun, a massage therapy gun. Though the plea for student feedback demonstrates the administration's willingness to improve on-campus eateries, the email also raised a question: How are the smoothery's sales faring so far?
"Sales are good!" Hunsucker said a week later, without additional specifics. "We have been seeing a steady trend that is inline with our goals for this store!"
Shake Smart, which is privately owned, currently operates 39 facilities on college campuses across the nation, including SMU. ZoomInfo, a business intelligence and data company, estimates that Shake Smart's annual revenue totals roughly $10 million.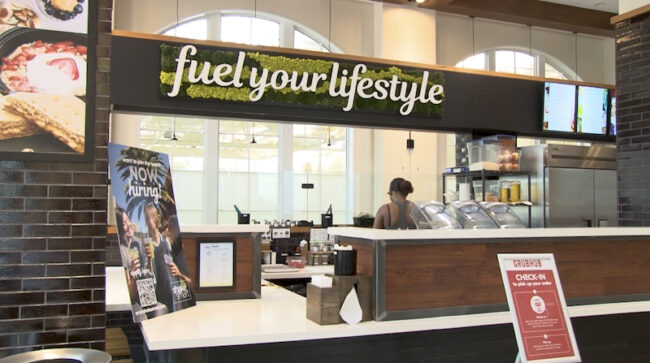 Hunsucker said daily revenues for stores can range from $2,000 to $12,000 depending on campus demographics. At Dedman Center, Shake Smart offers items ranging from a $7 smoothie to a $1 granola bar. During the spring semester, the shop had 15 employees.
Shake Smart closed the Dedman Center location temporarily for the summer on May 11, although Hunsucker said the company hopes to reopen in July with reduced hours.
Summers are a tricky time for college campuses. For roughly three months, there are little to no customers at these facilities, creating a distinct lull in business that other independently operating restaurants do not experience.
Over the summer, SMU serves students and faculty in the Umphrey Lee Dining Hall and only select retail locations remain open. Shake Smart's operating hours vary from location to location depending on multiple factors, but much depends upon the university's out-of-state student percentage.
"On a campus similar to SMU, people don't really stay on campus [over the summer]," said Hunsucker. "It really does depend on where you are and the demographic of the school, but I'm hoping for reduced hours."
When selecting food facilities to join their campus, most universities opt for experienced corporations that are equipped to handle small operating spaces and reduced income during the summer months. They are usually chain food companies with a large-scale, nationwide presence and a younger consumer market, such as college students. Chick-fil-A, Panera and Starbucks, for example, all possess the resources and business plans to endure the temporary lull in the summer.
While Shake Smart is a much smaller chain, Husucker said the company's 39 nationwide college campus locations are equipped to serve SMU's campus. She added that Shake Smart's longer hours and accommodation to different diets and preferences will fuel its ongoing success.
"I do believe it will be a lasting, positive presence on campus," Hunsucker said via email. "Because we offer something that you can't get anywhere else."