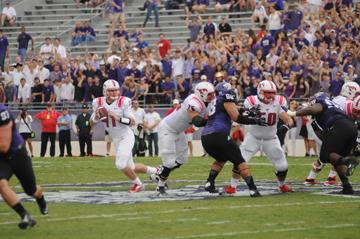 When SMU welcomes the University of Connecticut into Ford Stadium this weekend for its 2 p.m. Saturday kick-off, it will feature a tale of two entirely different offenses.
SMU quarterback Garrett Gilbert is leading the country in total yardage per game and is directing the fifth ranked passing game in the country. If Gilbert can get the SMU offense going early, this game could get out of hand.
UConn shouldn't be able to stop SMU and its offense, but the Mustang offense could stop themselves with turnovers and mistakes.
The threat of a running game is just not going to come for SMU's offense and it will be on Gilbert again to make plays and convert drives into touchdowns. The SMU running backs combined for just 45 yards on the ground against Cincinnati, forcing Gilbert to win the game on his own.
With a new starting quarterback, Casey Cochran, UConn will have to go to running back Lyle McCombs for a solid running game to support Cochran.
Cochran is by no means going to change the Huskies offense so much that it becomes as high-powered in the passing game as the Mustangs, but with the SMU defense struggling, the team cannot fall asleep.
McCombs is averaging close to 4.5 yards per carry on the season and has rushed for 496 yards on 112 carries. McCombs also is the Huskies' kick returner and has been averaging close to 19 yards a return, an area where the Mustangs have had difficulties as well.
SMU's pass defense has struggled on the season, but Cochran could be pressured into making some mistakes if the right pressure is applied.
In every single game this year, the UConn defense has forced an interception by the opposing team's offense. Led by junior corner Byron Jones with three interceptions and five passes broken up, Jones will have to matchup against SMU's Keenan Holman due to his size.
The SMU pass defense has struggled throughout the year, but the team has the opportunity to force some turnovers against a young quarterback, a key to wining the game.
Prediction: SMU wins, 42-10