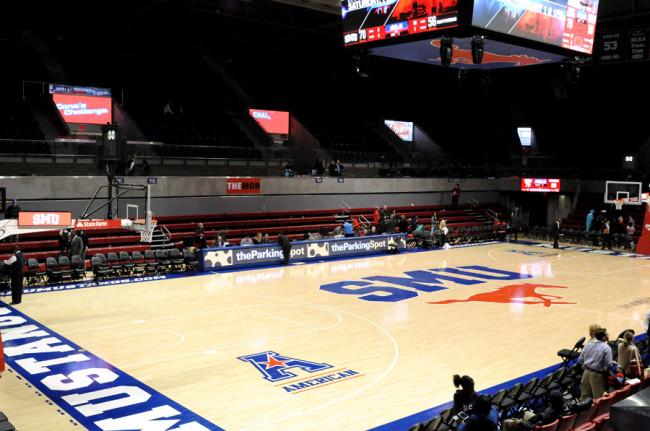 While students were away for Christmas break, the $47 million renovation completion of Moody Coliseum proved to be a gift for all.

December graduates were able to spend their last moments as SMU students in a new and improved coliseum and on Jan. 4, SMU men's and women's basketball christened the new facility to a nationally-televised audience.
The men's game had been sold out since Dec. 19, marking the first capacity crowd of 7,000 since Nov. 20, 2001 against Texas Tech.
"Attendance has been up around 30% over the first three games, as more and more people are checking out SMU Basketball. In addition, SMU has received a tremendous amount of national media coverage surrounding the program, and that benefits the entire university," said Brad Sutton who serves as SMU's Senior Associate A.D. for public relations and marketing.
The men's team upset the No. 17 seat Connecticut with a win of 74-65 and the team's first American Athletic Conference win. The women's team lost to South Florida.
The revitalization of Moody Coliseum provided many new features, including a renovated main entry lobby, expanded concourses with raised ceilings, club seats, loge boxes, private suites, group suites, new event space, offices, team locker rooms and meeting space.
Oh, and beer sales.
For anybody who is somebody, the place to be was either in the new Hall of Fame Club or in one of the private suites overlooking the court. Foundation Executive Director Francie Moody-Dahlberg of the Moody Foundation, who gave $20 million for the renovation, was spotted at the Connecticut game. Also present was alumnus, and trustee David Miller and his wife, Carolyn, who donated the $10 million for theMiller Event Center, an addition on the north side of Moody, that includes the Miller Champions Club and an entertainment area on the concourse level.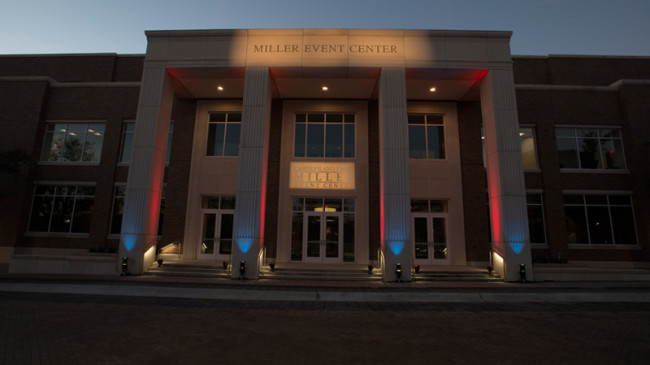 "[My] favorite features have to be the alcoves throughout the building. Each of them tells a story about SMU Athletics or the history and tradition of commencement held inside Moody," Kurt Pottkotter who is Senior Associate A.D. for Development
Other famous faces included, billionaire banker Jerry Ford, Highland Park Village owners Heather and Ray Washburne, President Turner and his wife, and former player for the Houston Rockets, Dikembe Mutombo, to name a few.
Moody Coliseum has a celebrated history among the community. Each May and December, Moody hosts SMUCommencement and graduation ceremonies for area high school students. SMU Commencement speakers have included former First Lady and SMU graduate Laura Bush, former Secretary of State Condoleezza Rice, journalists Jim Lehrer and Bill Moyers, comedian Bill Cosby and Oscar-winning actress and SMU graduate Kathy Bates.
Moody has also been a popular site for four U.S. presidents, poet T.S. Eliot, musicians like the Kingston Trio, the Rolling Stones, Three Dog Night, John Denver, the Grateful Dead, Queen, U2 and Pearl Jam.
Dallas' first professional basketball team, the Chaparrals (San Antonio Spurs), played most of its home games at Moody from 1967-73. From 1971 to 1979, Moody hosted one of the biggest tennis championships of the year, the World Championship Tennis Finals along with exhibitions between stars such as Andre Agassi and Pete Sampras in the 90s. The Virginia Slims of Dallas Tennis Championships and the Rolex Intercollegiate Indoor Tennis Tournament also were held at Moody Coliseum.
Youth sports camps, Boy Scout conferences, fundraising dance marathons and church services and events are among the other events held at Moody throughout the years.