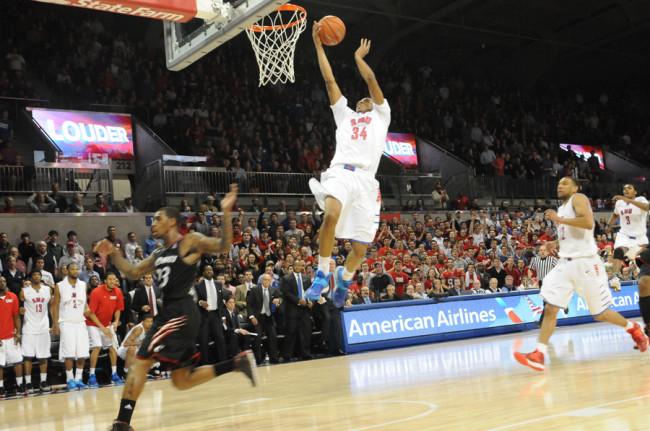 With the SMU Mustangs leading No. 7 Cincinnati 7-2 with 13:45 remaining in the first half, Markus Kennedy picked up his second foul. At the time, there were some questions about who would take over for the focal point of SMU's offense.
Kennedy took a seat on the bench to preserve his self for the second half, and Cannen Cunningham took his spot.
Cunningham filled in more than adequately for Kennedy, scoring 11 points on 4-5 shooting, grabbing three rebounds and two steals all in the first half.
In the second half, SMU let Cincinnati creep back into the game, cutting the lead to seven points.
That's when Nick Russell stepped up his game, scoring or assisting on 10 of SMU's next 18 points. At the end of his spurt, the Mustangs led 65-47.
It should come as no surprise that these two stepped up, as both of them have been here for more than a year.
For Russell, he joined SMU with Larry Brown last year as the Mustangs finished 15-17.
Cunningham has been here a year longer than Russell. The junior center was here before Brown was hired and played as SMU finished second to last in Conference USA.
When it came time to step up their game in order to gain relativity again, they were more than prepared.
"We've seen the bottom," remarked Cunningham following the big-time win. "We're trying to get to the top, I think we can do it. Our goal is to win a national championship this year."
As one of three players who has been here for three years, Cunningham provides the veteran leadership necessary to do just that.
Providing the point of view of one of the transfers on the team who was here last year, Russell said: "This team is mostly transfers. Everybody wants to win. That's why they came here."
That's the unifying goal for this team. Career-long or transfer, they all just want relevance. And with a huge victory over Cincinnati, they've done just that.
As Russell added in his post-game press conference, "The sky's the limit."