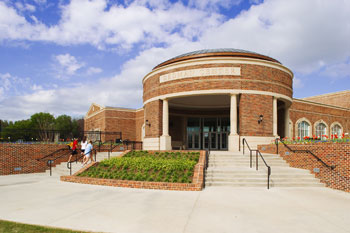 A whistle sounds in the Dedman Center for Lifetime Sports, which means it's time for Jermaine Mulley to go to work.
A collegiate basketball player at Southwestern Assembly of God University, the Perkins School of Theology graduate student admits to have gotten heated at referees, yelling at supposed missed calls.
But now, Mulley is the referee.
As a SMU Intramurals referee, Mulley is seeing a different side of the sport he loves.
In his first semester refereeing intramural basketball games, the Masters of Divinity student has gotten more out of his job than the exercise he expected.
"Coming from being a player and of being fearful, like 'Oh shoot, am I good enough to do this?' and now feeling that exact feeling before each game as a referee, the best part of the job is seeing the transition from being a player and being nervous and now knowing that the ref has always been nervous too," Mulley said.
Mulley, who has been playing basketball since he was 7-years-old, said he loves the social aspect of intramurals and being able to get connected with undergraduates who have a passion for sports.
"As referees and players, we're doing the same thing: facing our fears trying to do and be our best," Mulley said.
Intramurals, run through the Department of Recreational Sports, offers over 30 different activities, from individual, doubles and team sports throughout the year.
Teams are made up of men, women, fraternities, sororities, residence halls, campus organizations and independent friend groups.
For basketball, sand volleyball and court volleyball referee Rochelle Lauer, intramurals provide a community for sports lovers to make new friends and spend time with their teammates.
"It is a great opportunity for students and staff to enjoy playing the sports they love while building relationships with the people on their team," Lauer said. "Without the referees in the picture, these things would not be possible."
Lauer, a junior mechanical engineering and pre-med student, has been refereeing at the Dedman Center for two years.
Her first basketball game still sticks in her mind, when she was in charge of the toss for the jump ball at the beginning of the game.
"I was nervous that it was going to be horrible and, sure enough, it was. The ball stayed perfectly in between the two players but it went way to the outside of them.
They both had to take a pretty substantial side step before going up for the jump," Lauer said. "That was pretty embarrassing and I'm sure everyone was thinking, 'What the heck just happened?'"
Lauer's embarrassment has subsided since her first day on the court as a referee and her appreciation for her job has only grown.
"I love all the people and friends I have met so far through this job and it is always a huge plus when you get to work in an enjoyable and fun environment," Lauer said. "I am glad I can play a small role in helping SMU have a fun and enjoyable experience of connecting people and building a stronger community."
While intramurals are a fun way for students to be active and get more involved on campus, the games can bring out the aggressive sides of players and fans — who then usually take their anger out on the student referees.
Mulley says the hardest part for him is seeing himself as a collegiate player in the frustrated eyes of intramural players who don't agree with his calls.
"When I was a player, I see now that I missed a lot of calls too, thinking the referee was wrong," Mulley said. "I get it, I yelled at the ref too. Now being on the other side, I just want to say to players, 'Do you really know how prideful you're being?'"
It's hard seeing a reflection of myself in the players."
As much as Mulley hopes players understand the calls from his side, he also sees the benefits to intramurals as a stress reliever.
"Intramurals are very important. SMU operates like an Ivy League academically and the workload is so intense. Intramurals give students a chance to have some therapeutic time of release," Mulley said.
Mulley and Lauer all agree that the community of sports-driven students, who use intramurals to release stress, to exercise and to get involved, make their jobs totally worth it.