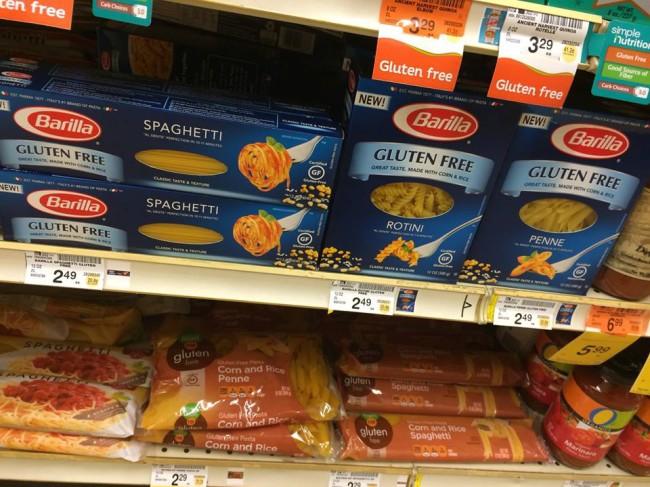 When SMU sophomore, Elizabeth Boddicker browses the pasta aisle at Kroger, she picks up gluten free spaghetti because she believes it's healthier.
Kathy Miller, a nutritionist at Cooper Clinic, says it's becoming easier and easier to find gluten free foods in grocery stores. A few yeas ago, the designer grocery stores were the only ones that had these specialty foods. Now, they are pretty much mainstream.
"In the past 10 years that I've been working with patients with celiac and gluten sensitivity, it has improved so much in the grocery stores," Miller said.
Dallas grocery stores and restaurants make being a celiac easy, even though only a meager one percent of the population actually has the disease.
SMU juniors Lexie Maddux and Kira Parsons, who both have celiac disease, say they can find a wide variety of gluten free products at Whole Foods, Kroger and local restaurants.
"For me it's pretty easy finding gluten free options in Dallas because many restaurants, if not offered on their menus, will work with you individually to find something that works," Parsons says.
Eating gluten free is a national trend, and Dallas restaurants as well as grocery stores are making it very easy to say goodbye to gluten.
Eating gluten free comes with a price, though. Miller warns her celiac clients about the expenses of specialty foods. It can be expensive to eat gluten free, as many products and specially made restaurant meals come with higher prices. However, like many others, she believes being healthy is worth it.
Celiac disease is a digestive disease that damages the small intestine every time the person consumes gluten. Gluten is a protein found in wheat, barley, and rye. When the intestine becomes damaged, the body is unable to absorb nutrients into the bloodstream, which can lead to malnourishment.
Other conditions such as anemia, osteoporosis, infertility, and fatigue have similar symptoms, which often leaves celiac disease undiagnosed. But due to blood-screening tests, celiac disease is easily detected and more people are being diagnosed.
Many people are starting to eat gluten free due to rumored benefits, such as more energy, but Miller dispels this myth.
She says that while a lot of people are eating gluten free because they believe going gluten free will give you more energy, this is only true for the small percentage of celiacs out there. It would make no difference to anyone who doesn't have the disease.
"There's a group that has put a mystical halo over buying gluten free food and saying that if it makes a celiac have more energy then it'll probably help me lose weight, run faster, and feel better," Miller says. "So it's part of an overreaction to a food product that has come about because there was a serious disease out there."
Some of Parsons' favorite restaurants that carry gluten free options include P.F. Chang's, Chipotle, Twisted Root and Rusty Taco.
P.F. Chang's has a special gluten free menu featuring 21 items ranging from their famous chicken lettuce wraps to a flourless chocolate cake.
"The shrimp with lobster sauce is so good," Parsons says.
Maddux enjoys P.F. Chang's gluten free selection as well. She also enjoys the gluten free options at Maggiano's, Fireside Pies, and Mi Cocina.

One would think eating gluten free at an Italian restaurant would be difficult, but Maggiano's is happy to accommodate to their customers' needs.
Maggiano's most requested gluten free dish is their baked ziti and grilled chicken breast with broccolini and grilled tomatoes. If you give them about a day's notice, they can even make you a crustless cheesecake.
When you're looking for something a little spicier, Mi Cocina offers a wide variety of gluten free choices for brunch, lunch and dinner. They offer huevos rancheros, brisket tacos, fajitas and more.
Fireside Pies also offers gluten free crusts with any of their pizzas.
Still, one has to be careful when trusting restaurants. Food that touches grills or cutting boards that have been in contact with food that contain gluten may get contaminated.