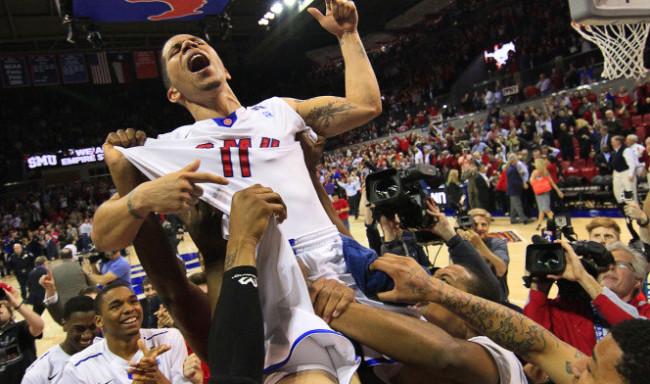 The SMU men's basketball team gave Shawn Williams and Nick Russell three memorable final games at Moody Coliseum, beating Cal-Irvine, LSU and Cal-Berkeley to advance in the National Invitation Tournament.
The team's next stage, Madison Square Garden, considered to be the mecca of basketball, awaits the Mustangs' matchup against Clemson tomorrow night at 6 p.m. CT in the NIT semifinals.
This matchup will feature one of the best players in the country in Clemson's K.J. McDaniels, who leads the Tigers in points, rebounds and blocked shots plus was named the ACC Defensive Player of the Year.
"He is one of the reasons they are one of the better defensive teams. He plays in a great conference and he is recognized as one of their best players," SMU Head Coach Larry Brown said. "If you play in the ACC and you're one of the best players, you got to be pretty special."
SMU is a solid defensive team as well, but Clemson may be the best defensive team SMU has faced all year.
"Clemson is athletic and long. They play man and they play it well. They're challenged sometimes, like we are, to score," Brown said. "They stay in games because they guard. I don't think it's rocket science when you play them and I don't think it is for them when they play us."
The key for SMU all year has been to rebound, not turn the ball over and stay out of foul trouble.
Even with the team playing under the lights in New York City, Coach Brown said he's not too worried about the team's ability to handle the distractions.
"I want them to be excited. It's a terrific accomplishment," Brown said. "I want them to enjoy playing in the Garden and being one of eight teams that are still playing."
SMU will have to stick to their plan and Markus Kennedy will have to stay out of foul trouble against McDaniels and Brown thinks that if the team does that, they'll find themselves in the championship game Thursday night.
"As long as we do what we do best and realize the things we need to do, our goal is to try and keep playing. We will try to accomplish that. I'm thrilled for the team."
The team left Sunday after an early morning practice for the Big Apple. Tuesday's game will be televised on ESPN2.