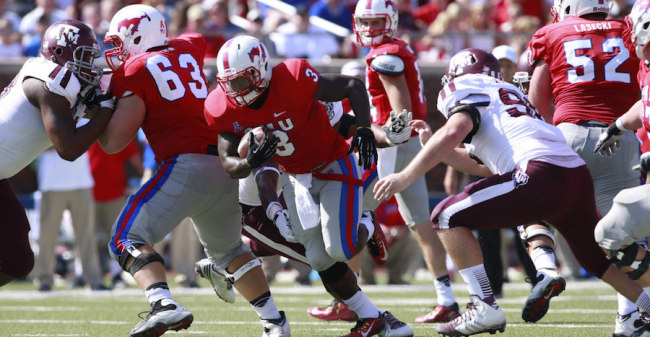 The Battle for the Iron Skillet returns to Ford Stadium on Saturday at 11 a.m. when SMU hosts Texas Christian University. SMU has suffered a blowout loss in each of its three games this season, most recently losing 58-6 to Texas A&M; on Sept. 20. TCU (2-0) is coming off a bye week, but the Horned Frogs beat Minnesota 30-7 the week before. TCU has beaten SMU in each of the last two games in the series, but SMU Interim Head Coach Tom Mason is excited to play the Frogs.
"It's a big rivalry, it's a big thing for both SMU and TCU," Mason said. "I love rivalry games. If you can't get excited for rivalry games, you have a problem."
In the loss to A&M;, the Mustangs gave up 663 yards and were plagued by missed tackles. Mason has addressed the tackling issue throughout the week.
"I've always said you have to tackle with your arms and tackle with your feet," Mason said. "We didn't do that. We were leaving our feet and not tackling with our hands. We missed 31 tackles. That's unacceptable."
SMU will start a different quarterback for the third straight game. This time, the starter will be junior walk-on Garrett Krstich. Krstich replaced a struggling Kolney Cassel after one quarter against A&M; and guided the Mustangs to 249 yards, including a 15-play drive that brought SMU into the red zone for the first time all season. Krstich also saw brief playing time at the end of last season. He says he is ready for his first career start.
"I think at quarterback, you always have to be ready and always think you're the guy," Krstich said. "That's what's so tough about the position. Even if you're not the starter, you have to prepare like you're the starter every week, because you could go in and be the guy [at any time]."
TCU has dominated its two games this season, allowing a combined 21 points and scoring a combined 78. The Horned Frogs' best offensive weapon, junior quarterback Trevone Boykin, is off to a fast start as well. In two games, he has completed 64.4% of his passes for 578 yards and four touchdowns while rushing for 121 yards and one touchdown.
SMU needs to tackle better than it did against A&M;, especially against TCU's athletic skill position players, or TCU will rip off big plays. But most of all, Mason wants to see his team have an identity.
"Let's play hard. Let's fight until the end. I always tell the kids, 'Don't look at the scoreboard; just play hard and the scoreboard will take care of itself.' When I walk off [the field], I want TCU to say, 'Whoa, those guys played hard.'"
The Horned Frogs and the Mustangs have faced off in 24 of the 25 seasons since the Death Penalty, and 93 times overall. TCU leads the series 46-40-7, but SMU leads 22-20-2 in Dallas. SMU last beat TCU in 2011 in Fort Worth, when J.J. McDermott threw a game-winning touchdown pass to Jeremy Johnson in overtime to down the 20th-ranked Horned Frogs.