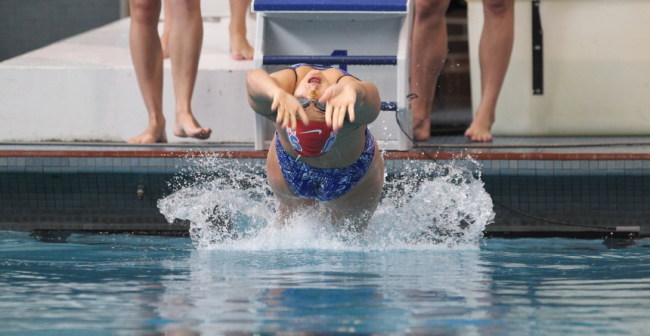 SMU women's swimming and diving finished third at the 21st annual SMU Classic this weekend.
Mustang senior Rachel Nicol and Tara-Lynn Nicholas helped push SMU to third-place after sweeping the breaststroke heats. A win in the 200-yard freestyle relay also helped the Mustangs take third. Nicol clocked a time of 2:10.11 in the championship heat and Nicholas clocked a 2:13.40 in the consolation final.
"They really competed at a high level this weekend," Head Coach Steve Collins said. "We came into the meet trying to challenge the best teams and enjoyed working together as a team."
Senior Nathalie Lindborg out-touched USC's Evan Swenson for a 1:31.34 mark in the 200-yard freestyle relay in the final nail-biting event of the Classic. The relay was stacked with senior Isabella Arcila, sophomore Marne Erasmus and freshman Adrienn Santa.
"I am very proud of everything we were able to accomplish this weekend," Collins added. "The last relay was a highlight and a great way to move forward."
SMU earned runner-up honors in the 200-yard individual medley with Arcila, Nicholas, Erasmus and N. Lindborg clocking in at 1:39.35.
SMU sophomore Ursa Bezan earned the Mustangs other runner-up honor in a championship final as coming in at 4:46.67 in the 500-yard freestyle while sophomore Kirsty McLauchlan placed third in the event's consolation final.
Freshman Madeline Wainman posted a 264 in three-meter diving, putting her at fifth place and giving the Mustangs a 10-point boost.
SMU returns to host Rice on Oct. 31 at 7 p.m. and then Houston on Nov. 1 at 1 p.m. at the Mansfield Natatorium. Check back with The Daily Campus for results and recaps on your Mustangs.