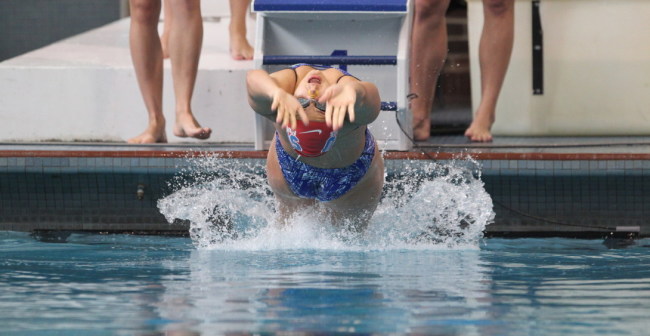 The SMU women's swimming and diving team won all 11 events to earn a 155-88 dual meet victory over conference foe Houston on Saturday afternoon at the Mansfield Natatorium.
The 11th-ranked Mustangs continued their strong relay performance with first and second place finishes in the 400-yard medley relay. SMU's 'A' relay team of seniors Isabella Arcila, Nicole Parmenter and Rachel Nicol plus sophomore Marne Erasmus won the event with a 3:49.02. The 'B' group finished with a 3:56.41.
Erasmus, senior Nathalie Lindborg, sophomore Ursa Bezan and freshman Adrienne Santa won the meet's final event, the 400-yard freestyle relay, with a 3:30.22. SMU also earned third-place points in the event.
"There were a lot of good swims in the relay events, both in medley and freestyle," Head Coach Steve Collins said. "Having the ability to swim in 10 lanes gives us great opportunities."
The Mustangs ruled the individual events as well. Arcila won the 50-yard freestyle and 100-yard backstroke. She timed 23.45 and 56.85, respectively. Santa finished right behind Arcila in the 50-free, while junior Anna Volchkov finished third in the 100-back.
"[Arcila] really showed her dominance in backstroke yesterday and today, and I'm really happy with her swims this weekend," Collins said. "It's great to see her be so consistent."
Other individual event winners include Lindborg in both the 100- and 200-yard freestyles (Santa finished in second in the 100-free, and Bezan took second in the 200-free), sophomore Kirsty McLauchlan (10:20.02) in the 1,000-yard freestyle, Nicol (2:08.52) in the 200-yard individual medley, Erasmus (55.36) in the 100-yard butterfly, Bezan (5:02.46) in the 500-yard freestyle and sophomore Tara-Lynn Nicholas (1:03.23) in the 100-yard breaststroke.
In diving, first year Madeline Wainman finished in second place in the 3-meter dive and fourth in the 1-meter dive. Sophomore Lauren Lamb also earned points in both events.
SMU's next meet is Nov. 20-22, when the Mustangs travel to College Station for the Texas A&M; invite.