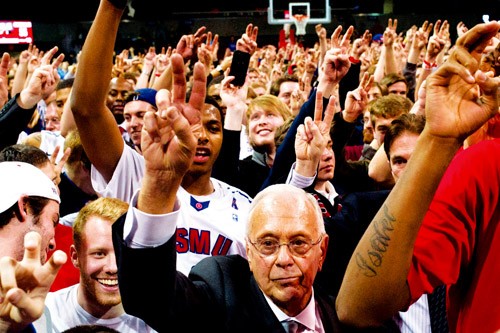 The Mustangs' soft 2013-14 nonconference schedule may have been a reason they were snubbed from the NCAA tournament. But this year, Larry Brown's team will play one of the harder nonconference slates in the country, on top of some tough conference games. Here is a closer look at six of SMU's toughest opponents.
Nov. 17 at Gonzaga: This is the season's first matchup between top 25 teams. SMU faces a still test in just its second game, especially because Markus Kennedy will likely be out with eligibility issues. This Bulldogs' team arguably has more talent than the one that earned a No. 1 seed in the NCAA tournament two seasons ago. The formidable backcourt duo of Gary Bell and Kevin Pangos returns, and adds USC transfer Byron Wesley, who could be the team's best scorer. Kentucky transfer Kyle Wiltjer shores up the frontcourt that could assert itself if Kennedy does not play.
Nov. 26 vs. Arkansas: An underrated Arkansas team is the most difficult nonconference opponent that will visit Moody Coliseum. SMU gave up 89 points and committed 18 turnovers when the teams met last year. SMU had no answer for the Razorbacks offense. They made 11 of 22 three-point attempts and drew 29 fouls, which led to 37 free throw attempts. SMU's deep frontcourt should match up with the Razorbacks' frontcourt much better this time around. The X-factors in this game could be guards Ben Emelogu and Sterling Brown, who will need to play their best defensive to control Arkansas' tough and athletic wing players.
Dec. 20 at Michigan: The Mustangs face the defending Big Ten regular season champs, who lost three key players from last year but brought in a slew of talented freshman. The Wolverines shoot the ball lights-out from three-point range, but will mostly rely on freshmen in the frontcourt. While the freshmen are talented, SMU should have the advantage down low. The key will be the Mustangs' three-point defense, which was strong last year before fading down the stretch. The Wolverines shoot lights-out from deep, and annually run one of the country's most efficient offenses. SMU's defense will need to be in top form.
Moving on to conference season, here is a breakdown of SMU's performance against the AAC's top teams last year and the outlook against those same teams this year.
Jan. 3 at Cincinnati, Feb. 5 vs. Cincinnati: SMU takes on the Bearcats in its first conference road game. They defeated SMU the last time they met in Ohio, but the Mustangs returned the favor by pummeling them on Feb. 7 of last season, sending Moody into chaos. The Bearcats pride themselves on playing tough defense, but SMU had their number last season, shooting 49 percent in the two games while allowing 36 percent. This Cincinnati team does not have the talent last year's did, but Mick Cronin's crew knows how to fight and keep games close.
Jan. 8 vs. Memphis, Feb. 26 at Memphis: The Mustangs thumped the Tigers in Moody last year, but blew a halftime lead in Memphis because of sloppy offense. The Mustangs put up points early by using lots of screens, but Brown said that his team "got away from it and started taking bad shots" in the second half. SMU's game plan for both Memphis games was excellent, but the team has to execute for a full game to beat a well-coached team like Memphis. The Tigers lost their most experienced players from last year, but still have lots talent.
Feb. 14 vs. Connecticut, March 1 at Connecticut: One team beat the defending national champions twice, and it was none other that SMU. The Mustangs reopened Moody with a dominant second half to defeat UConn, then got their signature win when they upset the Huskies on the road by shutting down AAC Player of the Year Shabazz Napier. SMU held UConn to a combined 120 points in their two meetings. Their first meeting in 2014-15 is in Moody in prime time, with ESPN's College Gameday likely on hand. It might be the biggest game of the year for SMU.