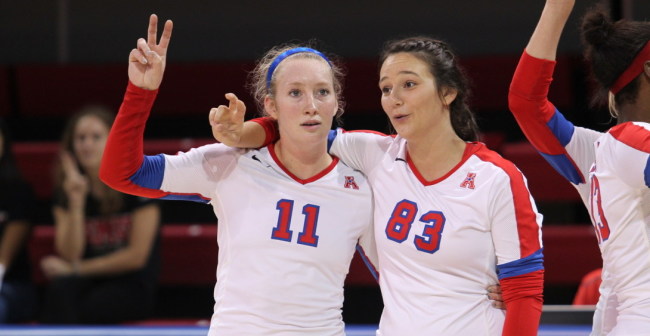 The Mustangs traveled to Florida this weekend to take on USF on Friday night and UCF on Sunday afternoon.
In Tampa, Fla. on Friday night the Mustangs won against USF in a 3-2 victory. SMU improved to 22-5 overall and 11-4 in the American Athletic Conference.
It came as no surprise when Avery Acker recoded her 22nd double-double of the season with 39 assists and 18 digs. Junior Cailin Bula finished with nine kills, hitting .290 and zero errors, while senior Caroline Young led the Mustangs with 14 kills. Abbey Bybel ended with 10 kills, 13 digs and her 10th double-double of the season. Morgan Heise had a team-high 22 digs. That 22 was not enough to top the Bulls Erin 35 digs and 20 kills.
In the first set SMU won 26-24 on a kill from Kristen Stehling. In the middle the Mustangs trailed 17-13 after the score went back-and-fourth for a while. SMU fought hard to score six of the next seven points for a 19-18 lead. The Mustangs then took the lead, 23-20, but the Bulls fought back and from there it was a point-to-point battle.
In the second set USF pushed for a 25-20 victory over SMU. The only time the Mustangs led the set was when they scored the first point and were not able to fight back.
The Mustangs came out strong in the third set taking a 12-6 lead. SMU only trailed once when the score was 3-2, but they went on a run and finished the set 24-21. Bybel had the final point on a kill. SMU finished the set hitting .300 which was the first time to hit above .200 in the match.
SMU breezed through the fourth set taking an 11-3 lead to start the final set. The Mustangs took the momentum and ended the set 25-10. SMU hit .591 in the set and Bula finished with five kills in the set. USF hit -.069 with only five kills and seven errors.
The Mustangs had a day off before taking on the UCF Knights on Sunday. The match was close, but SMU fell in a heart wrenching 12-15 loss in the fifth set. SMU lost Acker in the fourth to injury and McKenzie Shea came in to replace her.
Stat leaders on the match started with Young and Bybel who led the Mustangs with 17 kills, while UCF's kill leader finished with 15. Acker had 49 assists for SMU and Heise had 30 digs.
The Mustangs return home for three of their last four matches. The first match back home is against Connecticut Friday night in Moody Coliseum at 7 p.m. SMU's three seniors will be recognized after Sunday's match against temple at 1 p.m. in Moody Coliseum.