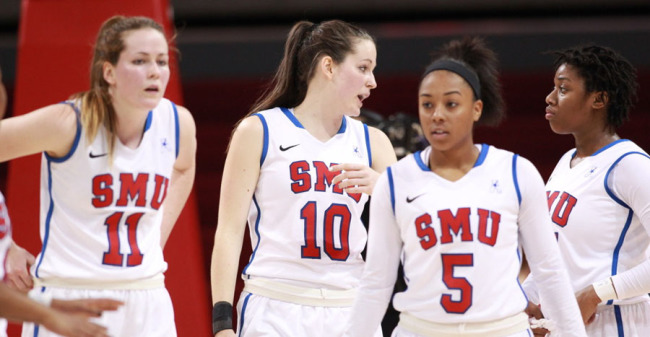 SMU women's basketball returns to Moody Coliseum to take on North Texas Wednesday at 7 p.m. The Mustangs enter Wednesday's game 3-3 on the season.
The Mean Green travel to Moody after losing four consecutive games. The most recent loss came against Eastern Illinois in overtime.
Team leaders for the Mean Green are Briesha Wynn and Eboniey Jeter. Wynn leads the team with 13.8 points and nine rebounds while Jeter trails with 10 points per game. The Mean Green and the Mustangs have both lost to Northern Colorado this season.
The Mustangs are 29-16 all-time against the Mean Green, which includes a 20-4 record at home. The game last season was close, but the Mustangs pulled out an 84-79 victory over UNT in overtime.
Keep an eye on standout Destynee Hives-McCray. The junior is averaging a double-double with 12.2 points and 10 rebounds per game. She leads the Mustangs in both points and rebounds. Hives-McCray is shooting 55.8 percent from the field. Last season she started the first 10 games until she came down with a season-ending illness. Luckily, she received a medical waiver leaving her with two more seasons as a Mustang.
The Mustangs are coming off the SMU Thanksgiving Classic which took place on Nov. 29. Hives-McCray scored eight points and earned all-tournament honors, while first-year Taylor Brame and junior guard Gabrielle Wilkins tied with 12 points for a team high in scoring. First-year forward Alicia Froling trailed at third for the Mustangs in double figures with 10 points and seven rebounds.
Another standout is Taylor Brame who is averaging 11.5 points over only the last two games and reached double figures in both. Brame is shooting 54.2 percent from the field for the season. In the last two games Brame has made 11 of 17 field goals shooting 64.7 percent.
Come check out the Mustangs Wednesday in Moody, and if you can't make that, SMU will be back in Moody on Dec. 9 when they take on the Texas A&M; Aggies.