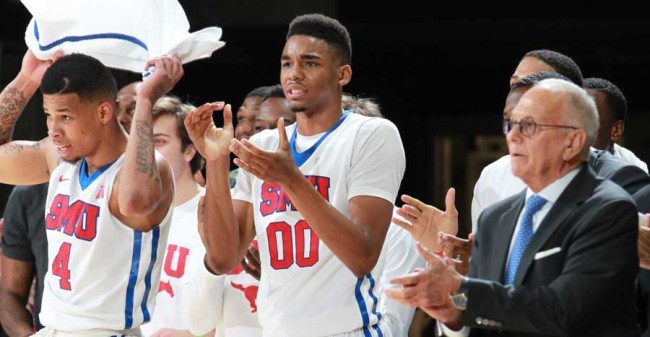 Stumbling out of the gates was not the way SMU wanted to open the season, especially after an offseason teeming with hope and high expectations. But after losing three of four games, the Mustangs have strung together a streak of three straight double-digit wins.
The most recent win came on Friday against a Wyoming team that entered Moody undefeated at 7-0. The Mustangs would pull away in the second half en route to a 66-53 victory, handing the Cowboys their first loss of the season.
"This is the hardest we've played, I think," Coach Brown said after the game, while adding that his team played with a lot of energy. That energy reached its peak in the second half during a crucial time for the Mustangs.
SMU's commitment entering this game was to limit Larry Nance, Jr. This was no easy task, as Nance leads Wyoming in scoring (he also shoots at 62.1 percent), rebounding, steals and blocks.
That commitment paid off, as he was limited to three points on four shots, grabbed only three rebounds and committed four turnovers.
As Ben Moore stated post-game, "We locked him up."
The first half contained two competitive teams going blow for blow, but Wyoming opened the second half by grabbing the momentum.
After holding the Cowboys to 2-11 from beyond the arc in the first half, SMU began to give up offensive rebounds. These second opportunities allowed Wyoming to hit open three pointers, find a groove, and eventually take a lead.
The Mustang's low-point came with about 10 minutes left in the second half; at this point they trailed the Cowboys, 42-36.
The crowd at Moody then unleashed a burst of energy that appeared to spark the team and steal the momentum from the Cowboys. The Mustangs answered the enthusiasm by blocking out and tightening their perimeter defense.
As is the case with most Larry Brown teams, the improved defense led to smoother offense. SMU then outscored Wyoming 30-11 from that point to the final buzzer; this was highlighted by a 20-3 run.
During this run, Nic Moore (who was 10-14 from the field, 3-4 from three) put the team on his back by scoring 12 consecutive points, most of which came courtesy of his smooth shooting stroke.
Yanick Moreira's role in this game came as a complement to Moore. The #AngolanNightmare (as we affectionately call him on Twitter) was a consistent presence in the post.
This has become a trend in most games, as establishing him as an offensive threat opens the perimeter for Moore and Keith Frazier, the team's premier shooters.
This strategy was key, as it opened up the court for Moore when he started SMU's streak. His most emphatic shot came at 7:40, when he nailed a three, giving the Mustangs a 45-44 lead. This shot was met with a boisterous ovation from the Moody crowd.
Moreira's biggest knock this season has been an inability to finish easy shots. But on this night, he opted to dunk instead of finishing with finesse. This approach led him to 15 points (5-6 from the floor), 13 rebounds and two blocks.
With two minutes remaining, Wyoming trailed by nine. Then the Cowboys attempted to foul their way back into the game.
Ben Moore then scored 10 of his 14 points during this foul-fest, going 8-8 from the charity stripe and adding a dunk that sealed the victory for SMU.
One concern from the victory is that SMU continued their streak of committing a high amount of turnovers with 15. However, when you shoot 56.1 percent from the field, the turnovers become tolerable.
SMU limited Wyoming to four offensive rebounds (all of which came early in the second half). Giving up these rebounds has been the other noticeable issue for the Mustangs. Although Wyoming ranks very low in rebounds per game, it is a step in the right direction.
Coach Brown reinforced this point in the post-game press conference: "Limiting second shots is key when playing a team like this."
Wyoming's offensive approach has been shooting threes in volume, and Brown pointed out that the best three-point attempts come off of offensive rebounds.
Wyoming's game was led by three players: point guard Josh Adam's, who dished out six assists; forward Derek Cooke, Jr, who scored 15 points (all of which seemed to have come from easy dunks) while adding seven rebounds; and shooting guard Riley Grabau, who added 15 points on 5-10 from beyond the arc.
'This is a quality team we beat tonight," noted Brown, "That's what makes me excited."
Looking to extend the winning streak, SMU next takes the court on Monday versus UCSB. The tip-off is at 7 p.m. at Moody Coliseum.