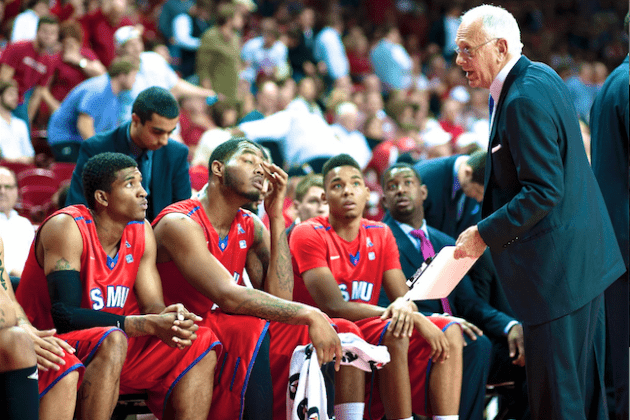 Each week, I tell you what's up and what's down in SMU sports by numbers.
4 – The number of football recruits that committed to SMU this weekend. The first official new mustang, Keaton Bates, is an offensive lineman from Arlington Lamar high school. Bates took an official visit to SMU this weekend and that sealed the deal for him. The second commit, Rodney Clemons, is a defensive back from Taylor high school in Katy, Texas. The third was Matt McNew, an offensive linebacker from Robinson high school. And last but not least, wide receiver Alex Honey from Guyer high school in Denton, Texas took his opportunity to join the Mustangs soon after SMU had another wide receiver decommit.
16 – The number of points Destynee Hives-McCray scored for the SMU women's basketball team in her first game back from suspension. Despite her big comeback, SMU dropped the game against Tulane in the final seconds and the Mustangs fell to 0-6 in the AAC.
5 – The number of SMU men's basketball players that scored in double figures against ECU on Saturday. Nic Moore led the Mustangs with 14 points and six assists while Markus Kennedy had 12, Ben Moore and Ryan Manuel scored 11, and Sterling Brown had 10 points.
2 – The place in which SMU women's track and field team finished at the J.D. Martin invitational on Saturday at the University of Oklahoma in their opening meet of the indoor season. The team goes to Vanderbilt this Friday and Saturday for their next meet.
6 – The number of matches SMU men's tennis won to top UCSB 6-1 in their first match at the new SMU tennis complex on Monday. SMU won all three doubles matches and dropped only one singles match. SMU men's tennis plays against next Saturday at home against Troy.
23 – The number of games forward Semi Ojeleye played for Duke before he transferred to SMU where he will be eligible to play next December and still have two season of eligibility left. Ojeleye has already begun practicing with the Mustangs.
1 – The number of appeals that have failed so far to allow McDonald's All-American Keith Frazier to continue playing for the rest of the season, despite apparent academic ineligibility.