This week, the Daily Campus Sports Desk staff chose senior swimmer Isabella Arcila as our player of the week for her outstanding performances in the pool.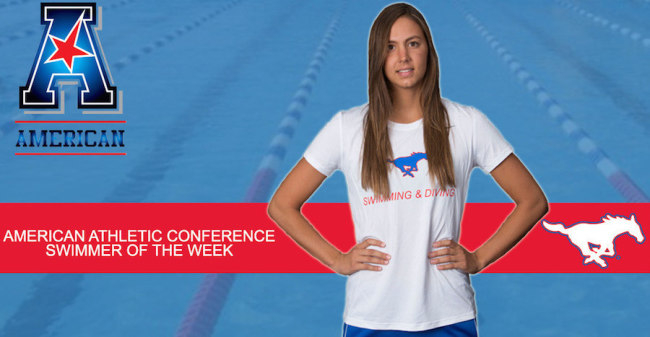 Arcila was named AAC Swimmer of the Week for the second time this season after a dominating performance against No. 6 Texas and No. 11 Arizona. Arcila recorded four of the six first place finishes for SMU against UT and Arizona, including first in the 50-yard freestyle, the 200-yard and 400-yard freestyle relays, and the 200-yard medley relay. Arcila's first place finish in the 50-yard freestyle was a personal best for the senior and she also placed second in three other events.
Arcila is a five-time NCAA All-American, and the Columbian-Californian also qualified for the Pan American Games in the 50-meter freestyle. Catch Arcila and the Mustangs in the pool again Friday, Feb. 6 at 5 p.m. as they head north to compete against UNT and on Saturday at a time trial that will be Senior Day for Arcila and seven other swimming Mustangs.