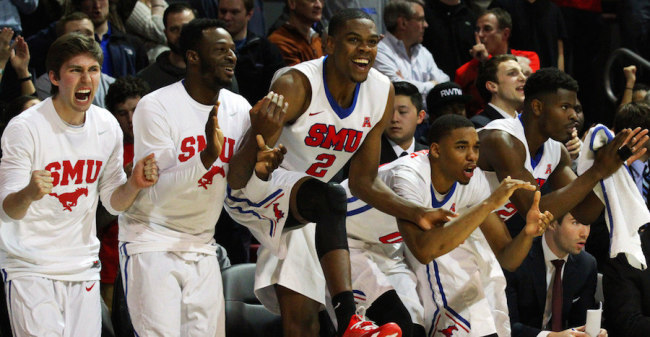 SMU defeated Temple on Friday night 67-58 after trailing until the under-9 minute mark when the Mustangs tied it up 43-43. The Mustangs improved to 22-5, 13-2 in the AAC and move on to Memphis to take on the Tigers Tuesday night.
The Tigers are 15-10 and fifth in the American Athletic Conference. They defeated the UCF Knights on Sunday afternoon 75-65. In their first match up this season, SMU downed the Tigers 73-59 by shooting 51 percent from the field.
Last game, SMU still had Keith Frazier but the biggest contributor to scoring that night was newly reinstated Markus Kennedy. Kennedy was just getting back into shape but his performance against Memphis showed SMU fans that he still had it. Kennedy shot 10-for-13 and 21 points to lead the Mustangs to the win.
Keys to that win were rebounds, high shooting percentage, and assists from Nic Moore. The Mustangs out rebounded the Tigers 38-22 and out shot them 51 percent to 43 percent. Nic Moore had eight of SMU's 17 assists where Memphis only had 11.
Catch the second round of SMU versus Memphis Tuesday night at 8 p.m. on ESPN 2.
Three-on-three
Memphis:
Austin Nichols (F): Nichols shot 9-15 Sunday against UCF for 20 points in just 34 minutes. He also tallied 7 rebounds and 3 blocks to propel the Tigers to an overtime win against the Knights.
Avery Woodson (G): Woodson had a mediocre game against UCF shooting just 3-14 from the field, all three shots from behind the arc. He also tallied two free throws, five rebounds, an assist and a turnover. On paper, Woodson's stats don't look that impressive but if his shot decides to fall against the Mustangs, they'll have to pay close attention to him.
Shaq Goodwin (F): Goodwin played a good game against SMU the first time around so Mustang fans should expect him to be a force to compete with the bigs inside. Against UCF he had 10 rebounds, eight points, three assists, two turnovers, a block and a steal.
SMU:
Markus Kennedy (F): Kennedy had a huge game against Memphis in their first match up, so expect him to see a lot of the ball against the Tigers. Kennedy only had eight points in 18 minutes against Temple on Thursday night, but he also had six rebounds, two blocks and two assists.
Nic Moore (PG): Moore had the game right when the team needed him on Thursday. He had 18 points, four assists, and three steals to help the Mustangs come back from a dire situation in Moody. Moore shot 3-7 from behind the arc but he did tally six turnovers. If Moore can secure the ball, the Mustangs should be able to put the Tigers away.
Ryan Manuel (G): Manuel has been a staple to both the SMU defense and offense all season. He is consistently strong on both ends helping the Mustangs in tough spots. Manuel hit two key three-pointers to keep the energy high when the Mustangs were down against Temple. He had only eight points against the Owls but also had four assists and a steal.