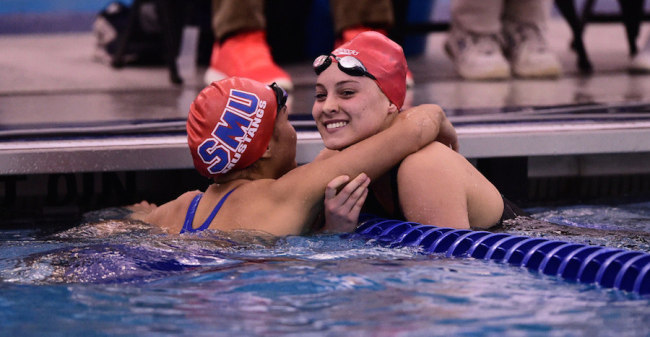 Five SMU women swimmers will compete in the NCAA Championship on March 19-21 in Greensboro, North Carolina. Their performances at the American Athletic Conference Championship qualified them to challenge the best collegiate swimmers in the country.
The Mustang swimmers will represent SMU in six individual races, along with the 200-yard freestyle relay, 200-medley relay and 400-medley relay.
The relay team consists of Isabella Arcila, Tara-Lynn Nicholas, Marne Erasmus and Nathalie Lindborg. Their highest seed in the relays is for the 400-medley relay.
Nicholas and Rachel Nichol will individually take on the 100- and 200-yard breaststroke. Nicholas recorded a 59.12 in the 100-yard at the AAC Championship, which won the gold medal and set an SMU record. Nicholas was named as an All-American last season for her 100-yard performance.
Arcila will compete in the 50-yard freestyle, 100-yard freestyle and 100-yard backstroke. Her 22.21 in the 50-free is the 25th fastest in the NCAA, and she has the top SMU time for the 100-backstroke.
Joining her in the 50- and 100-yard freestyle is Lindborg, whose time of 48.72 in the 100-yard finished second at the conference championship.
Erasmus will swim the 100-yard butterfly, an event that earned her an All-American for the 2013-2014 season.
Other swimmers Ursa Bezan, Erica Donadon, Kirsty McLauchlan and Anna Volchkov made the B cut in their events, but failed to qualify for the NCAA Championship.
Last season, the Mustangs finished 20th overall at the NCAA Championship.