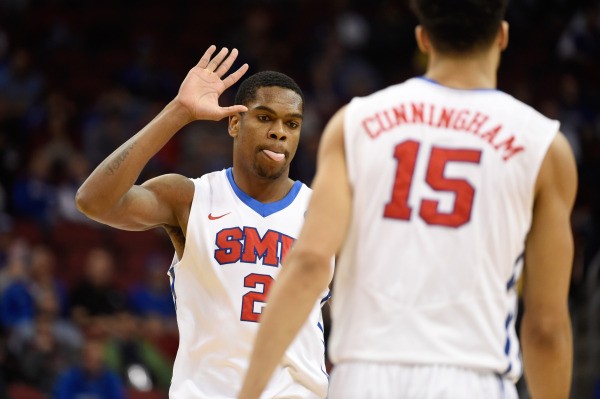 LOUISVILLE,Ky.– SMU's 60-59 loss not only ended the Mustangs NCAA Tournament run, but it also signaled the end of Ryan Manuel, Cannen Cunningham, Kevin Dunleavy, Jean-Michael Mudiay, and Yanick Moreira's time on the Hilltop.
"It's been a special year, but it always hurts if you go out like this," Manuel said. "Hopefully the guys coming back next year can do the same thing, but go further than we did this year. I love everybody on this team."
In the final seconds of the game, UCLA's Bryce Alford shot a fade away three over SMU's Markus Kennedy. The shot was off the mark, but Yanick Moriera was called for goaltending and the three counted.
The Mustangs would have two attempts to win the game, but Nic Moore missed both shots.
"It's all my fault," Moreira said. "I should have let the ball hit the rim. I take the blame on myself. I shouldn't have made that mistake. As a senior" — his voice cracks— "you can't make those mistakes at the end of the game."
Moreia's teammates won't let the senior shoulder the loss on his own. Cunningham turned the ball over on the play that led to Alford's three.
"I feel like I let my team down," he said. "These guys are my brothers- they're my family. It's a tough one."
But sophomore guard Sterling Brown doesn't want his teammates to beat themselves up or get hung up on one play.
"It aint all [Moreira]," Brown said. "We all make mistakes on this team. Every single person. So, it's all on us. It's not just all one person. One person didn't win the game and one person didn't lose the game."
Even though SMU fell short in the tournament, they were the first group of Mustangs to make the NCAA Tournament in 22 years and SMU's senior class was a big reason they did.
"I'm so proud of this team for the past two years," Moreira said. "I just wish I had another year to stay with them. I hope these guys keep fighting and come back here again next year."