1 – The SMU men's golf team tied with UAB for tournament champion at The Goodwin at the Stanford Golf Course. Austin Smotherman carded a career-best 62 in the final round on Saturday to help the team tie UAB, who led by one stroke with four players in the clubhouse. Smotherman and Bryson DeChambeau, co-captains, combined to shoot 13-under par in the final round. The Mustangs dominated par 5's throughout the tournament, posting an average score of 4.38 on the course's longest holes. DeChambeau led the way, averaging 3.89 strokes on par 5's in the tournament, landing himself in the top five performers for the tournament.
2 – The SMU women's volleyball team won two games this weekend in scrimmage play against UTA and OU. The Mustangs downed UTA in three sets and played an extra fourth set as well. Then the Lady Mustangs defeated OU in four sets, winning the first two, dropping the third, and winning the fourth.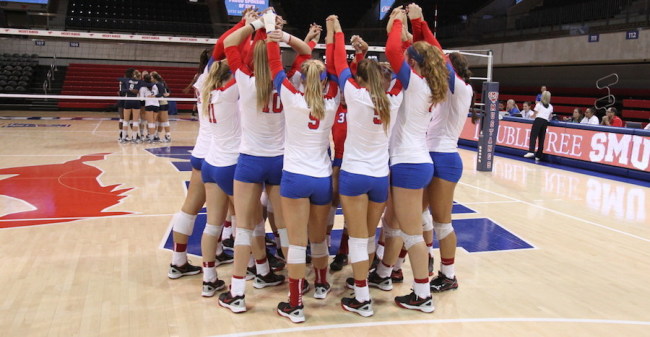 8 – Nic Moore is now the eighth Mustang in SMU history to receive All-American honors. The AAC's Player of the Year Award winner was named to an AP All-American Honorable Mention. Moore had a great season and led the Mustangs in scoring (14.5), assists (5.1) and steals (1.3). The guard from Indiana started all 34 games for the Mustangs and was the conference leader in free-throw percentage at 87.5 percent and three-point percentage with 41.6 percent. Moore is the first Mustang to receive All-American honors since Quinton Ross in the 2002-03 season. He is the third SMU junior to earn the accolade, joining Gene Phillips and Jim Krebs.
13.21 – Freshman Isabella Marten was named the AAC's Field Performer of the Week for her performance at Texas State last weekend. Marten's winning triple jump was 13.21 meters, which is not only the top jump in the AAC so far this outdoor season, but also the top jump in the country so far. In addition to the triple jump, Marten also finished fourth in the high jump with a mark of 1.65 meters. The Mustangs return to action on Friday. The sprinters and field performers head to Waco for the Baylor Invitational, while the distance runners are set to compete in the Stanford Invitational.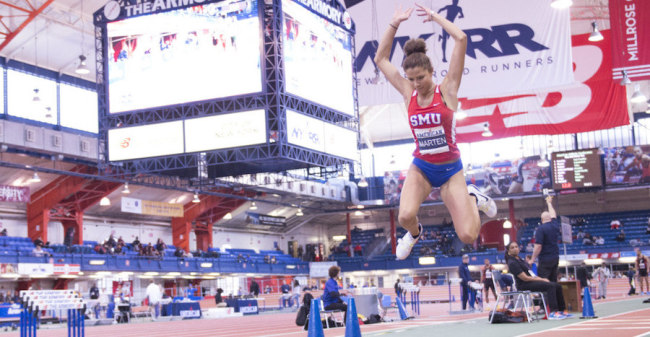 17 – The SMU men's tennis team is now 17-5, recording their most wins in a season since 2011. The Mustangs defeated Dallas Baptist on Saturday 7-0 and are currently ranked No. 36 in the country. The Mustangs also have their best record through 22 matches since the 2001 season, when the team went 24-3 and reached the NCAA semifinals.