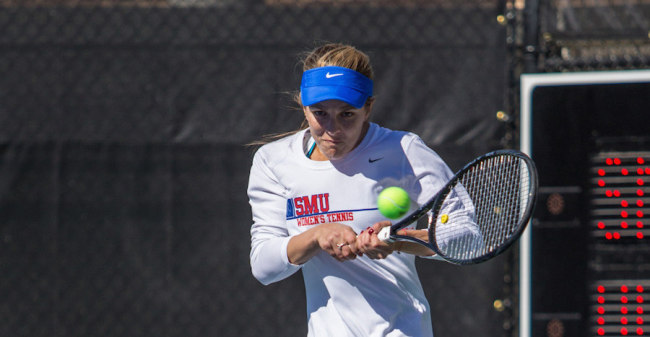 The SMU women's tennis team defeated UT Arlington at the SMU Tennis Complex on Tuesday, with a score of 4-2.
Doubles partners Vasvilizsa Bulkagoza and Dasha Sharapova (No. 1) won their doubles match 6-0 against Angeles de los Rios and Ekaterina Tugarinova. Macie Elliott and Mary Wright (No. 3) won their match 6-2 against Jessica Birowski and Augustina Serio.
Hristina Dishkova (No. 1), Sharapova (No. 3) and Holly Verner (No. 6) each won their respective singles matches for the Mustangs.
Dishkova and Verner each took down their opponents in straight sets. Dishkova defeated UT Arlington's de los Rios 6-4, 6-3, and Verner defeated Birowski 7-6, 6-4.
Sharapova needed three sets to edge Serio. After falling behind in the first set, Sharapova recovered and took control. The final score of her match was 3-6, 6-2, 6-3.
The 61st-ranked Mustangs are now 14-4 overall and 13-2 at home this season. The 14th win ties the most ever in a single season under head coach Kati Gyulai. The 2012-2013 team went 14-10 for the season and ended up 51st in the final rankings.
UT Arlington was able to win two matches on Tuesday. Elizabeth Thoms (No. 2) defeated SMU's Anna Kate Anderson 6-4, 6-2, and Christina Foote (No. 5) took down Vasvilisza Bulgakova 6-1, 6-0. The Mavericks are now 10-4 this season.
The Mustangs' next match will be on the road against Memphis on April 3 at 10 a.m. CT.