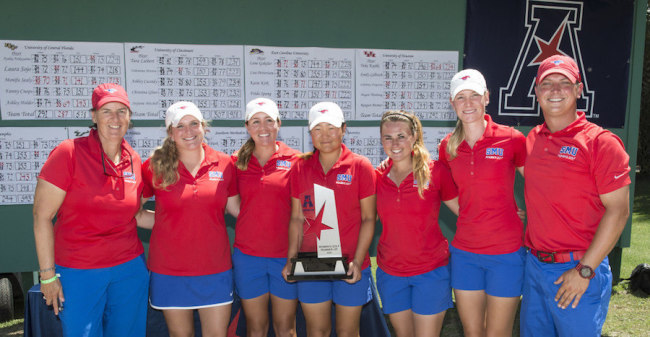 Jenny Haglund fell just short of the American Athletic Conference individual champion as the SMU women's golf team took home a second-place finish Tuesday in Palm Coast, Fla.
Haglund birdied two of the last three holes in the final round to force a one-hold playoff for the individual title.
The junior from Sweden missed a putt for par that would have continued the playoff, but still finished at three-under and took home her seventh top 10 finish of the year.
Meanwhile, SMU shot the lowest team score on each of the last two days of the tournament, finishing the 54-hole event at 12-over, eight strokes off from winner Central Florida and two ahead of third-place Houston.
The Knights' Monifa Sealy also took home the individual title with the playoff win over Haglund.
Haglund wasn't the only top 10 finisher for the Mustangs. Junior Alexandra Rossi finished in a tie for eighth with an overall score of two-over. Her 12 birdies were the second-most of the tournament. She entered the final day in a tie for first place.
Four Mustangs finished in the top 20. Sophomore Lindsey McCurdy finished at five-over, good for 12th place and her fifth top 20 finish of the season.Her final-round 71 was the second-best score of any SMU golfer for the entire tournament.
Senior Jennifer Park notched a tie for 17th place after going even-par 72 on the final round. She shot eight-over for the tournament.
Sophomore Evelyn Doyle rounded out the team with a final-round 79 and 20-over tournament score, which gave her 42nd individually.
The Mustangs await their NCAA championship fate, which will be announced on
the NCAA women's golf selection show.
It airs April 27 at 6 p.m. central time on the Golf Channel.