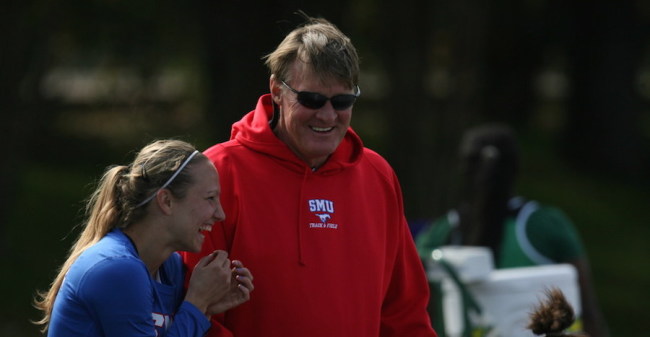 After 28 successful years, SMU Track and Field Head Coach Dave Wollman has announced his retirement.
Wollman took the helm in 1988 after assistant coaching stints at Stanford University and Purdue University, and has built one of the nation's top programs.
Under his direction, SMU made 69 NCAA Championship appearances and finished top-10 in the NCAA 16 times, including eight top-four finishes that earned podium honors and NCAA Championship trophies.
He coached 20 Olympians and 34 NCAA Individual Champions that combined to break seven collegiate records. His student-athletes have almost 200 All-American honors. Few coaches in the sport have achieved such success.
Wollman has also accumulated a number of personal honors and accolades. The U.S. Track and Field Coaches Association gave him the highest title of "Master Coach" because of his spectacular success. He was inducted into the Mt. SAC Relays Hall of Fame in 2004, an honor reserved only for the best coaches in the country, and the Indiana Track and Field Hall of Fame in 2005.
Wollman leaves SMU after an impressive final two seasons. In 2014, SMU won three conference championships in its first season in the American Athletic Conference, including the first indoor and outdoor championships in the women's program history. That same season, the staff was named Coaching Staff of the Year. This year, the women won their second consecutive AAC Outdoor Championship. The future continues to look bright for the SMU program.
As for Wollman, he plans to spend more time with his wife and pursue business opportunities.
"I'm excited about the next chapter and hope to continue making a positive impact," said Wollman in a press release on June 1.
SMU Cross Country Head Coach Cathy Casey has been announced as Wollman's replacement.