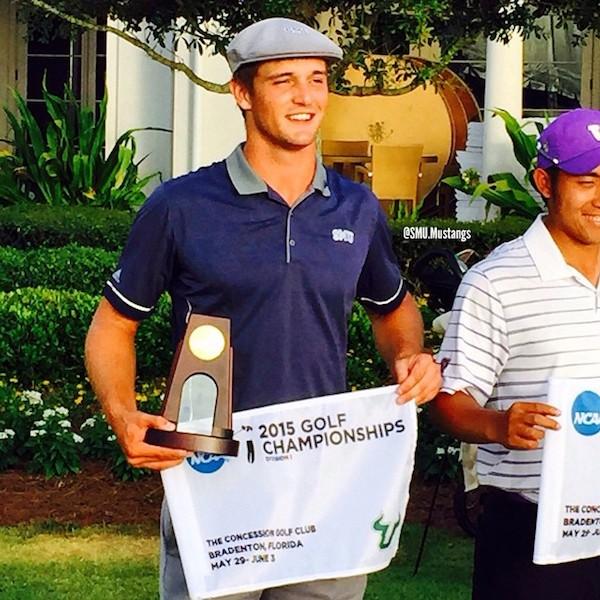 Rising senior Bryson DeChambeau won the 2015 NCAA Men's Golf Individual Championship on June 1.
Eighty-four players competed at the Concession Golf Club in Bradenton, Fla. and DeChambeau carded a four-day total of 280, giving him a score of eight-under and a one stroke victory over Washington's Cheng-Tsung Pan.
DeChambeau became the first NCAA Individual Champion in SMU men's golf history, receiving the national championship trophy and the Arnold Palmer Award for being the individual medalist at the event.
DeChambeau's final round one-under 71 was an impressive performance that highlighted his composure under pressure.
After a shaky first nine that ended with a double bogey on the 18th hole, DeChambeau bounced back with a bogey-free three-under second nine. His late birdie on the eighth hole would clinch the title, though Pan nearly holed a shot out of a greenside bunker on the last hole to force a playoff.
DeChambeau's golf clubs also gained a lot of attention during the tournament. DeChambeau is a physics major who has used his knowledge from the classroom to enhance his game.
All of his irons and wedges are 37.5 inches long, each fitted with the equivalent of a seven-iron shaft and 268-gram heads.
"They're all the same length so I can keep the same swing, same posture, same setup, so no matter the situation I get the same shot," DeChambeau said in a recent interview with Golf Channel's Steve Burkowski.
The change in length is a result of different loft. He also uses 120-gram JumboMax XL grips, rarely seen among competitive golfers. The strategy was inspired by Homer Kelley's book, "The Golfing Machine."
When asked why he decided to try this approach, DeChambeau said, "I did it because I thought it would be easier."
SMU had a strong performance at the event, winning a sudden death playoff against Washington to be the 15th and final team to qualify for the final round of stroke play. The team finished 14th overall, moving ahead of San Diego State. Ryan Burgess '16, Austin Smotherman '16, Andrew Buchanan '17, and Ben Baxter '18 all contributed to the 11th national top-15 finish in school history.
DeChambeau played in his first PGA Tour event, the FedEx St. Jude Classic in Memphis, Tenn., where he made the cut and was the low amateur. He added to his already impressive season by qualifying for the 115th U.S. Open. He shot an 11-under par 133 over 36 holes at the Columbus sectional qualifier, earning a spot in the field at Chambers Bay in Washington.
Though he missed the cut at nine-over par, he finished ahead of golf legend Tiger Woods. He is currently number 13 in the World Amateur Golf Ranking.