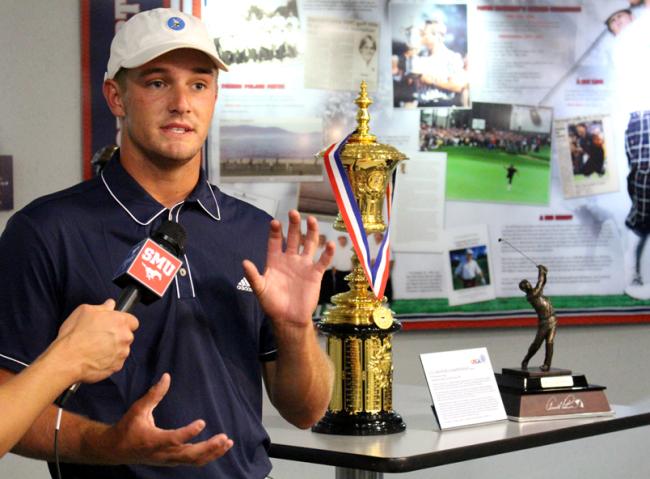 SMU senior Bryson DeChambeau won the 115th U.S. Amateur Championship Sunday. With the victory, he joins Hank Kuehne (1998), Colt Knost (2007), and Kelly Kraft (2011) as the fourth golfer from SMU to win the prestigious title. He is also one of only five golfers, including Tiger Woods, Phil Mickelson, Jack Nicklaus, and Ryan Moore, to win the NCAA Individual Championship and the U.S. Amateur in the same calendar year.
The event was held at Olympia Fields Country Club in Illinois. After qualifying in the No. 23 position of stroke play, DeChambeau defeated five opponents in commanding fashion en route to the finals.
He beat Robby Salomon 8 & 6 in the round of 64 and followed that up with a 5 & 4 victory over Matt NeSmith in the round of 32. Then, in the round of 16, DeChambeau won 3 & 2 over Maverick McNealy. He continued his solid play in the quarterfinal, winning 3 & 2 over Paul Dunne and advancing to the semifinal, where he won 4 & 3 over Sean Crocker. The Clovis, Calif. native defeated University of Virginia junior Derek Bard 7 & 6 in the 36-hole final round, the largest margin of victory in the finals since 2009.
DeChambeau took an early 2-up lead but was soon facing a 2-hole deficit after seven holes. He collected himself and rallied back, battling the rainy conditions to win 5 of the last ten holes on the first 18 to take a 2-up lead into the second half of the match.
From there, the experienced senior dominated, making a run that included four birdies and an eagle to take 6 of the last 11 holes and secure the title.
"I never thought in my wildest dreams that I would be able to win this championship, and with all the dedication and hard work that I've put into making this possible, it's finally realized and I'm so excited and so honored to be everybody's champion, U.S. Amateur champion," said DeChambeau in a post-match interview with Fox Sports.
In a statement released by SMU Athletics, SMU head golf coach Jason Enloe said, "The SMU golf family couldn't be more proud of Bryson and his accomplishments. He represents the university like the champion he is."
This win caps off one of the most successful summers in collegiate golf history for DeChambeau. Not only did he secure the coveted Havemeyer Trophy with his performance, but he also gained entry into next year's U.S. Open and British Open and received an invitation to The Masters.
Earlier in the summer he was named to the U.S. Walker Cup Team. DeChambeau continues to make history and add to his SMU golf legend.