Editor's note, Sept. 30, 2015 2:55 p.m.: This story has been updated throughout.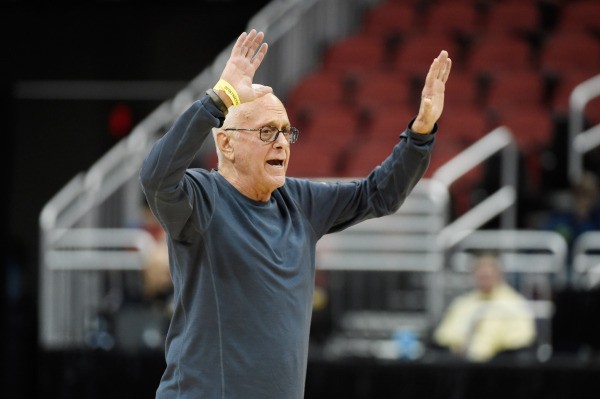 The NCAA announced sanctions against the SMU men's basketball team Tuesday, headlined by a 2015-16 postseason ban and suspension of Hall of Fame Head Coach Larry Brown for 30 percent of the season.
Reports of SMU's alleged misconduct began surfacing Jan. 12, 2015, when SMU assistant basketball coach Ulric Maligi, largely responsible for recruiting McDonald's All-Americans Keith Frazier and Emmanuel Mudiay, took a leave of absence. At the time, Brad Sutton, SMU's senior associate athletic director, said Ulric was taking an indefinite leave of absence for "personal reasons."
Four days later, on Jan. 16, the university released the following statement revealing that the NCAA was pursuing an investigation into potential rules violations within its basketball and golf programs:
"SMU has received a Notice of Allegations from the NCAA. We are working through our response to them, and have no further comment."
That same day, sophomore guard Keith Frazier was ruled academically ineligible for the remainder of the 2014-15 season. The announcement that Frazier and the man who recruited him were leaving the team in the same week raised many eyebrows, especially given forward Markus Kennedy's academic ineligibility in the first half of the season and forward Justin Martin's abrupt decision to leave the team to turn pro earlier in the week. An appeal of Frazier's ineligibility was denied a week later on Jan. 23.
According to a Jan. 16 report by The Dallas Morning News, the NCAA had "uncovered as many as 11 potential infractions, including academic improprieties involving the grades of basketball player Keith Frazier."
Brett Shipp from WFAA News 8 had been investigating two Dallas Independent School District reports related to Frazier for over a year before the NCAA investigation began.
This was not the first time Frazier had been implicated in recruiting and academic violations. On Oct. 17, 2012, a Report of Investigation by the DISD, brought to light by Shipp, substantiated allegations that Frazier and others had been influenced against the rules to attend Kimball High School for athletic reasons.
A second DISD report from December 2013, detailed by Shipp on Channel 8 Jan. 26, revealed Frazier had low grades in several classes and had too many absences to graduate from Kimball. Hanan Ali, an advisor at Kimball, revealed that Maligi had contacted her in late May 2013 regarding Frazier's GPA. She reportedly told Maligi that she could not help him. Soon after the conversation, Ali said that Kimball
Basketball Coach Toby Daniels and Soccer Coach Demarco King came to her office with Frazier's report card, which she scanned and sent to Maligi.
The DISD report also included the story of Richard Dennis, a physics teacher at Kimball. King was a teaching assistant to Dennis and reportedly pressured Dennis to change Frazier's grade in the class. When Dennis refused, King later changed the grade without Dennis' consent.
The report card Ali sent to Maligi contained the falsified grades, but SMU officials claim that this particular transcript was never used to verify Frazier's eligibility with the NCAA, and that two prior transcripts with correct grades were used. Shipp's report was later edited after SMU communicated the following statements to USA TODAY Jan. 27, 2014:
"Because we care about the potential of our student athletes to be academically successful at SMU, it is not unusual for a coach to inquire about the academic progress of a prospective student athlete.
"As part of that practice, Assistant Coach Ulric Maligi asked for an update on the student's grades.
"As DISD addresses its issues with personnel and procedures, we hope that future media reporting on such important matters will be more accurately conveyed."
The DISD maintains Frazier earned his diploma and rightfully graduated from Kimball despite the violations carried out by Kimball's staff. This contradicts Shipp's report that Kimball Principal Earl Jones' told DISD investigators that it was "highly probable" that Frazier "should not have been certified for graduation."
The 2015 NCAA investigation seemed to be unrelated to the incidents at Kimball High School, but still involved former assistant Maligi, who allegedly aided Frazier with his SMU coursework. On July 29, Yahoo Sports writer Pat Forde reported SMU officials met with the NCAA Committee on Infractions for a hearing in late June and reported that Hall of Fame Head Coach Larry Brown could face a "lack of coach control" charge.
On Aug. 6, CBS Sports reported Frazier had been ruled academically eligible for the upcoming 2015-16 season.
Then, Monday afternoon, the NCAA announced its investigation findings would be revealed Tuesday. When the sanctions were released on Tuesday morning, they were more severe than many had predicted.
The key points of the release read:
"Southern Methodist University committed multiple violations, including academic fraud, unethical conduct and head coach control in the men's basketball program."
"Additionally, the head men's basketball coach failed to promote an atmosphere of compliance when he did not report violations and was not initially truthful during an interview with NCAA enforcement staff."
"Penalties in this case include three years of probation; a postseason ban for the men's basketball and golf teams; scholarship reductions; recruiting restrictions; a vacation of certain men's basketball wins; the disassociation of a booster; and a suspension of 30 percent of the men's basketball season for the head coach."
The committee, led by Chief Hearing Officer and Chancellor Michael F. Adams of Pepperdine University, found that the "former assistant men's basketball coach" (Maligi) completed an online course for "a student-athlete" (Frazier) so he could meet NCAA eligibility standards and be admitted to SMU. Meaning that Frazier competed while ineligible during the 2013-14 season and that the team will have to vacate certain wins.
The report also found that an administrative assistant asked Frazier to provide false information to the NCAA and provided false information herself. The NCAA ruled that Brown "failed to report the violations" and "lied to enforcement staff about his knowledge of the potential violations."
SMU will have limitations on unofficial visits, recruiting communications and off-campus recruiting days, pay more than $5,000 in fines and lose nine scholarships over the next three seasons.
Frazier will still be allowed to play this season. The timing of these sanctions will have a larger impact on seniors Nic Moore and Markus Kennedy, who will not have a chance to transfer. They will be unable to participate in the NCAA tournament or avenge last season's heartbreaking loss to UCLA in last year's NCAA tournament.
The common theme of SMU's various press conferences throughout the day was the negative impact of the sanctions on players who were not involved in any of the infractions.
"Tying this too much to the student-athletes is unfair and will ultimately be viewed that way," SMU President R. Gerald Turner said.
Athletic Director Rick Hart echoed Turner's sentiments.
"They had an opportunity that they value taken from them," Hart said.
Coach Brown followed suit, saying, "I'm really disappointed in what happened to our kids. They had nothing to do with it."
SMU has 15 days to appeal the sanctions but all statements from university officials and athletic department staff indicated that no decision would be made until all options have been weighed.
"There is a clear basis for an appeal…but we want to understand the implications of the appeal before we do so," Turner said.