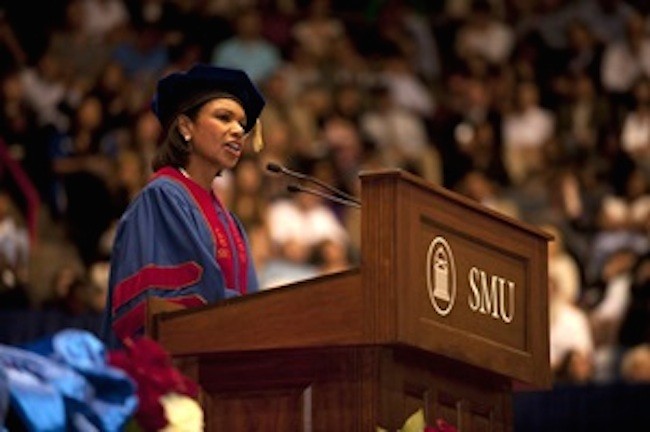 Tonight in the McFarlin Auditorium, David Gergen, Richard Haas and Condoleezza Rice will speak at the fist SMU Tate Lecture of the 2015-16 series.
Pre-sale tickets are sold out, but students are still welcome to attend on a first come, first served basis. Those interested in listening to these three dynamic individuals can check in at the McFarlin Auditorium basement at 7 p.m. to receive tickets for this lecture.
Looking for an informal alternative? Register to attend the free Student Forum at 4:30 p.m. in the Hughes-Trigg Student Center Ballroom.
Providing students with the ability to learn from interesting and experienced professionals, "tonight's lecture will be a great opportunity to gain insight on American politics, both current and past," said Tate Lecture Series Chair Alex Silhanek.
Wondering what's in store? Here's some background on the panelists:
David Gergen now serves as a senior political analyst for CNN and formerly served as a White House advisor to Presidents Richard Nixon, Gerald Ford, Ronald Reagan and Bill Clinton. He has since shared about his White House experiences in his New York Times best-seller, Eyewitness to Power: The Essence of Leadership, Nixon to Clinton.
Richard Haas has served as president of the Council on Foreign Relations since 2003. Some of his most influential operations include serving as the U.S. coordinator for the Future of Afghanistan and working to establish peace in Northern Ireland.
Paving the way for women and African Americans alike, Condoleezza Rice served as President George W. Bush's National Security Advisor and later U.S. Secretary of State. Her legacy of "Transformational Diplomacy" worked towards installing democratic governments around the world, most notably in the Middle East.
For those unable to attend, check back for our coverage of the lecture.